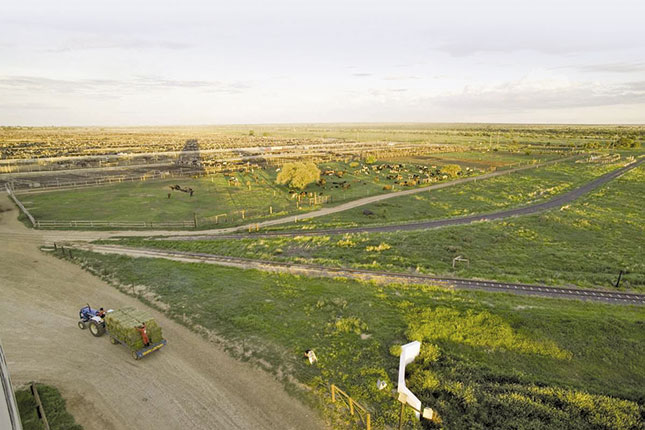 In 2009, Beefmaster Feedlot set itself a vision: "to incorporate the entire value chain of beef," says Louw van Reenen, CEO of Beefmaster Feedlot.
The company looked at a number of business models before deciding on its current form. People in the retail meat industry said it was "easier to become a retailer from the farming side" than the other way around, recalls Louw.
READ:Boosting the informal sector
The company now successfully straddles the entire value chain – from producing feed and managing the feedlot, to slaughtering the cattle, transporting the meat and selling it at retail outlets.
Beefmaster owns about 500ha cropland, producing maize, rye grass and oats under irrigation along the Vaal River, as well as under dryland conditions in the Free State.
The farm uses the manure from its feedlot and mines lime to limit the use of conventional fertiliser. It also sells manure to irrigation farmers and sells some of the grain it produces to buy in hay.
The cattle pens are lined with lime every year to sanitise them and increase the lime content of the manure.
Beefmaster buys in all its weaners and lambs and gets them market-ready at the feedlot, situated on the farm Kromellenboog outside Christiana in North West.
"We seldom buy cattle from areas north of the Vaal River or from Namibia," says Louw. "Those areas are closer to foot-and-mouth endemic areas. Anyway, there are enough cattle around Christiana."
Beefmaster bought its abattoir from the now-defunct state-owned Abakor. It produces about 40 000t of meat a year through this facility, with 30 000t processed and packaged at the abattoir.
The company's retail arm serves two segments of the consumer market. One is the LSM4 to LSM7 market," Van Reenen explains. "That includes the historical township areas."
The other segment focuses on the LSM8 to LSM10 market and Beefmaster is in a joint venture with a large national retailer to distribute its meat products.
In addition, Beefmaster exports meat to the rest of Africa, the Middle East and Asia.
* Read the full article 'Beefmaster breaks in' in the 3 October 2014 issue of Farmer's Weekly.
This article was originally published in the 3 October 2014 issue of Farmer's Weekly.