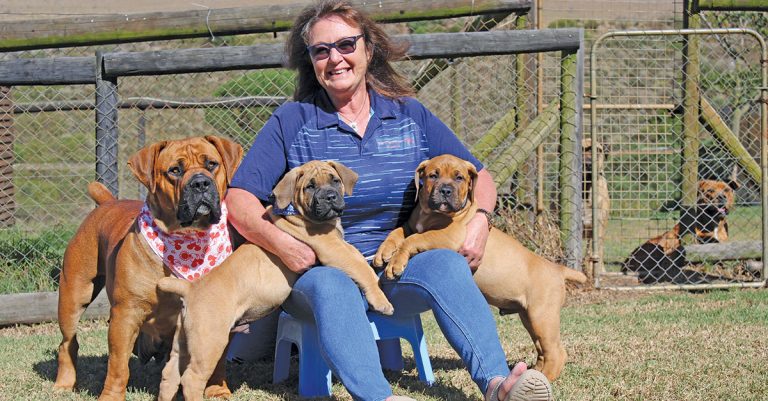 Breeding Boerboels is a passion and joy for Beverli Katz, owner of Klein Sandfontein Boerboels, which operates from the family farm nestling in the Western Cape's Overberg. She says that her love for animals stems from her early years and the influence of her late father, Phillip Katz, and grandfather, Morris Katz.
"On the farm, we had an Arabian horse stud and then a Welsh pony stud. For 10 years, we also had a dairy, where I was in charge of record-keeping and attending to the calves. When my children were still small, I bred and showed budgies for a few years. I also farmed Dohne Merinos and got my Springbok Head for wool classing."
In 1992, Beverli opened a boarding kennel for dogs, cats and birds on the farm.
"This is where I met my first Boerboel puppy in 1999. I swore that one day, I'd wait for her to have pups and own one too," she recalls.
That day never came, but Beverli started doing her homework on the breed and visited various Boerboel breeders in search of a puppy. Eventually, she came home with two bitches.
Unfortunately, her stud got off to a poor start, as these two animals failed to develop into top-rate breeding dogs. A year later, once she had done all the health testing, she realised that she had started wrongly and needed to go back to the drawing board.
She also struggled to find a mentor, but then her path crossed with those of top Boerboel breeders George Fritz, owner of Maranata Boerboels, and Stoffel Bloem, owner of the Ysterberg and Mouzer Boerboel Stud, and this proved to be a breakthrough for her.
"I was blessed and fortunate to breed a phenomenal dog, called Klein Sandfontein Benji, with Fritz's Maranata bloodline," she recalls.
She also introduced the well- known Middelpos bloodline at this stage, and these three bloodlines still form the core of her Boerboel breeding and selection.
Today, Beverli is regarded as the world's second-largest Boerboel breeder. Size is determined by the number of puppies submitted to the South African Boerboel Breeders' Society (SABBS) for birth notifications. Her current breeding stock comprises 15 male and 35 female dogs, and she has an additional 50 dogs and puppies ready to go to their new owners.
Breeding 
Beverli explains that a number of things have to be in place before one can breed registered Boerboels, and one of the most important is a health test. Hip and elbow dysplasia is a common problem in Boerboels.
"Once our Klein Sandfontein breeding pups are over 12 months old, we have their hips and elbows X-rayed in specific positions under a general anaesthetic. These X-rays are passed on to Prof Robert Kirberger at Onderstepoort, where they are evaluated according to the standards of the Fédération Cynologique Internationale [the world's largest canine organsiation]. The results of these X-rays also indicate how future pairings will take place, if at all."
Every breeding dog or bitch also has a DNA profile carried out by Unistel Medical Laboratories, which conducts human and animal genetic testing.
Beverli applies line-breeding and selects bitches that should produce good combinations of litters with a certain male dog.
"I select my males very carefully, using the information provided by the Logix system. I also study the coefficient breeding index percentage between the bitch and possible sires," she says.
She does not apply repeat breeding, as it takes more than a year to detect certain defects in young dogs. If a mistake occurs with a particular combination and these animals have been bred more than once, several litters may end up with the same genetic fault. Bitches come into season approximately every six months, although this varies from one animal to the other.
"We keep a very close eye on every one of our bitches, and my staff fill in observation sheets daily. In this way, anything untoward can be detected and we can act accordingly."
Beverli usually applies artificial insemination on the bitches, as this reduces the risk of sexually transmitted diseases, and is far less stressful on both the bitch and the dog. From time to time, she also arranges for Dr Rachel Shuttleworth, a reproduction specialist, to perform surgical inseminations, where the semen is deposited straight into the uterus and the fallopian tubes.
Klein Sandfontein stud has an average of six to eight puppies per litter per year, but far larger litters do occasionally occur.
"We've just raised a litter of 10 and one week later a litter of 16. All survived," says Beverli.
Registration of puppies
A prerequisite for breeding Boerboels is to belong to the SABBS. To register puppies with SABBS, both parents must be registered Boerboels and the puppies have to be microchipped. Klein Sandfontein puppies are microchipped with registered microchips at six weeks.
Beverli explains that SABBS requires a strict appraisal process where puppies have to achieve at least 75% of the breed standard to be entered into the registry. The recommended age for appraisal is 18 months, but the association accepts dogs from 12 months old.
Beverli says that she allows the puppies to be simply puppies before they start breeding.
"We teach them basic obedience and spend a lot of time socialising them and just generally loving them. I've been selecting the temperament gene for a long time and they're sweet-natured, but we also work at keeping them sweet and loving. This makes their owners very happy as they adjust so easily to their new families."
Record-keeping
According to Beverli, accurate record-keeping is imperative for delivering consistently high- quality dogs. This begins at birth, with puppies being weighed twice daily for their first 10 days.
"In this way, we can follow the progress of every puppy, noting its milk consumption and supplementing in time if necessary," she explains.
Beverli also keeps a record of every microchip and owner. This is quite impressive, as Klein Sandfontein dogs have been sold to clients all over the world, including in the US, Europe, Russia and Israel. In fact, the demand for her dogs is so great that she cannot always keep up, but she is determined to focus on consistent quality rather than quantity.
There are some countries, however, that she refuses to export to, due to their history of cruelty to dogs and lack of legislation to protect dogs' well-being.
Beverli points out that breeding Boerboels is hard work. "The administration alone is a full-time job, and here I have to give credit to my secretary, Fleur Rossouw, who has been with me for almost seven years," she says.
In addition, Beverli employs eight people as dog handlers, maintenance workers and supervisors.
Ensuring the health of the dogs, too, is a demanding task. Canine parvovirus, for example, can wipe out an entire stud in one go, and the team therefore applies strict biosecurity rules at all times.
Beverli also takes no cuts with feeding and caring for the dogs, despite the high costs involved, and says she is fortunate to have ready access to Overberg Veterinary Hospital veterinarians.
The dog breeding industry, like most others, was affected by the COVID-19 lockdown.
"Although the restrictions gave us the opportunity to spend much more time with the dogs, they affected us negatively. Flights couldn't leave as regularly and we had to build more kennels to accommodate the dogs earmarked for foreign owners. Flights have also become very expensive," she says.
Dog shows also had to be cancelled. "We normally attend a show at least every six weeks. It's a good way to measure the dogs against their peers and prevent us as breeders from suffering 'kennel blindness'."
Phone Beverli Katz on 082 861 1618, or email her at [email protected]. Visit the Klein Sandfontein Boerboels group page on Facebook. Visit kleinsandfonteinboerboels.com.