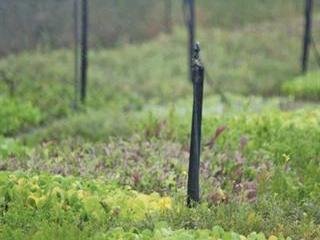 Steve Botha of Porterville in Western Cape rightly describes his micro-green range as "little magic bursts of flavour". The smaller size seems to intensify the taste. "They are the very nutritious, first leafy growth of plants such as beetroot, rocket, coriander and leeks. You only eat the stem and the leaves," he explains.
When Farmer's Weekly first visited in 2006, Steve had just won the SA Produce Innovation prize in the Eat In RMB Private Bank Awards, and had a flourishing business selling his miniature greens to top restaurants in Cape Town and the Winelands.
Since then, tough economic times and changing trends in the restaurant business have seen the demand for Steve's niche product decline by almost half – yet he's survived. In fact, through constant innovation and developing a very close relationship with his customer base, he has even managed to extend his product range.
He started producing micro-greens in his 0,7ha backyard – now he cultivates an additional 1,2ha on a farm about 20km outside Porterville. And he supplies 120 restaurants in the Cape Peninsula.

GREATER VARIETY
To keep up with market demand, Steve produces baby vegetables and salad leaves, and various products – such as miniature figs and fennel bulbs – not readily available in South Africa.
"At one stage I was selling about 1 000 trays of micro-greens per week, but now sales have gone down to about 500 trays," says Steve. The demand is still there though – this is no passing fad. Meanwhile, his baby vegetables have become increasingly popular.
"It's part of the new way of serving food in restaurants and fits in perfectly with the new wellness trend, which sees people wanting to eat smaller portions that are very nutritious and taste great," explains Steve.
His Saladini range, for example, offers consumers a greater variety than other salad packs. These might include a mix of up to seven products – Steve uses no less than 17 different leaves and herbs.
GOOD RELATIONSHIPS
Steve does most of his own deliveries and believes that the personal relationships he has fostered with the top chefs who comprise his main clientelé has contributed to the success of his business.
Talking to the chefs will often inspire him to plant new products, he explains. "Sometimes I'll have an idea for something new that I want to try out and I'll discuss this with the chefs, or they'll ask me to plant something they have difficulty finding."
This is why his offerings now include baby beets, aubergines and radishes.
"My conversations with Steve are always one of the highlights of my week," says chef Camilla Comins of The Table restaurant at De Meye wine estate. "Being a keen cook, Steve is very passionate about food and his produce.
"The products that he has available are seasonal and differ from week to week, and this definitely has an influence on what we decide to cook."
When she heard Steve's miniature figs were ripe, for example, she decided on a fig, grape and greens salad to go with the quail she was serving for lunch.
PUSH THE LIMITES
For Steve the lesson learned through tough times has been very simple. You have two options if you want to survive, he says. You must either farm on a very large scale, or – if you want to produce vegetables on a small scale – you have to farm with niche products that set you apart and give you a competitive edge.
"I like to push the limits and to be innovative," says Steve, who's already planning his next green venture, but this will remain a secret until the product is ready for market.
Contact Steve Botha of Magic Herbs on 022 931 3209, or email [email protected]