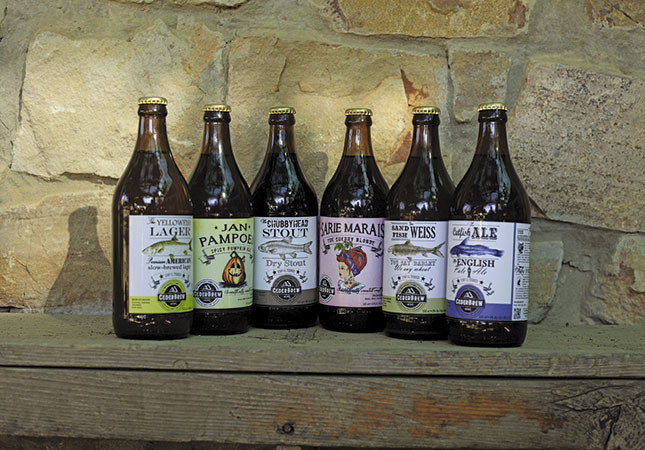 With its natural beauty and large areas of unspoilt wilderness, the Cederberg is one of South Africa's favourite ecotourism destinations. At the same time, these attractions have made it increasingly difficult for farmers to survive here on primary production alone. Farming livestock is challenging because the region has been declared a leopard conservancy, while growing fresh produce such as citrus and wine is difficult because of the poor quality of the roads leading to the markets.
The result is that most farmers in the area are turning to ecotourism as their main source of income. On their family farm, Kromrivier, a few kilometres from major landmarks such as Truitjieskraal, the Stadsaal and Wolfberg Cracks, sisters Tania and Melanie Nieuwoudt have taken ecotourism one step further.
In 2014, they established a micro-brewery, and their beer is sold at the farm's small restaurant to visiting tourists. "We thought it would be nice to offer our customers an ice-cold, premium-quality craft beer with their food," says Melanie. "It turned out to be an excellent idea – most of our customers like the beer so much they buy more to take  home."
The beer, sold under the trade name Ceder Brew, has become so popular that tourists now drive from other farms in the region to taste the beer and meet the sisters. Recognition has also come from the industry: the Ceder Brew Chubbyhead Stout beer was counted amongst the top ten beers in the SAB World of Beer South African National Craft Brewer Championship last year.
Small beginnings
The sisters' shared interest in beer-making has different sources. Melanie specialised in beer-brewing for her doctorate in food sciences at Stellenbosch University. Tania learnt about craft beer while in Sweden as part of her master's degree studies in logistics, and on her return she began brewing her own beer.
When Melanie completed her studies last year, the sisters pooled their money to buy a liquor licence and build a micro-brewery. Tania brought most of the theoretical knowledge to the business, while Tania's contribution was mostly practical.
With the help of a friend who is an engineer, they set up the brewery in the farm's old goat quarantine building. The design of the brewery was based on the system that Melanie used at university. "We couldn't afford to buy a German system and were afraid of what we'd get if we imported one from China. So we built our own system with good quality steel," she explains. Setting up the brewery cost the sisters R90 000.
Melanie (left) and Tania built their brewery with the help of an engineer friend, for R90 000.
The system had to be fine-tuned over the first two months or so. Tania recalls an occasion where they burned weissbier (German for white beer), and tried to move the contents off the heat source. While doing so, they dropped the heavy container, resulting in the entire room being covered in a malt sludge.
"It was a beer tsunami," recalls Melanie. "The whole place was covered in sludge from the floor to the walls." Despite initial challenges, Tania does not blame their custom-built system, and is certain that she and Melanie would have experienced similar growing pains even if they had used ready-made brewing equipment.
Branding and marketing
There is little legislation for the branding of craft beer, so the sisters looked to wine branding for inspiration. They succeeded admirably – creating a brand and story with which their market could associate. Ceder Brew's signature range is named for some of the region's indigenous fish species: Chubbyhead Stout, Sandfish Weiss, Yellowfish Lager and Catfish Ale. The labels inform consumers of Kromrivier's conservation efforts. The farm aims to create a fish sanctuary by rehabilitating its river and reintroducing these species back into the water systems, while at the same time physically removing predatory alien species.
Included in the range are two seasonal beers: Sarie Marais, a cherry blonde beer made with malt, hops and organic cherries from the Ceres region, and Jan Pampoen, a pumpkin ale made from malt, hops, spices and pumpkins grown on the farm. Tania and Melanie got the idea for a pumpkin ale from the US, where it is drunk during Halloween.
"Our beer is a bit lighter and less spicy than the American version," Melanie says. "My father, Pip, is very supportive of us. When we say we need a few pumpkins he jumps in with a tractor and plants them."
Rapid expansion
Tania and Melanie plan to expand production from its current 100l or 160 bottles (550ml each) per day to 1 500l, or 2 700 bottles (550ml), of beer per day. "We haven't done any active marketing up until now, but we're struggling to keep up with demand. Most of the beer is sold on the farm, with the rest being sold at a couple of restaurants and outlets in the Western Cape," Tania says, adding that although expansion is necessary, they plan on retaining the micro-brewery.
"We can always use it for team-building, where we teach small groups to make their own beer."
Alternatively, she says, they may use it for producing specialised beer ranges that require more attention to detail.
Most malt used at Ceder Brew is imported, as very few speciality malts are available locally. "It's a market that could be developed in the country as the demand for craft beers grows. We import most of our malt, paying around R20/ kg. Basic malts that are available in South Africa are around R6/ kg," explains Melanie.
Starting their own malting business is not on the cards for now, she says.
"It's very expensive, as you need a malting plant. It's also a specialised trade and for now our primary focus is on craft premium quality beers. It would, however, have been an advantage to have our own micro-malting plant because my father produces grain on our other farm near Nieuwoudtville."
Value-adding on the farm
In addition to contributing to ecotourism on Kromrivier, Ceder Brew has the potential to make a valuable contribution to livestock production on the farm. An analysis of the spent grain – the by-product of the beer- making process – found that it had a high protein content, making it an ideal animal feed. Most of the spent grains are fed to the few pigs, horses and cows on Kromrivier. As the brewery expands, this protein-rich food will be used as feed for animals on the second farm, which also runs sheep, cattle and horses.
Secrets of micro-brewing
Producing a premium-quality beer demands a near-obsession with cleanliness, as well as good quality water, explains Melanie. Many beer recipe books are available and she advises aspirant beer-makers to attend a brewing workshop offered by brewing specialists such as BeerLab or BeerGuevara. These organisations not only teach the home brewer how to make beer, but sell and rent out equipment to produce beer.
Phone Ceder Brew on 027 482 2807 or email [email protected]. Visit www.cederbrew.co.za.
This article was originally published in the 1 May 2015 issue of Farmer's Weekly.