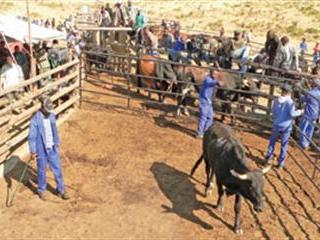 Before the sun's warming rays appear above the horizon, the dim silhouettes of herders and their cattle can be seen plodding intently along the dusty roads and pathways of the winter landscape. The common destination of these determined rural folk is the local livestock sale.
The result of the combined efforts of the KwaZulu-Natal Department of Agricultural and Environmental Affairs (KZN DAEA), AAM Livestock Agents and Auctioneers (AAM), and Vleissentraal Auctioneers, these sales create the opportunity for communal livestock owners to farm commercially.
Judging by the success of the sale Farmer's Weekly attended, the future seems positive. The financial benefits for small-scale rural stock owners are evident. According to AAM's owners Rolf Aadnesgaard and Karen Melouney, it has taken years to convince communal livestock owners in the KZN Midlands and Ladysmith areas to break with tradition and see their animals as an income source.
Stock is seen as a sign of wealth and cattle are ritually slaughtered for important traditional ceremonies. Cultural norms have dictated that too many animals compete for grazing and water, which leads to veld deterioration. With no commercial end in sight, animals are not bred for quality or genetic potential. Although the opportunity for communal livestock owners to derive an income from selling their animals has always existed, until now this has not been seen as a means of countering unemployment and poverty in the province's rural areas.
"I have to give credit to our provincial department of agriculture, particularly to those people working in the KZN Midlands and Ladysmith areas. Their logistic support and efforts have convinced some of the communal livestock owners to start seeing their animals as a sustainable income source," says Rolf, affectionately known to Zulu-speaking stock owners as Jamludi, because of his red hair, reminiscent of a red-coloured bull.
"Those who have bought into the concept of marketing their animals have learnt that improved herd management will give them good quality surplus animals which can be sold to generate an income." At the recent communal livestock sale held at Mhlumayo near Ladysmith about 200 head of cattle were on offer from an area in a radius of 40km from the sale venue. Most of the animals were in excellent condition and went on offer to a group of cattle traders, speculators and butchery owners who had travelled some distance to attend the sale.
Mobile transformation
Remarkably, just two days before, the venue was a permanent government-funded dip tank surrounded by thorn trees, aloes and bare soil. A day's hard work by officials from the KZN DAEA's Ladysmith offices and AAM staff converted the area into a fully functional sale yard, complete with weighing scale, holding pens, water tanks, drinking troughs, a marquee, an auctioneer's podium, loading ramps, a stand for buyers to sit on, a mini-kitchen and generators.


AAM and the KZN DAEA turned this vacant land in Mhlumayo into a functional livestock auction facility.
The KZN DAEA, AAM and Vleissentraal have the ability to set up this relatively complex infrastructure quickly. Each organisation has specially designed mobile equipment which can be brought out for a livestock auction anywhere, at any time.
Dr Mbaga Lukubisa, senior state vet at the KZN DAEA's Ladysmith animal health office, and Khumbulani Hadebe, animal health technician, have worked for years to encourage communal livestock owners to manage their herds better and to accept the idea of selling animals commercially.
Dr Lukubisa says that they have been competently assisted by animal health technicians in the Ladysmith area. Dr Lukubisa attributes much of the success of the sale to the pro-active and organised Siyaphambili ('we progress') Livestock Co-operative (SLC). Sale animals were supplied by SLC members.
"The SLC has helped us spread information among the association's members about the importance of proper care of animals so that they can breed better and maintain condition, to ensure good prices at sales," Dr Lukubisa says. "Khumbulani and his colleagues have also taught members about why animals must be branded so that no stolen livestock can be sold.
"While not all SLC members follow our advice, we hope that they will soon start doing so when they see how participating livestock owners are benefiting."
Transparency
AAM, Vleissentraal and the KZN DAEA have built a strong trust relationship with communal livestock owners by practising absolute transparency in running a sale. Stock owners are able to check the weights of their animals as they pass over the mobile livestock scale, and auctioneering companies regularly and publicly calibrate their scales. State vet officials and executive members of the livestock co-ops help sellers register themselves and their animals which helps to avoid confusion.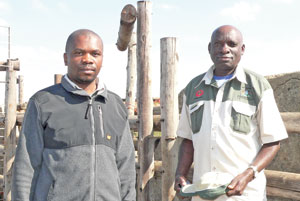 Two key role players who have facilitated the introduction of livestock auctions in the Ladysmith region's communal areas are (left) Khumbulani Hadebe, animal health technician, and Dr Mbaga Lukubisa, senior state vet with the KZN DAEA's Ladysmith Animal Health office.
Rolf points out, "At communal livestock sales people typically sell between one and 10 animals. "These are often first-time sellers who need guidance in the necessary processes. Seller's details are registered on our computerised database, and we record their banking details for payments."
Karen says that for security reasons no cash transactions are made at the sales. Sellers can choose to have a cheque made out to them immediately, or they can wait until the following day for the money to be electronically transferred into their bank accounts.
Flexible options
Bungwana Zwane and Simon Mdluli are two communal livestock farmers selling animals at the Mhlumayo sale. Both agree that they tend to make more money at the sale than if they sold animals out of hand. They value the flexibility of being able to choose the method of marketing their stock. Simon says he sells animals at the sale if there is no market in his community, while Bungwana likes the option of being able to take his animals home if prices at the auction are not to his liking.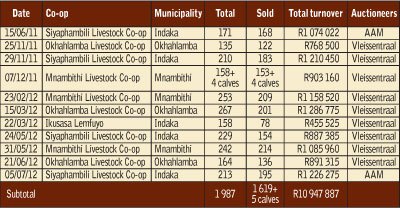 The growing success of the communal livestock auctions in the Ladysmith area are reflected in the sale figures for communal livestock auctions.

A big difference between communal livestock sales and sales in the formal livestock sector is that communal animals are mostly sold as mature cows and oxen destined straight for slaughter instead of as weaners headed for the feedlot. Also, communal livestock are typically finished on the veld, giving the meat a different texture and flavour to that of grain-fed feedlotted beef.
Veld- and grass-finished beef is becoming popular in sections of the South African red meat market because of the consumer association with the meat coming from a free- range environment.
Communal co-op
Nontobeko Mthethwa, SLC's chairperson, says her co-operative consists of 33 communal dip-tank associations in the area. She is very positive about the benefits and future of communal livestock sales. "Our farmers don't have to pay transport costs to get their animals to other sales now. They also learn business skills like how to allocate some of the income derived from the sale towards improving their animals," Nontobeko explains.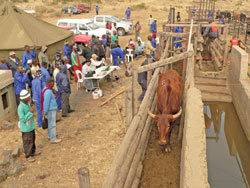 Sellers and spectators at the Mhlumayo sale check weights. Animals are individually marked with a lot number for improved sale controls.
"Because our livestock co-operative arranges the sales, members have access to good animal health products at decent prices. The idea of communal stock sales will grow in the future, not only in our area but in the rest of the country too."
Livestock co-ops are financially incentivised by AAM and Vleissentraal to encourage their members to participate in sales. Auctioneers provide temporary work by employing local community members to help prepare and run the auctions.
Dr Lukubisa feels that mobile livestock auctions will alleviate poverty and create sustainable livestock production in communal areas. "Now that the communal cattle owners see they can make more money from well-cared for, good quality animals, they are motivated to manage their animals better.
"The KZN DAEA has achieved remarkable success in their drive to promote herd health. Our next step is to train livestock owners on improved nutrition by using licks and rotational grazing. We also want to train them how to select the best bulls for their cows instead of allowing just any bull in the area to mate with their cows," Dr Lukubisa says.
He adds that rolling out the communal livestock auctions concept across the rest of KZN will depend heavily on the will and dedication of the various regional KZN DAEA offices. "Much hard work and effort goes into arranging these sales," he points out. "State vet officials often work from early in the morning until late at night. But we would like to invite officials from other KZN DAEA offices to come and see first-hand how to go about establishing successful livestock auctions."
Rolf invites any communal livestock associations or co-operatives in KZN that are interested in having their own livestock auctions to contact him.
Contact Dr Mbaga Lukubisa on 079 506 2069 or email Mbaga. [email protected] Rolf Aadnesgaard on 082 855 3840 or email [email protected]. MJ du Plessis of Vleissentraal on 082 880 6691 or email: [email protected]