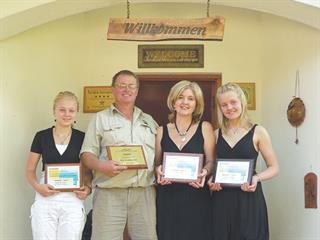 Johann Engelbrecht, an Mpumalanga pig, beef, sheep and crop farmer, established the Dusk to Dawn (D2D) bed and breakfast on his farm Wagendrift, with his wife, Gudrun, a qualified Home Economics and Dietetics teacher.
Gudrun wanted to use her skills to earn a living on the farm, which gave them the idea of having the guest apartment in their attic inspected and registered by the South African Bed and Breakfast Association.
In 1993, D2D received its first guests from the UK. At the time, the farming business couldn't subsidise D2D – it had to pay for itself. To stimulate its income, they decided to expand D2D in 1993, transforming the granny flat near the farmhouse into a self-catering cottage.
They then expanded by two rooms in 2001 after profit margins in the dairy and pig industries took a hit, affecting Johann's farming enterprises. Today, the five-apartment D2D is an internationally recognised award-winning B&B.
D2D's draw cards
D2D's success is thanks to, firstly the fine dining experience Gudrun has excelled in providing, which is a major draw card for return visits.
D2D is also perfectly situated, about halfway between the tourist hotspots of Kruger National Park in Mpumalanga and KZN's popular North Coast region with its associated game reserves. The farm is also close to the N2 highway, which links these attractions.
As an on-farm establishment, D2D offers guests the opportunity to take walks and get a glimpse of farm life. Johann can also offer a personal tour of his piggery or other enterprises. He says they enhance the farm-life experience by using vegetables, cut-flowers and milk, all sourced from their farm or from southern Mpumalanga.
Johann's pride and joy is "Johnny's Ark", a farmyard of small farm animals, including Bantam and Brahma chickens, guinea-fowl, turkeys, guinea pigs, rabbits, piglets, lambs and goat kids. D2D guests are welcome to interact with them. D2D also sells unusual, but stylish items in an on-site craft shop. Handmade stock is provided by the rural community and by Imbali Embroidery, which was started by Gudrun's mother, Helga Filter.
Johann says guests appreciate that their hosts are personally involved from the time they arrive until they leave. "People come back to stay with us as friends and not just as repeat visitors," he says, pointing out that guests return if they've received value for their money.
Gudrun and Johann note that D2D's rates are reasonable compared to many other four-star establishments.
"Also, my family's German heritage and our German fluency attracts tourists from Germany, Austria and Switzerland," Johann explains. "But altogether we've had guests from 67 countries ranging from Australia to Zambia since D2D's inception in 1993."
Marketing D2D
The Engelbrechts have entered D2D in the respected AA Travel Guides American Express Accommodation Awards Programme since 2001, when it made semi-finals in their first entry in the small guest house category. In 2002, D2D was runner-up in the programme's new farm accommodation category.
It won the farm accommodation category for the first time in 2003, then again in 2005, 2007, 2008 and 2009. These many wins ensured its induction into the Programme's Hall of Fame for farm accommodation establishments.
Since 2001, the Englebrechts have also featured D2D in the Portfolio Bed and Breakfast Collection – a luxury accommodation guide for South Africa, Swaziland and Mozambique, where Gudrun's cooking earned a Chef's Hat Accolade – and in the acclaimed Greenwood Guide of Handpicked Accommodation in South Africa and Namibia since 2007.
The Engelbrechts market the B&B via a website. Travel agencies and www.safarinow.com also advertise D2D, and the AA Awards Programme's annually published guide, SA's Best, has featured D2D since 1999. However, Johann confirms that word of mouth is still the best form of advertising.
Perseverance pays off
say running D2D takes commitment and dedication. Attention to detail is a must. Personal touches make the difference between a win or a runner-up position. Johann, Gudrun and their daughters Janka and Imke give up a lot of their time to run D2D.
D2D's income has enabled Johann and Gudrun to cover their family living expenses and a well-deserved annual family holiday. But overhead expenses like staff wages, electricity, water and fresh farm produce are carried by the farming business.
Farm income also pays for D2D expansions like the newly built self-catering cottage/Honeymoon Suite and the soon-to-be built cottage in similar style.
"D2D's income has freed up our farming enterprise income for reinvestment in our farming business. I've expanded our beef herd and bought new machinery and implements," says Johann.
For Johann and Gudrun, an added bonus is the friends they've made from all over the world during their 16 years running D2D. They've also hosted prominent guests and politicians like ex-finance minister Trevor Manuel and his wife, Absa head Maria Ramos; the late Dirk du Toit, SA's former deputy agriculture minister, and former Mpumalanga premier, Mathews Phosa.

Contact Johann and Gudrun Engelbrecht on 017 821 0601 or e-mail [email protected], or visit www.dusktodawnbedandbreakfast.com.