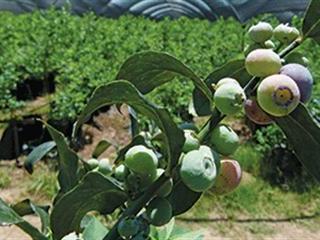 The 39ha blueberry orchards covered with 40% shade netting on Thornhill farm already cuts an impressive sight in the traditional livestock farming area. Amathole Berries (Pty) Ltd (AB) was founded in 2008 by Yummiberry Projects, the Industrial Development Corporation (IDC) and the Eastern Cape Development Corporation (ECDC). AB is expecting to harvest 64t of berries in the 2012/2013 season, but hopes to exponentially increase this figure by 2020 with the expansion of the orchards to 225ha.
This large pioneering Eastern Cape berry project – owned by the IDC (40%), a workers trust funded by the European Investment Bank via the IDC (40%), the ECDC (10%) and Yummiberry Projects (10%) – has tackled many problems to ensure effective production and supply to markets.
The project takes shape
The location of the AB blueberry project on Thornhill farm has many advantages. Apart from having a favourable climate for production from individually potted plants in an open hydroponic system, the farm is situated in a large loop of the Kubusie River. This provides sufficient water for the R3,7 million Netafim fertigation system. Also, the established timber industry in the region allows for a continuous supply of pine bark needed to provide acidity in the growing medium, while chicken manure is sourced from a laying operation in the district.
Thornhill's location near the N6 tarred road facilitates AB's role as the anchor project for a broader ECDC-driven berry initiative in the Eastern Cape known as the 'Berry Corridor'. The Stutterheim district has, however, also provided significant challenges for AB, which harvested its first crop in 2011. For example, the 15km DR 2774 gravel road between Thornhill and the N6 becomes practically impassable when wet and can affect all aspects of management on the farm at such times.
AB has, through consultation with the Eastern Cape Department of Roads and Public Works, secured a commitment for the tarring of the road from the N6 to the entrance of the farm. This is currently in progress. A tarred access road will not only improve logistical efficiency for AB, but also radically improve the ability to market berries effectively without compromising the cold chain.
For example, SAA's recent introduction of a freight flight from East London to Johannesburg will, for the first time, effectively link Thornhill Farm with stores on the Witwatersrand (an important market for AB) through an easily manageable cold chain. "You can't break the cold chain," says Ryan Davies, acting CEO of Amathole Berries. "You put the berries in the back of a truck, get it all the way to East London airport and put it on a plane – that's the chain it's got to follow."
To further enhance general efficiency, a new packhouse is planned to be built by late 2013. The ECDC and the Amathole Economic Development Agency (Aspire), in conjunction with the National Empowerment Fund, are currently sourcing funding for this packhouse. It is envisioned that future outgrowers in the form of emerging farmers and communal farmers will become involved.
In fact, already 20ha have been planted near Keiskammahoek in the former Ciskei with another 20ha to be developed in the same area during 2013. "The idea is that the [emerging and communal] farmers have access to our technology, processes and farming practices and will be provided with a profitable, sustainable way of making a living," explains Ryan.
Yields
Extensive blueberry trials conducted by Philip Howes prior to the launch of AB in 2008 established that plant densities of up to 26 000/ha (potted plants under shade netting) could produce above-average yields in Stutterheim. "We are targeting 15t/ ha to 18t/ha, given our plantings," says Ryan. "The average in the industry is between 5t/ ha and 8t/ha, depending on the plant density."
Besides the potentially high yields expected, an open hydroponic production system promotes improved management due to the ease of removing diseased or dead plants from the production area. Orchards will be mostly bee-pollinated. "More than 60% of the cultivars need bees for pollination," explains Ryan. "We have 100 hives at the moment, but we will need 3 000 hives when the farm is at its full potential, so there is a huge gap for spin-off in that industry."
AB is GlobalGap certified and expects a harvest of 64t in the 2012/2013 season, mainly from low chill cultivars including Powder Blue, Bluecrop and Brigitta. Berries are chilled, frozen and packaged on Thornhill before being delivered in terms of several supply agreements, including a 10t off-take agreement with Woolworths in the Eastern Cape this season. Berries have also been exported to Europe and the Far East.
As blueberries are a largely unknown crop to the Eastern Cape agricultural sector, Ryan explains that finding skills needed in the 'checklist' farming environment of AB is a challenge. "It's a huge issue in our succession plans – where do we find people with blueberry knowledge?" asks Ryan. But this is being addressed.
"We've actually just got a few students from Nelson Mandela Metropolitan University (NMMU) who work for us over the holidays with the objective of maybe helping some with a bursary, and in return they work for us."
Labour
Blueberry production is labour intensive. AB currently employs 130 permanent staff, a number that is augmented by another 150 part-time staff during harvesting and pruning seasons. These numbers are set to increase in the future. It is estimated that AB will require up to 5 000 permanent and part-time staff in peak season when in full production in 2020. Transporting workers is already a problem, says Ryan. "Our staff must get to work and we are 15km from the closest village," he explains.
"We're looking at a transport option with some entity whereby we use the trust to set up a transport operation." In an area with high unemployment, the AB project plays an important socio-economic role in the region, says Ryan. Ryan says it is important to train staff and empower them to a better future within AB. "We implemented an ABET assessment programme and put our first two batches of workers through the assessments, and the IDC kindly donated a facility," he explains.
"There is a big social part to the project," he says. "So you've got to be sustainable. But you also have to balance that with the broader goal of developing the industry and creating employment," he concludes.
Contact Ryan Davies on 043 782 0610.