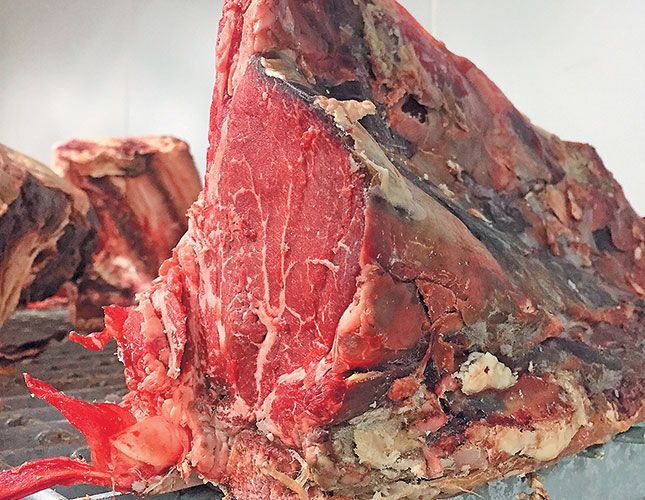 Top quality, aged beef can sell at a substantial premium, but as those in the business of producing and serving the best possible beef will tell you, the price charged for these premium cuts does not necessarily translate into enormous profits.
The best cuts make up just 12% of saleable meat, which means that the beef processed for mince or sausage must be sold in order to ensure sustainability throughout the value chain.
Convincing farmers
The process of getting ethically produced, aged beef onto a plate starts at the farm, yet producers who understand niche markets' needs and the requirements for growing and handling the beef meant for these markets are hard to find, according to Gary Jackson of Jackson's Real Food Market.
Chris Paulsen of the Bull and Bush butchery concurrs.
"Farmers didn't understand why we would want to age meat the way we did, as they hadn't done it before," says Gary. He adds that Chris convinced farmers to work with them by having them taste the difference between well-aged and unaged meat.
"Once they tasted the product they began to care more about what ends up on the plate.
They have to receive a premium, however, especially if you tell them they only get paid after ageing."
Chris says that educating farmers on how to change the way they feed and handle cattle is a task best approached with caution.
"Traditionally, most farmers haven't been breeding for meat quality but rather for weight gain. The moment I receive the carcass we can tell the farmer if the quality is acceptable.
He knows which farm the animal came from and how it was treated, so the process can be replicated."
Of the 14 farmers who deliver directly to Chris, only one has been able to produce the quality of meat he wants. The rest of the meat, even the best cuts, go straight to the mincer.
Chris now receives meat from Pieter Prinsloo, of Langside Meats in Queenstown, who not only has an appreciation for meat quality, but is willing to share losses incurred during the ageing process. Pieter also collaborates with seven farmers from whom he sources beef.
They are from his area and understand the requirements.
The ageing process
Chris and Gary prefer dry ageing as they say it brings out the best in the beef. They age only prime cuts: steak, sirloin, rump, and rib eye. Forequarters do not age well and are sold as fresh meat.
"As long as one has a traceable system that measures how long beef is aged, and the temperature is kept at a constant low temperature, ageing can take place anywhere, even in the back of a truck," says Gary.
A carcass must arrive at Bull and Bush butchery a week to week-and-a-half after slaughtering. Chris then immediately cuts the trim for mince, burger mince and boerewors.
These cuts must sell fast, before they spoil, as neither Chris nor Gary use preservatives.
The prime cuts that will be aged comprise 10% to 16% of the carcass weight, bone in.
To preserve as much meat as possible, the sections of cuts are aged in their entirety, bone in.
After three weeks of dry ageing (during which a 20% moisture loss occurs), the pistola is cut into sirloin, rump or steak. Any trim from this process is frozen. The separate cuts are then aged further, with another 20% moisture loss. After the second ageing, the meat is stripped off the bone and another 15% weight, which Chris has already paid for, is lost.
"Over 45 day,s you end up losing 50% of the initial product," Chris explains.
For example, a 20kg block of sirloin dry-aged over 45 days ends up as 10kg sirloin, after trimming. Chris has to price the meat accordingly to make up the loss.
This is where a significant challenge arises. Farmers are keen to provide premium meat, but when they hear that the final saleable product loses almost half its weight due to moisture loss during ageing, and are then asked to bear some of this loss, their interest wanes. But Pieter understands the market.
Chris says that Pieter initially priced for pre-aged carcasses, but both parties soon realised
that they needed to split the losses 50:50. They, therefore, take the initial weight of the carcass at the abattoir, compare it with the receiving weight at Bull and Bush, and split the difference.
After this, any loss resulting from the ageing process is borne by Chris. He and Gary set prices so that they both hold gross profit (GP).
Slim profit margins
"If I don't sell 100% of the carcass, I don't make a profit," says Chris. "We try to run at a nominal GP. To do this, we calculate as follows: on a 400kg animal, there's a 25% bone loss and a 5% fat loss before even getting to the meat. That's 30% of the carcass.
"The rump is sold at a premium, but moisture, trim and bone loss over a 45-day ageing period means that half of the weight of the prime cuts is lost."
He has to sell every last bit of trim. If 10% of trim is not sold, his GP drops to unsustainable margins.
"I have to ensure that I keep a balance the entire time. For perspective, if someone wants 60 fillets, I need to buy 30 carcasses. That's 10t of carcasses for only 60 fillets, and I have to successfully market the other 9,9t.
Chris carried out a block test to check his profit margin: he bought 35kg unaged rib eye for an average of R60/ kg. After ageing, deboning, and portioning into 300g steaks, he had 8kg of saleable product, which he sold for R189/kg excluding VAT.
Then, he was in the red with a negative 10% GP, and had to sell the trim at below cost to make a profit.
He says: "People have to realise that it's all about balancing the carcass to have a sustainable business model."
Phone Chris Paulsen on 082 465 6354, Steve Maresch on 083 456 0252, Llewy Mateza
on 082 680 4137. Email Roelie van Reenen at [email protected]