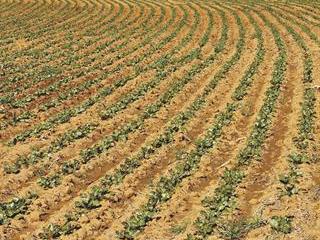 Ask any farmer in the dairy, lucerne, maize and sheep belt bordering the 33 000ha Fish River Valley in the Cradock district whether they've sold their farm to government's planned ethanol-from-sugar-beet project, and you'll be met with wariness. Most farmers will only share information anonymously. Only a handful of farmers agreed to go on the record.
The response demonstrates the uncertainty the ethanol-from-sugar-beet project has created in this community where farmers have farmed together for generations.The project is a joint venture between the Industrial Development Corporation (IDC), the Central Energy Fund (CEF) and the Agrarian Research and Development Agency (ARDA) in collaboration with the Department of Rural Development and Land Reform (DRDLR).
Sugar beet grown along the Fish River will be turned into ethanol at a R2 billion plant to be constructed near Cradock's Lingelihle township. The IDC says the project would contribute 0,5% towards making up the 2% ethanol content of South Africa's petrol by 2016. The additional 1,5% will come from ethanol-from-sugar-beet projects planned for other parts of the country.
What farms are selling for Over the past few months, several farms in the area have been sold to the DRDLR for the project. "I farmed some 34km from Cradock, and in January this year I sold my three lucerne, maize and cattle farms, totalling 582ha, for R7,88 million," says Koos Slabbert.Koos says more than 13 farms with irrigation rights on the Fish River, spanning an estimated 1 200ha of irrigated land, have already been sold.
"Our farms have valuable water rights and I've heard the department wants to buy 50 farms along the Fish River to make up 5 000ha of irrigated land. Most of the farms here have anything from 45ha to 250ha under irrigation," he explains.
"The farms are selling for R60 000 to R65 000 per irrigated hectare, because they're only after land under irrigation, with irrigation rights. On my farm, this equals 120ha of the 582ha. Koos was baling 18t/ha to 20t/ha of lucerne and harvesting10t/ha to 13t/ha of maize. "I also had cattle and I ran sheep until five years ago, but the sheep theft was too high, so I stopped all smallstock farming," he says.
Negative responses
Koos is well aware of the upset the project is causing. "People are worried that the community will fall apart. It seems the project only has two on-site managers at present, completely insufficient for 1 200ha under irrigation. You need at least one well-trained manager per 250ha. "People are worried the project won't be properly managed and the new jobs promised won't materialise
."Fourth-generation Fish River farmer Philip Antrobus, who farms sheep, pecan nuts and lucerne, and who has received no offers for his farm yet, says, "Farming is about sustainable food production and sustainable employment. I hope we can see some element of this with this project. We also hope the relevant roleplayers ensure the correct economic drivers are in place to ensure sustainability."
"Skills transfer with regards to farming practices in the Karoo is a highly specialised art, and when you throw in an irrigation farm, untold problems present themselves daily," he adds.Several anonymous farmers are more pessimistic. They say the project may want to produce a so-called environmentally friendly biofuel, but they ask how much water it will need to grow the sugar beet, and how much fossil fuel to run the tractors, rippers, planters and sprayers, and to deliver sugar beet to the ethanol plant in Cradock. They also want to know how much fossil fuel the project will need to transform the sugar beet and then get it to the refinery at Mossel Bay or the planned one at Coega.
The project aims to produce 90 million litres of ethanol a year. To achieve this, local farmers need to collaborate with it and grow between 4 000ha and 6 000ha of sugar beet in addition to the DRDLR's intended "owned" 5 000ha. Without this, the planned plant in Cradock would be "a pointless and expensive exercise", commented the IDC's Noel Kamrajh in a Farmer's Weekly feature on the project before the environmental impact assessment (EIA) was completed last year.
As sugar beet can only be grown again in the same soil after three years, between 12 000ha and 18 000ha would have to be secured in total. "I can't see the project succeeding without contracting commercial farmers to grow sugar beet," says Philippie Marais, one of the Fish River Valley farmers who has been involved in sugar beet trials for a few years. "Of my 256ha under irrigation, 51ha comprises sugar beet at the moment. The rest is lucerne and maize."
Philippie maintains the Fish River Valley climate is excellent for producing sugar beet as it has good water, cold winters and long, warm summers. But while he's happy to grow sugar beet for the project – if the price is right – he won't sell his farm. "I think this project could benefit our community and our farmers as we'll have access to a new market," he says. "We've been told local contractors and local skills will be used. We also want to believe the money generated will stay in Cradock and won't be taken away to other parts of the country by potential fat cats."

What about those promised jobs?
The estimated 161 jobs that will be created at the ethanol plant, for example, are mainly highly skilled and might require people from outside the community. There will also be a few dozen manual labourer jobs and the farmers say there's talk of employing some 1 500 people for harvesting. This might not happen if machine harvesting is introduced, though – and the prospect of having dozens of temporary harvesters on their farms doesn't excite farmers.
They say they already have staff on their farms, while a farmer who participated in one of the trials said they brought an additional 80 labourers on to his farm to harvest sugar beet from 20ha – and the security, ablution and accommodation issues were too much for him. An uncontrollable influx of job-seekers leading to a rise in crime, "uncommon smells" (so described in the project's EIA), a 12-storey smokestack, 30t-truck-trailers arriving and departing every seven minutes or so – these are some of the other concerns regarding the project and planned ethanol plant."And if they ever get the plant off the ground, how will they deal with the legalities and mechanics of including ethanol in South Africa's fuel supply?" asks one farmer.
A positive outlook
Noel Kamrajh, programme director for the IDC, is more upbeat. "We believe this project will help the Fish River Valley farmers who grow sugar beet on contract for the project because they'll get a fixed price for it, which will reduce some of the risk," he says."The project will also inject some R700 million into Cradock, instead of being used to buy oil on the international market. Local skills – labour, transport companies, maintenance companies and parts suppliers – will all benefit, as will skilled people. We'll bring technology and skills to the town, which will benefit its development." Call Philippie Marais on 048 881 1797; Philip Antrobus on 048 881 2451; and the IDC'S Noel Kamrajh on 011 269 3000 or e-mail [email protected]. |fw