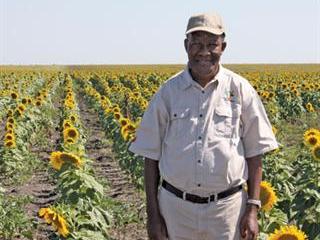 A ndy Tladi has not followed the conventional path of most commercial farmers. For most of his working life, he has been office-bound and suited-up as a Johannesburg-based business executive. The little experience he had on a farm came from spending his childhood ploughing the family's land – with donkeys and oxen – in Norokie village near Hammanskraal, northern Gauteng.
This came to an abrupt end in 1948 when his grandfather was stripped of his land and chieftaincy by the National Party government, and Andy grew up to follow a different path as a successful consultant and accountant in the insurance industry.
With democracy, however, came the chance of redress, and since 1995 Andy has striven to reclaim the land and his hereditary chieftaincy as head of the Tladi clan in South Africa.
In 2003, he achieved some success when a piece of land in Rustenburg was returned to the family after a lengthy land claim process. Faced with a decision either to sell the land or to give up his career as an accountant and go farming, he decided it was time to return to the land. As an astute businessman, Andy appreciated that modern commercial farming is complex. So he began studying the subject in detail – and asking questions. He obtained a certificate in agriculture from ITO Focus International and sought advice from other commercial farmers.
"I can't just rely on theory," he explains. "In fact, I wouldn't be where I am today without the help of other farmers. Many black farmers are first-generation farmers and require mentorships, of which there aren't enough in this country." Andy feels strongly about this point, and notes that it's very difficult to enter the agricultural sector in South Africa. "It's every man for himself, as the government offers no assistance," he laments.
Despite these challenges, Andy launched himself into farming in 2004, planting sunflower on his 1 100ha farm as well as on 900ha of leased land in Hammanskraal. This leased property forms part of his clan's original dispossessed land; once his land claim is finalised, it too will belong to the Tladis.
Farming methods
Andy plants the entire area of both farms – a total of 2 000ha – to sunflower, obtaining a yield of between 1t/ha and 1,5t/ha. As the area receives 400mm to 500mm of rain annually, he practises dryland farming. "The farms have good, black soil that retains moisture. I don't even add fertiliser or other supplements as the soil has a way of renewing itself," he explains.
Interestingly, Andy's first choice of crop would have been maize, but the close proximity of his farms to several villages made sunflower a better option. "The risk of theft is very high here, but no one really steals sunflower because it's not a staple food," he points out.
Egg production
In 2008, Andy boosted his farming business by acquiring a 200 000-chicken hatchery, Moputso Farm, in Olifantsfontein, Gauteng. He admits that it was difficult to enter the egg market as it's highly competitive. But he got a break early on: he received a contract from Pick n Pay to supply eggs weekly.
The enterprise consists of 10 chicken houses. When the chickens reach 65 weeks – by which time egg production drops too low to be profitable – they are replaced with six- to eight-week-old birds. The old chickens are then resold for meat.
Andy buys his chickens from various farms to lower his overall risk in case chickens from a single farm are sick. All the chickens are vaccinated for Newcastle disease every four weeks.
According to Andy, one of the biggest challenges he faces is the price of feed. "This has escalated as a result of the high maize price. To manage this risk, I have part-ownership of a feed company, Pamish Investments, which supplies the farm with the 5t of feed I need every week."
Delegating
Although Andy is a full-time farmer, he prefers to leave the day-to-day running of the enterprise to his managers, and lives with his wife, Sarah, in Johannesburg. He generally visits the farms twice a month, though, or more often if required. "I have trustworthy people working for me, most of whom have been with me for between five and 10 years. If you pay your workers well then there won't be any problems," he explains.
Andy employs one manager, Michael Mokale, and a permanent staff of 21 on the sunflower farms. During planting and harvesting, he also hires 15 temporary workers. At the hatchery, he has two managers, William Ramotsha and Isaac van Tonder, and 25 permanent workers. Andy applies a similar approach to other aspects of his business. He outsources crop protection to a specialist pesticide company that conducts aerial spraying when required, although this is not often.
"I outsource this because if the spray programme doesn't work, the company accepts liability," he explains. He also belongs to a farmers' co-operative that collectively owns tractors. "I need a tractor for three months of the year so it doesn't pay me to have my own fleet," he says. In addition, Andy hires harvesters and trucks owned by the individual farmers in the co-operative whenever he requires machinery.
"I don't live on the farm so I don't have the time to sukkel with machines that need repairing," he says simply. Another benefit of delegation and outsourcing, according to Andy, is that it allows him to spend time at home with his family. Sarah and Andy have three children: Simon (22), Rachel (34), and Lydia (31). Since all three have successful corporate careers, none is interested in taking over the farm, but Andy insists they are welcome to do so if they change their minds.
Expanding horizons
In addition to farming successfully in South Africa, Andy will soon take in his first harvest in the Congo (see box), and is eager to expand his farming operations even more. He has already applied for land in Mozambique through AgriSAMoz, an affiliation of Agri SA.
Andy believes that it's much more profitable to farm in other parts of Africa than in SA, where the government, according to him, is not keen on supporting farmers. "Water and labour are some of the biggest input costs, and both are considerably cheaper in the rest of Africa. There's also no restriction on the amount of land I can own in the Congo and the maize price is fair," he explains.
At an age when most men are preparing for retirement, Andy is taking on the challenges of farming and proving that he's exceptional at it. It seems he's living up to his traditional Tswana name Mokgale – 'strong enough to challenge anything'.
Contact Andy Tladi on 011 431 2177.