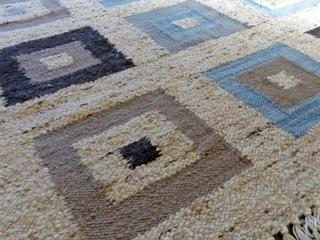 The owners and employees of Dimbaza Mohair Weavers (DMW) factory, which produces 100% mohair carpets, have good reason to feel proud of their operation. Their products have achieved international acclaim and clients from many countries have ensured a steady demand. Recent orders have come from hotels in the Seychelles, the Arab Gulf states and African game lodges.
DMW is one of the few surviving businesses in the now largely abandoned Dimbaza industrial zone established by the apartheid government in the former Ciskei. The beginnings of the Dimbaza Mohair Weavers factory lie in a woven mohair carpet manufacturing business, Barkor Matte, launched by Jan-Paul Barnard in 1975. In the same year, Jan-Paul married a young German textile and fashion designer, Elsa, who had relocated to Johannesburg from Munich a few years earlier.
At that stage, Jan-Paul already had a mohair spinning and carpet weaving facility near Alicedale in the Eastern Cape, where the couple settled. What made Dimbaza attractive to Jan-Paul was the favourable initial incentives offered to manufacturing businesses willing to set up shop in the area. "The government equalled every cent one spent on establishing a business. And for every worker one employed, they gave a third of the salary," Elsa explains.
Sadly, Dimbaza is now a shadow of its former self. "Vandals are even taking the bricks and frames," says Selina Radebe, Elsa's factory manager, pointing to a wasteland of once bustling factories in Dimbaza near King William's Town. In 1976, Selina began working in the mohair carpet weaving facility and recalls how the industrial area still provided numerous manufacturing jobs back then. "People were working hard and putting food on the table," she says.
Today, however, most factories – including many textile initiatives – are just a distant memory, except for the DMW factory. This has been headed by Elsa Barnard, (who has since divorced Jan-Paul) and Selina since 2001. "I could have retired," Elsa explains in her office at the DMW facility flipping through old pictures. "But, I didn't because they – Selina and the workers – have so much to contribute."
Progress
By the 1980s, the business was employing about 60 staff members, despite increasing labour unrest against the Ciskei government. Working with mohair on the factory floor became a familiar and highly regarded way in which Xhosa women could acquire an income. "When I see mohair, I see money. My life is mohair," Selina says simply.
She and nine of her fellow employees began working at Jan-Paul's Barkor Matte in 1976 and still expertly spin and dye yarn before weaving 100% mohair carpets. The women, who currently produce about 125m2 of premium hand woven mohair carpets a month, have always represented a unique asset; they have been a willing, skilled and productive workforce over a period of almost four decades. "We are all makhulus (grandmothers) now," says Selina, amidst laughter from the others.
A new era
In the late 1990s, it seemed that Selina was almost in danger of losing her livelihood. Jan-Paul decided to withdraw from Dimbaza and offered her the opportunity to manage the business. But she was not ready to handle the marketing aspect of the business at the time. Finally, however, Jan-Paul left the business to Elsa, who formed a close corporation with Selina, and the pair decided to press ahead.
In early 2001, they relocated the operation to a smaller building – rented from the Eastern Cape Development Corporation (ECDC) – and downscaled to face the reality of competing in an aggressive global textile market. They recognised that real entrepreneurial skills were needed for survival. "These skills mostly blossom when one is forced to improvise and generate an income," says Elsa. "You need an entrepreneur to make a business work, not a pen pusher. If you have a steady salary, there's no carrot. Your entrepreneurship goes out the window."
Looking back, Elsa says that ironically it was the very incentives given to businesses to get them on their feet that led to their downfall from the 1980s. "When those incentives came to a halt, Dimbaza came to a halt," she says. "Incentives lead you to a false sense of security – your business has to stand by what it makes."
Today, Elsa has no doubt that supplying a unique international niche market, built up over years of dedicated and intelligent marketing, is what will keep the current factory ticking over. "Without marketing, you have nothing," says Elsa. "And as a South African exporter, you must have an edge in the business – something that is unique and purely South African."
She explains that she has always appreciated the importance of vigorously marketing the excellent qualities of the mohair itself as a material in top quality carpets. For example, mohair's legendary strength, durability and outstanding abilities to absorb and reflect dye (because of its natural sheen) make it an outstanding speciality natural fibre for carpets. In addition, its historic associations with the Eastern Cape allows for the marketing of a uniquely Eastern Cape product.
Digital marketing
South Africa is the world's top producer of mohair. In this regard, Elsa's website has proved an invaluable marketing tool. In particular, it allows her to produce customised carpets for clients across the world. "I find the internet invaluable. Customers can tell me exactly what they want and I guide them using the website," she explains. The DMW website – with an extensive design catalogue – is updated regularly to ensure that the designs remain fresh and contemporary.
Elsa and Selina have recognised the value of local clients too. Today, carpets from DMW are marketed under the label 'Elsa Barnard Mohair Carpets' in outlets in the Eastern Cape and elsewhere. These are in Port Alfred, Plettenberg Bay, Bedford and Pretoria. The Bedford and Pretoria outlets are managed by her daughters Katrina Nel and Louise Barnard respectively.
To boost exposure and sales, Elsa and her daughters attend décor shows and cultural festivals, as well as selected agricultural shows. Despite their expansion and success, Elsa believes in keeping a balance. "Demand and supply must meet somewhere," she stresses. "I don't want to get bigger. At the moment this is what we can handle optimally."
Visit www.mohaircarpets.co.za