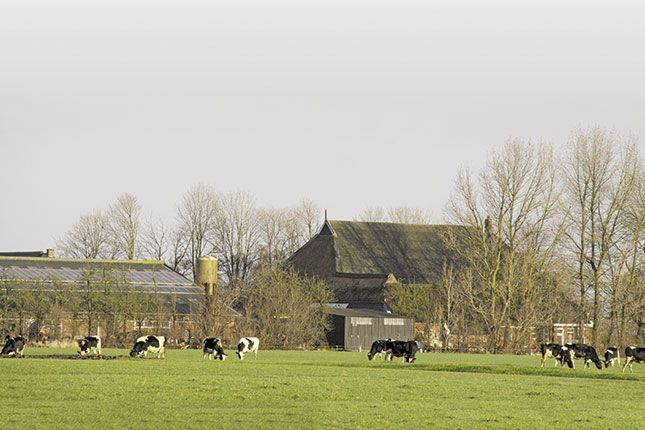 On 1 April, the dairy quota system in the Netherlands, a major dairy exporter, will be replaced by curbs on the environmental impact of milk production. As this new measure is regarded as a lesser limitation than quotas, many Dutch dairy farmers are gearing up for expansion – and a global increase in consumption is providing tempting markets.
READ:Market for SA plums strong despite smaller fruit
Although the global supply of milk is set to increase over the next 10 years, it will not match the rise in demand, according to the latest Dairy Index from Tetra Pak. This sentiment was echoed by the European Dairy Association (EDA), which recently presented its 2024 prospects for the European market. It said the long-term prospects for milk and dairy commodities were favourable "despite some downward price pressure in the current market situation".
This trend offers new export opportunities for the Netherlands, as well as for countries such as South Africa, despite vast differences in production circumstances and milk volumes. If there is one thing the Dutch can teach South Africa and the rest of the world, it is how to overcome limitations.
Despite being one of the world's smallest and most waterlogged countries, the Netherlands is the world's largest exporter of agri-food products after the USA. Its economy is one of the most competitive in the world, thanks to its openness – trade makes a substantial contribution to its economic output.
About 1,9 million hectares of the Netherlands' total surface of 3,5 million hectares is farmland. Just less than half of this is pasture used almost entirely for dairy farming, while grassland and maize lands cover 1,2 million hectares. Dairy farming in the Netherlands takes place in diverse conditions and on various soil types; the average annual rainfall is more than 700mm.
Abolishment of EU milk quotas
Over the last three decades, the European Union's (EU) milk quota system has allowed reasonably remunerative milk prices for Dutch farmers, while preventing overproduction, dumping, and high dumping costs for taxpayers. This is according to Dr Niek Koning, a researcher at the Dutch University of Wageningen.
Zuivel NL ('Dairy Netherlands') regards the end of the quota system as the start of a new period in the history of the Dutch dairy sector – "a period in which growing global demand will offer new opportunities". EU milk farmers have been prepared since 2009 for the phasing out of quotas and liberalisation of production by 2015. Criticism against the quota system included the following viewpoints:
The resulting higher prices on the EU market reduced EU exports of dairy products below the level of its global comparative advantage, and led to a loss for European cheese exporters. Moreover, it triggered additional imports.
National quotas distorted production across the EU; less competitive farmers who owned quota rights produced too much and more efficient producers were restrained, although quotas were also leased by some Dutch farmers.
Quotas implied potential national and individual penalties, which were complicated and costly to administer.
Greater efficiency
According to Zuivel NL, quotas curbed expansion, but provided an impetus to raise efficiency on Dutch dairy farms. This led to a gradual acceleration of operational efficiency, which resulted in a steadily decreasing dairy herd and growing productivity per cow. Investments in more effective roughage production, improved feed quality and genetic selection via breeding programmes were made.
However, the sector's accelerated efforts to produce higher milk volume resulted in an expansion of the Dutch dairy herd in 2013. Increased herds were regarded as the only available short-term option for obtaining growth prior to the abolishment of quotas. Some Dutch dairy co-ops, for example Cono Kaasmakers, also increased their processing capacity. Dr Koning remarked that Cono's decision to construct the "world's greenest dairy" in Westbeemster came in anticipation that its members might increase milk production by 15% to 20% after the abolishment of quotas.
Milk production in the Netherlands increased from 11,7 billion kilograms in 2012 to 12,2 billion kilograms in 2013, more or less in parallel with a 4,6% growth of the dairy herd. Producer prices spiked at record levels in 2013 and the Dutch herd grew to 1,55 million cows, while the average milk yield per animal remained stable.
A similar pattern was seen in the rest of Europe, according to Dr Koos Coetzee of the Milk Producer's Organisation in Pretoria. The 2013/2014 season saw a 5% production growth in Europe in the 12 months to June 2014, the sharpest increase in European milk production in 30 years.
However, a correction followed, with global milk prices peaking in February 2014, after which many Dutch farmers became increasingly concerned about a declining price trend. Russia's sanctions against the EU contributed to the low milk price in Europe.
Within the Netherlands there have been lobbies for and against the abolishment of the quota system. According to Koning, a major disadvantage of quotas was that farmers who extended their farms had to buy or lease quotas at high prices. Young farmers in particular complained about the high costs of obtaining a viable production size given the high prices of land (€50 000/ha or about R650 000/ ha) and of other inputs in the Netherlands.
Koning pointed out that Dutch dairy co-operatives were making no attempt to change the rules for the redistribution of quotas.
"Friesland's [the Friesland Campinia co-op] management became one-sidedly focused on how to beat New Zealand in the emerging Asian markets. In this competition, the dairy came to see milk quotas as a major obstacle," he said.
The environment
The Netherlands has 17 800 dairy farms, and each producer has on average between 80 and 100 cows. The farms, which are highly automated, are normally run by the family and one worker. The country also has a 280 000-strong national dairy goat herd. Professional goat milk dairy operations were only established in the Netherlands in the 1980s. Today, the largest goat milk operations have between 5 000 and 8 000 goats.
According to Dr Hink Perdok, Sustainability Projects Director at Cargill Animal Nutrition (CAN) in Rotterdam, about 60% of Dutch farms are at the new manure placement ceiling. The quota system is being replaced by laws to curb the environmental impact of milk production, which means that Dutch dairy farmers will have to keep a record of the levels of phosphate (P), nitrogen (N) and carbon (C) in their barns.
Perdok points out that P will be the biggest limiting factor on most Dutch farms. Bert and Marleen de Groot, dairy and pig farmers in the agri-village of Zegveld in the Dutch province of Utrecht, explained that all Dutch cow barns must be equipped with grid flooring fitted with a gutter feature underneath allowing for improved separation of urine and faeces.
Moreover, dairy farmers are only allowed to expand production once they have obtained permission from the local community and their provinces, while a levy which is a percentage of the building costs of expanding a cow barn will also be payable to
the local authority and to the province. These measures form part of curbing the environmental impact of expanded milk production.
As mentioned, the amount of milk processed in the Netherlands increased in 2013 in line with the growing national dairy herd. Much of this extra milk was used for the production of cheese, by far the biggest Dutch dairy category. In the same year, cheese production stood at approximately 794 000t, absorbing almost 56% of the quantity of processed milk.
Growth in exports
According to Zuivel NL, Dutch exports showed substantial volume growth in all key product groups in 2013. Increased exports and a higher price level resulted in a 21% increase in the value of exports, which amounted to over €6,7 billion (R87 billion).
At the same time, the value of imports increased by 7% to almost €2,7 billion (R35 billion), due mainly to higher price levels rather than higher volumes.
The positive Dutch trade balance for dairy products reached almost €4,1 billion (R53 billion), which saw dairy products contributing more than 8% to the overall Dutch trade balance. With a share of more than 5% in the world's trade in dairy products, the Netherlands is the most active EU member state in the world market. Its main destinations outside the EU are Russia, China, Nigeria and Saudi Arabia. Cheese accounts for more than 46% of the value of Dutch dairy exports.
Some Dutch milk farmers who have grown dissatisfied with low producer prices paid by co-ops have started making their own cheese, but most admit that it is difficult to switch. Loan capital is not readily available from banks, while cheese producers must be able to set themselves apart and penetrate markets.
The future
An indication of the scope for dairy exports or the need for imports can be obtained when global milk production is plotted against world population. According to Zuivel NL, 2013 milk production figures per country showed that the Netherlands produced more than 700kg of milk per capita, about seven times higher than the global average of 105kg.
From these figures, it is quite evident why the Netherlands is one of the world's major dairy exporters. South Africa produced only 54kg of milk per capita in 2013. This data is based on the production of cow milk and buffalo milk and is contained in the 2013 report of Zuivel NL.
According to the report, many countries in regions such as Asia, Africa and the Middle East had a relatively low per
capita milk production, and can be seen as important destinations for the global dairy trade. The world's major dairy importing countries (outside the EU) are China, the Russian Federation, Saudi Arabia, the USA, Japan, Mexico, Indonesia, Algeria, Malaysia and the Philippines.
Email Zuivel NL at [email protected].
This article was originally published in the 13 March 2015 issue of Farmers Weekly.