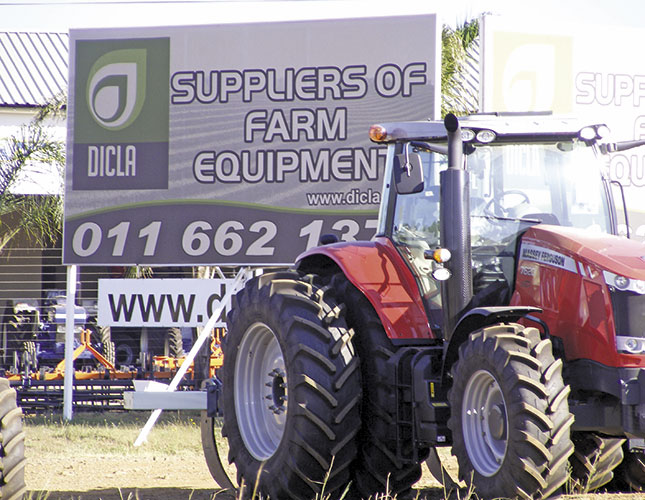 "You can't just be a skilled farmer anymore. You also have to be a skilled entrepreneur to survive," says Johan Tijssen. The truth of this assertion is certainly demonstrated by the success of Johan's 19-year-old business, Dicla Farm and Seed. Here is an operation whose growth has been driven not just by hard work, but by a willingness to take risks and diversify.
READ:Universal Expo – exploring solutions to end world hunger
Johan also believes that part of his success is due to his Dutch farming heritage: in the Netherlands small plots of land are the norm.
"I was always taught to maximise production on small tracts of land – making them produce as intensively as possible. I produce on every available inch of land I have."
On Pinocchio Farm, Johan currently has a 15ha combined multispan and single tunnel vegetable operation, a mechanised packhouse, a 25ha open- field drip irrigation vegetable operation, 125ha dryland under maize, 50ha grass under dry pasture, a 250-Bonsmara stud herd and a 600-strong Bonsmara commercial herd, and a feedlot.
"In addition, as South African farmers, we also have to consider the future politically, so I mentor and support outgrowers who supply produce to my packhouse. We need strong black farmers in South Africa, so Dicla supports them wherever it can, while they in turn increase my production," Johan says.
Pinocchio Farm is just one of three operations that make up Dicla: Pinocchio Farm, tunnel supplies and tractor distribution.
"We're constantly expanding our tunnel and tunnel equipment supply and mechanisation operations. We supply between 300 and 400 tunnels a year and sell about 150 Farm Trac tractors countrywide. I've also just acquired the Massey Ferguson agency for West Gauteng, which is a big boost for our business," he says.
Pinocchio Farm
In 2009, Johan bought a 260ha farm. "We called it Pinocchio Farm because of a young guy who worked here who had a very long nose. We joked that it was Pinocchio's farm so the name stuck," Johan recalls. "I started with ten single tunnels on Pinocchio Farm growing cucumbers, and rapidly developed to 40 single tunnels. Now I farm 15ha under tunnels – or 250 single tunnels – and 5ha multispan, producing tomatoes, peppers and cucumbers. I added a further 25ha under open-field drip irrigation producing lettuce, broccoli, cabbage and green peppers as summer crops."
Johan has used his vegetable production as the basis from which to expand.
"Branding and marketing have become an imperative value-add to farming, so we built our own packhouse, where we package produce to market specifications. I invested heavily in several imported sorting machines and packing machines, and they proved to be worth every cent," he explains.
Johan also uses his packhouse to pack on behalf of outgrowers and other farmers in the area, thereby increasing his supply capacity. Even the cattle add value to his tunnel farming operation, and vice versa.
"I don't tunnel farm hydroponically. I use soil as the growth medium and compost the soil with a mixture of cattle manure. My cattle in turn are fed all the leaf and stem offcuts from vegetables," he says.
Running a large herd on only 260ha has its challenges, he admits, especially when it comes to providing the stock with sufficient feed. "I make silage from maize, and I contract-plough and bale for neighbours with produce offset agreements in place. However, it got to the point where I had far too much feed for my own herd, so rather than sell the feed I started a feedlot, buying in older cattle, fattening and selling them off," he explains.
Dicla has long been a business that has expanded through a process of natural progression based on marketing.
"My father Dirk taught me to always locate myself close to a big market, to offer a turnkey package and an impeccable after- sales service," says Johan.
Tunnel supply success story
Dicla's current expansion is all the more exceptional given that the operation started humbly. His parents Dirk and Clazien Tijssen immigrated to South Africa from the Netherlands in the 1970s. "My father was a mechanic by trade
who grew up on a farm in the Netherlands, but swore he would never be a farmer because he'd laboured as a child on his father's farm and hated it," says Johan.
However, his experience confirms the old adage 'once a farmer, always a farmer'. In 1990, while managing a canopy manufacturing company, he borrowed capital to buy a 4ha plot in Roodepoort, which he named Dicla. He erected two single tunnels to grow cucumber.
"Within four years my father quit his job, borrowed against the Roodepoort property to purchase another ten tunnels and converted from cucumbers to growing Gypsophila flowers," remembers Johan. "He was one of the first pioneer tunnel flower farmers in South Africa," says Johan.
Dirk rapidly became renowned for his tunnel farming expertise and was offered the South African agency for the Dutch-owned seed company Rijk Zwaan.
"Through selling seeds to farmers around the country, my father saw the need for tunnel supply directly to the farmer,
so he began importing tunnels and irrigation systems to sell to local farmers. "The key to his success was his after-sales service. Farmers who bought tunnels from him could call him day or night for advice," says Johan.
Joining and acquiring Dicla
Johan matriculated in 1996 and immediately joined the family business. "There was a tunnel farming boom in the 1990s and I wanted to get involved in growing our tunnel supply capacity. We were one of the few tunnel suppliers at the time who were also commercial tunnel farmers, so our ability to offer practical advice to farmers who bought our tunnels gave us the edge in the market," he explains.
In 1998 Dirk left the Dicla farm to his son. At the time it consisted of the Gypsophila tunnel operation, a seed agency for Rijk Zwaan, and tunnel importation and supply.
"My father saw a gap in the market and wanted to expand on it, leaving Dicla to me. He started importing second-hand harvesters and started South Africa's first Farm Trac agency, called Tybos." Dicla has since been supplying and erecting between 300 and 400 tunnels annually. Lately, he has noted a shift in the demographics of tunnel sales.
"We're seeing the supply of tunnels shift from a predominately commercial farmer niche to the supply of government projects and mining companies as part of their corporate social investment (CSI) initiatives."
Dicla specialises in the sale of single tunnels, but also supplies and erects multispans. "However, I personally cannot justify the erection at a cost of R300/m² versus R150/m² on single tunnels. The difference in production outputs doesn't justify the outlay."
Mechanisation arm
The year 2009 was the year that changed Dicla into what it is today. Dirk retired and Johan took over the importation of tractors and equipment, merging Tybos with Dicla. In addition, they sold the Rijk Zwaan seed agency in South Africa. Johan now commenced farming seriously.
"I took the money we made from the sale of the agency and bought what is now Pinocchio Farm."
Since then, Johan has expanded the mechanisation arm of Dicla dramatically, and intends becoming the national supplier of Agri Equipment. He already has three branches – in Krugersdorp, Brits and Queenstown. "I intend opening branches in key locations such as Polokwane and Pietermaritzburg, where we currently trade through dealers. Having branches will ultimately see lower equipment prices for farmers," says Johan.
The ultimate objective is to create Dicla co-ops that specialise in a combination of mechanisation and tunnel supply.
To keep tractor and equipment prices down, Dicla currently imports the machines in semi-knock down (SKD) form and assembles them locally. Dicla's team completes four tractors a day.
Johan has applied business savvy to every obstacle he has encountered and has always used every resource and opportunity available to him. "It's all about value adding and developing every opportunity you have and making sure it all dovetails," he says.
Email Johan Tijssen at [email protected].
This artilce was originally published in the 12 June 2015 issue of Farmer's Weekly.