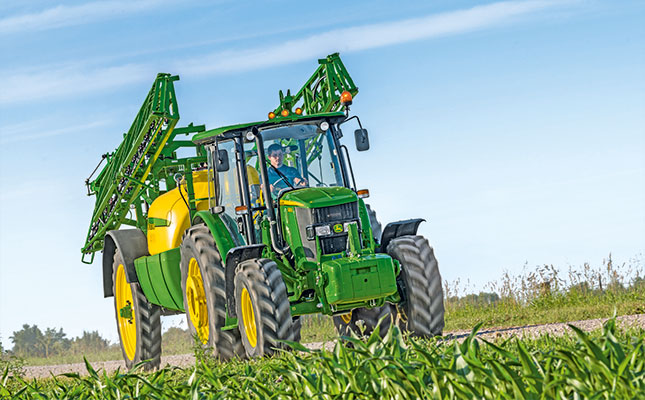 Farmers sometimes require particular machinery or implements for specific purposes at specific times, but are reluctant to buy such expensive assets for limited use.
On the other hand, some large-scale farming operations find it financially prudent to purchase a wide range of machinery and implements, but much of this equipment stands idle for long periods, while depreciating in value.
These scenarios have long played on the minds of the Afgri Technology Services (ATS) team at South African agricultural services group Afgri Agri Services.
And while the company's Equipment division was seeking ways to generate added value from its used machinery and implements, ATS general manager Niki Neumann and her team saw an opportunity to develop a powerful digital tool for linking agricultural equipment lessors and lessees.
Mechanisation challenges
The adoption of even the simplest machines and implements can boost the efficiency, profitability and sustainability of resource-poor smallholder farmers. Dr Dirk Strydom, acting manager of Grain SA's Development Programme, says that many smallholder farmers have limited access to essential machinery and implements, and struggle to source finance to buy it.
'Scaling agricultural mechanisation services in smallholder farming systems: Case studies from sub-Saharan Africa, South Asia, and Latin America ', a 2020 research paper by Jelle van Loon et al of the International Maize and Wheat Improvement Center, also highlights these challenges, adding that the use of machinery and associated implements on sub-Saharan African farms is "almost negligible" relative to the region's total cultivated land area.
"Yet the advantages of mechanisation options that are appropriate for the field sizes and resource endowments of smallholder farmers can be considerable," the paper states.
"Despite increasing interest by policymakers and international donors to use mechanisation as a vehicle for effective rural transformation, efforts to improve mechanisation of smallholder agriculture have not been consistently successful."
A breakthrough online portal
With this in mind, Neumann and her ATS team last year set about developing a web-based platform that enables farmers to find, hire and pay for agricultural equipment through a secure online portal. Named Axl, it is the first app of its kind in Africa.
"Accessing the right machinery and implements at the right time is a critical success factor for producers," says Neumann. "Yet it's an ongoing challenge for all farmers, both emerging and commercial. Hence the develpment of the Axl platform.
"In fact, with conventional used agricultural equipment supply chains disrupted by the COVID-19 pandemic, there's currently an even greater need for Axl, so we opened it up sooner than originally planned."
Comprehensive, but with safeguards
For the app to work optimally, it has to provide an array of agricultural equipment for hire in various categories throughout South Africa and beyond. But this has to be done with care.
Patrick Roux, Afgri Equipment's managing director, says Axl is designed with a number of safeguards to minimise false advertising, fraud, and other possible threats to legitimate lessors and lessees.
Lessors
Lessors have to provide Axl's administrators with information to verify their details, and also the authenticity, ownership, capabilities and location of the equipment they intend listing for hire.
Once this information has been verified, which takes up to 72 hours, lessors can start listing their equipment for hire. As part of their listing profile on Axl, lessors are required to upload four photographs, taken from various angles, of each piece of equipment.
"You can link two pieces of machinery, for example, a sprayer and the tractor to haul it, per listing," says Roux. "On your listing's calendar, you can also block out dates when the equipment is unavailable, such as when you or another renter will be using it, or when it's undergoing maintenance."
Lessees
Once potential lessees have also registered on Axl, they can immediately start searching the platform for the equipment they need, as well as its availability, rental costs and locality, before settling on the most suitable listing.
Neumann explains that while Axl's administrators can advise lessors of online market-related rental rates for various machines and implements, the final decision on what to charge remains with the lessor. Similarly, lessees are free to accept the advertised rate, negotiate it with the advertiser, or move on to other listings.
"A potential lessee then sends a booking request to the equipment's advertiser. If the advertiser accepts the request, Axl then invoices the lessee for the transaction. To confirm the transaction, the lessee immediately pays 20% of the total agreed-upon fee into Axl's holding account.
"The lessee must pay the 80% balance into the holding account two weeks before taking delivery of the hired equipment. Once the rental parties notify Axl's administrators that the transaction is complete, the payment is released into the lessor's bank account."
For using Axl's services, the lessor and lessee are each charged 4% of the total transaction fee.
Light on data consumption
"We realise that data connectivity in South Africa and other parts of the continent can be unreliable, so we designed Axl to be light on data consumption and also functional
at EDGE mobile connectivity strength," explains Neumann.
"At weaker mobile data connectivity strength, the Axl platform will have some functionality available. However, like most online banking portals, and for security reasons, Axl requires a stable and suitable Internet connection and connectivity when making online transactions."
Roux says that despite being so new, Axl already has more than 600 registered users, and the platform has processed over R1,2 million worth of transactions since its launch at the end of May 2020.
User experiences
The ATS team has requested feedback from some customers on their initial experience with the Axl platform.
Christiaan Kotze, of the Western Cape, says that Axl gives smaller agricultural contractors like him "the opportunity to compete on the market".
He found it easy to load his equipment for hire onto the platform, and also approves of Axl's secure payment system, as it minimises the risk of non-payment or fraudsters.
"A disadvantage of Axl is that there's not enough equipment listed yet for hire across the country," he says.
Free State farmer CJ Hattingh says that he has already leased and hired tractors, a sprayer, a harvester, disc harrows, a ripper, and lime spreaders on the Axl platform.
"It's generally worked smoothly. The only hiccup that I've experienced is having to
provide proof of ownership and follow the required format for documents to submit for verification," he says.
Neumann says that due to the travel restrictions and other constraints created by South Africa's COVID-19 lockdown, the ATS team has only been able to host webinars to teach potential users about Axl.
"Our next step will be to hold information days for farmers across the country.
"Axl will be available only in English for the foreseeable future but, over time, we may build multi-language manuals into the platform as demand requires," she says.
Source: Van Loon, J et al: 'Scaling agricultural mechanization services in smallholder farming systems: Case studies from sub-Saharan Africa, South Asia, and Latin America'. CIMMYT/Elsevier Agricultural Systems Volume 180, April 2020.
Visit axl.app.