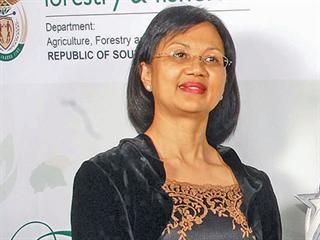 When her eleven-year-old son recently asked her what her "real job" was, minister Tina Joemat-Pettersson was ready with an answer: "I have to put food on the table for the 53 million people in South Africa." "How do you feed 53 million people if you're always in meetings?" he shot back, reminding her that she never had time to cook, let alone farm! But in a recent interview with Farmer's Weekly, the minister of the Department of Agriculture, Forestry and Fisheries seemed confident that these meetings were beginning to pay off.
Agricultural trade balance explained
Prof Ferdinand Meyer from the Bureau for Food and Agricultural Policy (BFAP) explains that while South Africa could have had negative agricultural trade balances for specific quarters, the sector has had a positive trade balance since 2008.

The negative trade balance in 2007 was the result of a drought that significantly affected the maize harvest, and hence maize exports. He explains that the agricultural trade balance is currently very delicate, and climatic events such as a severe drought could tip it back into negative territory.

"Currently, maize is the tipping scale," he says. If government had done more to secure export markets for intensive crops such as citrus, table grapes and wine, the margin would not have been this tight, and the chances of going into a negative trade balance would be much smaller, Meyer says.

"We're not close to where we were 10 years ago (or) even six or seven years ago." "Having a negative trade balance should not even be an issue," he says. "Structurally, there is a dire need for support from government."

Meyer foresees a strengthening trade balance for the 2013/2014 export season, mainly because of good harvests expected in, among others, the citrus and sugar industries. "The sugar guys are having an extremely good harvest," he says.

Maize exports for the year are expected to be about 1,9 million tons. A weaker exchange rate will lead to both higher imports and exports. But because of a greater volume in exports, the exchange rate will result in a higher gearing.
"When I started in 2009, we were a net importer of food. Now we're a net exporter," she said. (See box) And this, Joemat-Pettersson believes, is because she personally travelled across the globe to find export markets – markets that she claims to have indeed found. "We could absorb the EU crisis because in the first three years (in this portfolio) I looked for markets."
This included increasing exports to the Far East, specifically China, and also the Middle East, Central America, South America and Africa. But the industry has been accusing the Department of Agriculture, Forestry and Fisheries (DAFF) of not growing export markets fast enough. In 2010, South Africa had a maize surplus of two million tons, and Grain SA suggested that farmers plant only 50% of their planned hectares to counter the impact it would have on the maize price.
With the industry criticising DAFF for taking too long to act, Grain SA told Farmer's Weekly that it had stepped in to assist in negotiations with other countries. This included drawing up a Pest Information Pack (PIP) for the Venezuelan government after DAFF said it would take the department two years to do so. Exports started eating into the maize surplus at the beginning of the 2011/2012 marketing season.
"If we didn't have market-driven expansion in agriculture, agriculture would be in serious trouble now," says the minister. "So we've been vindicated. I've been vindicated that the decisions we took were the right ones." According to her, more countries are now interested in South African produce. "Right now Iran, Iraq … they are sitting on my neck," she says.
Meetings with counterparts from these countries will most likely take place during the Global Conference on Agriculture, Food Security and Climate Change, to be held in South Africa during the first week of December.
Job creator
Joemat-Pettersson maintains that her department is creating jobs for the first time since 1970. "We started growing jobs in 2011. Even economists are saying that," she says, taking out a copy of the 2 August Business Day and quoting a statement by the University of Pretoria's Frikkie Liebenberg that agricultural employment stood at 759 729 in March this year.
And although there are no official figures on the number of black (developing or commercial) farmers in the country, the minister says: "The statistics we are getting is that we're producing black commercial farmers." She adds that biofuels offer the potential to create between 20 000 and 80 000 jobs, and add 0,5% to the GDP, but an effective date of mandatory blending has yet to be published.
But she has her eyes on an even moreelaborate project: the Agricultural Policy Action Plan. "I have to put 1 million hectares of prime agricultural land back into production," she says. This includes land in the former homelands, communal land and commonage. At current estimates, this will cost R1,2 billion and has to be completed within 10 years.
In short, rural communities and small- holder farmers will be encouraged to grow food after being provided with initial inputs. After the first harvest, they will be able to keep one-third for personal consumption, one-third will be retained for replanting, and the remaining third will be sold. The minister becomes visibly frustrated when asked about the now-controversial Masibambisane's involvement in this project.
During an initial press conference chaired by President Jacob Zuma, it was stated that Masibambisane would be running a new food programme, which at the time was called the Integrated Food and Nutrition Security Initiative (IFNSI). But Joemat-Pettersson insists that Masibambisane is no longer involved. "Masibambisane is an NGO that was created to mobilise communities and smallholder farmers," she says. And according to her, the NGO has done its job and their paths have separated.
"They're an NGO on their own. They can do whatever they like. What they do next isn't my problem. "We needed an outsider to bring us all together. Government was suspicious of labour… was suspicious of business. Business was suspicious of government, smallholders were suspicious of big companies… This outsider was Masibambisane – to bring the public and private sector together."
But now, says the minister, it is government's programme. "We are now mobilised. We are ready. I could have used the ANC to do it [mobilise communities], but I said it must not be political." Joemat-Pettersson says that government has already planted 120 000ha to maize, beans and potatoes "all over the Eastern Cape, KwaZulu-Natal and Mpumalanga", and also small parts of the Northern Cape and the Free State.
At this stage, the project will not be rolled out in the Western Cape, because "the DA doesn't want to come on board".
"They've just been looking at Masibambisane as something corrupt and bad," she says. But she stresses that the project is President Zuma's dream. "He wanted this. I don't pay (Masibambisane). They do not get money from government. The money from government that I use from my budget goes to the farmers."
According to the minister, the last harvest is beginning to come in. A total of 20 000t of "good quality maize" have come in already, and she has already secured a market for this produce.
Lesotho
When South Africa donated money to Swaziland, government was criticised for assisting other countries while a large percentage of its own population was food-insecure, says Joemat-Pettersson. (According to her, there are at least 15 million food-insecure people in South Africa.) So when government announced aid of R180 million to alleviate hunger in Lesotho, she suggested that this donation be "half in money, half in kind".
The "Lesotho Initiative" will be run by the World Food Programme (WFP), which will be responsible for collecting and distributing the food. According to an arrangement with WFP, 40% of the food has to be procured from smallholder farmers and the rest from commercial farmers. "The commercial farmers selling to the WFP must cluster with the smallholder farmers. That will allow us to reuse their logistics, so that we don't duplicate what the commercial farmer has," she says.
The minister adds that commercial farmers who co-operate will be paid an incentive.
Also, the more food the WFP can procure from smallholder farmers the more food it can procure from commercial farmers.
She also wants farm workers to get involved in food production. "I need farm workers, I need FAWU to buy into this as well," she says. Joemat-Pettersson also wants to introduce third country agreements, whereby other countries agree to have food aid distributed via the WFP procured in South Africa. Government will look at revitalising agricultural infrastructure and agricultural access to rail.
Joemat-Pettersson says they have worked around SIP 11 – one of the 18 strategic integrated plans that form part of government's National Infrastructure Plan. SIP 11 entails improving investment in agri-logistics and rural infrastructure, and includes fencing of farms, expansion of agricultural colleges, processing facilities, and transport links to main networks such as rural roads, railway lines and ports.
Other government departments, including public works and rural development, are also involved. "There's a special unit in Transnet just working on agricultural access to rail," says the minister. Requests for proposals on how the plan can be implemented have to be submitted by the end of September, she says. With this relatively short time-frame, Joemat-Pettersson seems to have a sense of urgency for the plan to be properly rolled out before the next general election.
"I'm now working towards 2014," she says. "We just have to say that this is what we've left for this term-of-office. There must be a legacy of working together in an integrated fashion. If the departments manage to work together on this plan, it could be a success story."
And after 2014?
"I can't say that I'll be coming back. The ANC will decide which portfolio I get. If they send me back here, I'd love to finish it. But it's not my dream – it's my job." But, she says, all the things her department set out to do have been done – "and even better".