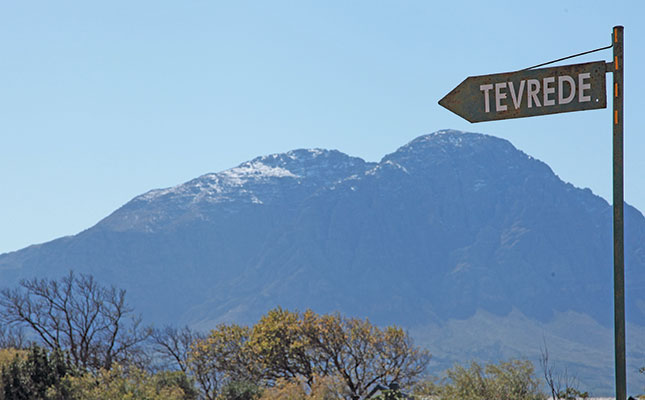 Heinrich Lategan and his father, Joubert, have to grapple with the constant pressure of rising input costs and market forces on their family farm, Tevrede, which has never been expanded in size. Situated near Worcester in the Western Cape, Tevrede is a wine grape farm of 100ha, with 50ha under irrigation.
"The wine industry being what it is these days, you need at least 100ha to 150ha under vines to offset the low margins,'' says Lategan.
This challenge has led the family on a path of diversification since Lategan joined the farm back in 2000. When the COVID-19 pandemic struck in 2020, with the restrictions on liquor sales that came with it, the choice to diversify proved to be the right one.
Lategan says in the early 2000s they became acquainted with a nearby landowner who also owned a well-known Italian restaurant franchise. He had bought the land to grow basil for his chain of restaurants' pesto recipe.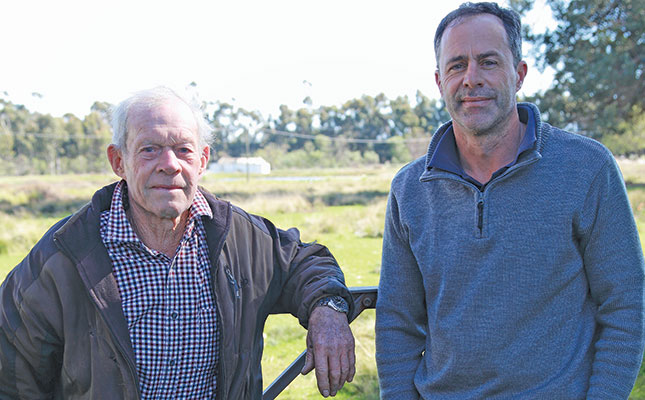 "Due to increased demand, he struggled to keep up with the basil production, and we started to grow basil for him," recalls Lategan.
"The restaurant also had difficulties managing the actual pesto-making process, and we negotiated a deal in which we would take over the equipment, make their pesto for them, and also produce a separate line of pesto for other clients."
A process of trial and error, combined with advice from food technologists, led to the development of the Naked Earth pesto.
"The restaurant recipe was really expensive due to its specific ingredients, and I was attempting to develop a more affordable product suited to our catering industry's needs.
"We have a long history of winemaking in our family, and used this knowledge and understanding of chemistry in the process [of making pesto]."
In 2017, none of the regular South African growers was able to supply fresh basil.
"Our restaurant partner started to import frozen basil, and this led to the end of our partnership," says Latagan.
"For us, it meant the end of a lucrative relationship, but it was also a good thing, as we could now continue to produce pesto for the farm stall and deli market, and at the same time focus more attention on the catering market with our own pesto."
They currently deliver between 300 and 600 1kg-frozen tubs of catering pesto monthly.
''Obviously, we were hard hit by COVID- 19 restrictions as restaurants were often closed during the past year, but at the same time we have experienced an increase in demand for our premium retail pesto.
"We think the COVID-19 pandemic has led to an increased interest in locally produced products by consumers. People are increasingly supporting small local outlets, delis and farm stalls in order to avoid large malls with lots of people.
"This has been positive for our sales up to date, as these are exactly the type of retail outlets we've been supplying up to now.''
Cost-conscious
Lategan says catering market dynamics have forced them to be cost-conscious when it comes to packaging, labelling and transport.
"We had to learn where to spend money and where not to in ways that don't affect product quality. We now apply the same cost focus discipline to our retail market products, and this has helped our bottom line," he says.
Delivering large orders of pesto to a few caterers improved Lategan's transport efficiency, but he realised it could be even better if they had a basket of products to offer. In 2016 they planted 1ha to Jalapẽno chillies together with their basil.
"We preserve the chillies in a vinaigrette and currently sell about one thousand 5kg-units per season. We plant in September and harvest in December to April."
They propagate their own planting material from seed for the basil and chillies.
"We've explored the market for producing fresh basil, but find it's too labour- and cost-intensive to produce and sell without adding value, so for now we'll continue growing basil only for our lines of pesto," notes Lategan.
Garlic is another product that goes well with pesto and chillies in the catering trade. "This is our first year of growing garlic, and we're looking forward to harvesting in November. At this stage it looks very promising."
Lategan also buys in sundried tomatoes, which they rehydrate in oil and sell to the catering market.
"The same clients who buy our pesto are also interested in the sundried tomatoes. For us, the next step would be to develop a sundried tomato pesto to add to our products."
In 2007, Lategan established 4ha of olives. He planted 3ha of the oil cultivars Coratina, Leccino and Frantoio and 1ha of Mission for table olives.
"With vineyards, there's a constant pressure to renew old vines, and for us the numbers simply didn't add up, especially over the past 10 years as wine prices have remained weak," he explains. "Olives do take a few years to get into production, but after that the trees can get very old and keep on producing, making it a sound investment."
The oil is extracted by a third party, as the family's volumes are too low to warrant an oil press. They soon discovered the intense competition in the bulk oil market, especially against cheap imports.
"This led to our developing our own brand and trademark, Naked Earth, and a marketing strategy focused on retail outlets, such as farm stalls, restaurants and delis,'' says Lategan.
Although successful, they were still faced with the challenge of distributing relatively small volumes of product to a large number of outlets.
In 2015 and 2016 Lategan established another 5ha of Koroneiki, a Greek cultivar known for high oil yields. "This year, we're experimenting with our first batch of table olives in brine as well as salt-dried olives."
Even though their oil olive yield will soon increase significantly, Lategan is wary of pressing his own oil. "Every time I dream of buying an olive oil press, I have to remind myself of the large amount of capital tied up in machinery, and the accompanying maintenance that goes with it. So not now."
Citrus trials
In 2015, Lategan decided to diversify the irrigation component of the farm by adding citrus to their farm. In partnership with Capespan, they committed to plant 8ha of Valley Gold soft citrus, a relatively untested but promising cultivar at that time.
The first 4ha were established in 2015, with the balance planted in 2016. This turned out to be a costly mistake, as the citrus was splitting and yields were low.
"This cultivar is not working for us. We're not even getting 10t/ha,'' says Lategan. They have replaced 4ha with Nadorcott, which will come into production in 2022.
"We'll be very careful with any further citrus developments, as a lot of trees were planted since 2017 and new markets will have to be developed to sustain the volumes coming into production."
For now, Lategan plans to keep their wine grapes to between 40ha and 50ha. "Even though the wine industry is under pressure and margins are not there, wine grapes remain a good crop, as they have a low labour cost, and integrate well with other fruit trees in terms of harvest times and labour activities."
Instead of expanding the hectares under vines, he would rather experiment with higher densities on the same hectares. More vines, but with fewer bunches, means that individual vines are less stressed and produce the same quality with fewer interventions, while total yields per hectare stay the same.
For Lategan, the immediate focus is to grow and expand the pesto business.
"With our traditional crops such as wine grapes and citrus, you have to invest upfront and then wait at least three years before you start seeing a return. With Naked Earth, we only need to secure a new client, and immediately see more orders coming in.
"My plan is to formalise and upgrade our pesto production facilities, and start marketing our range of products in Johannesburg. We're also exploring the possibility of producing a pesto that can be stored at room temperature, which can add further growth opportunities for Naked Earth."
Email Heinrich Lategan at [email protected].