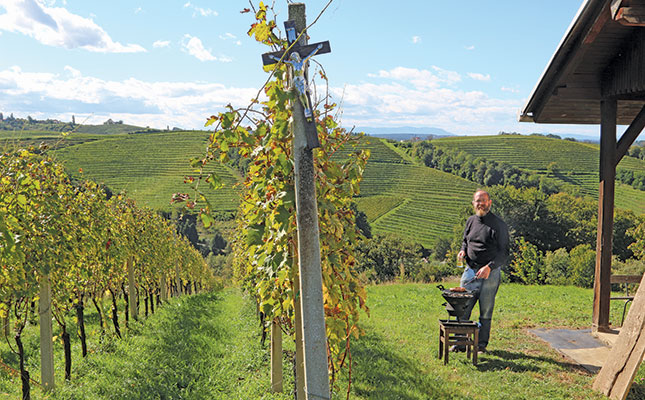 What was supposed to be a holiday trip to Croatia in 2017 gained a whole new dimension when winemaker Pieter de Waal and his wife, Lohra, took a wrong turn and ended up in the scenic countryside of Slovenia.
Well, they didn't actually take a wrong turn, but as De Waal says, "why let facts get in the way of a good story?"
De Waal, unbeknown to Lohra, had planned at the outset to stay in Slovenia for most of their two-week holiday as "it was far less touristy than Croatia" and Iona's winemaker, Werner Muller, once told him it was "his type of place" because of the country's "amazing people and excellent wines".
He had also arranged for a university friend, Ciaran Rooney, an Irish-born Stellenbosch-trained winemaker who had been working for various wine farms in France, to meet them there.
While initially dismayed about the way her Croatian seaside holiday had turned out, Lohra was soon appeased when she discovered that the Slovenian coastline, although much shorter, is quite similar to that of Croatia.
She also fell in love with the forests: "I can hike for hours on end with no concern for my safety. There are places where, if you're not careful, you can walk into Hungary or Croatia without even knowing that you've crossed an international border."
A boutique wine farm
De Waal was looking for a winemaking investment opportunity at the time, so he and Lohra started browsing the Internet in search of a property to buy. They were attracted to a beautiful, half-completed, wooden guesthouse in the Goričko Natural Park, but unfortunately it had just been sold by the time they got in touch with the sales agent.
When the agent asked what they were looking for, De Waal replied, "something on top of a hill with vineyard views", alluding to his South African wine brand, Hermit on the Hill.
It turned out that the agent had exactly what they were looking for, and showed them a summer cottage with a few vines on the Globoka hills, in the north-east of the country, close to the border with Croatia. It is 40km from Maribor, Slovenia's second-largest city, which is about the same size as Paarl in the Western Cape.
"Slovenia is quite small, with nothing being farther away than a 300km drive," De Waal says.
The smallholding is situated close to the town of Ljutomer and in the area that produced the UK's most popular semi-sweet white wine in the early 1980s, Ljutomer Laski Rizling.
This variety, known elsewhere in Europe as Welschriesling, bears no relation to the German Weisser Riesling or the South African-produced Cape Riesling (Crouchen Blanc).
De Waal persuaded his brother, Wouter, a consulting engineer, to enter into a partnership with him and they bought the property together. The smallholding, which is 0,5ha in size, cost about the same as land of equivalent size in the Klein Karoo, with the added advantage of having vines on it.
Their offer was approved a month later, after the authorities had established that none of the locals was interested in the property.
"In spite of the abundance of fertile land and good-quality water, few young people in Slovenia are interested in farming and living in the rural areas," says De Waal.
He explains that Slovenia's farming culture is entwined with the history of the country. The Slovenians, along with the Serbs and Croats, broke away from Russia in 1981 through the formation of the Socialist Federal Republic of Yugoslavia.
The region had suffered a depression between the 1970s and 1980s, with unemployment averaging about 60% in Slovenia.
One of the government's responses to this was to make small pieces of agricultural land available to its citizens on highly favourable terms.
"As most people worked only three to four days a week because of the high unemployment, many took up the offer of farming on the side. Today, there are over 28 000 wineries in the country producing about 90 million litres of wine. Most of the wine is made for home consumption," he says.
Slovenia became independent in the early 1990s and joined the EU in 2004.
Business
As part of their transaction, the De Waal brothers had to register a business at a cost of about €1 800 (about R34 500) and capitalise the company with a contribution of €7 500 (R144 000).
"I've been operating as Vinotage cc in South Africa for 20 years, so decided to use the same name for the business in Slovenia," says De Waal.
"You need a business address when registering a company in Slovenia. We could have used the smallholding's address, but have decided instead to appoint a lawyer on that side to manage our affairs and ensure smooth communications with the relevant parties."
De Waal and Lohra, who have a small daughter, have decided not to apply for residency in the country, as it would not only be expensive but have to be renewed regularly.
"Once approved, you have to pay additional taxes towards the state pension fund and schooling system, which really won't be worth our while since we'd need to contribute for at least 40 years to qualify for a state pension. It also works out cheaper to pay for your children's schooling yourself," De Waal explains.
He estimates that a business may be taxed up to 40% in total, taking contributions to social security into consideration, with directors being taxed between 30% and 40% on a minimum income of €1 300 (R25 000) a month.
"If we wanted European residency, it would make more sense to apply for a Golden Visa in Portugal."
Instead, the De Waals visit the property each year to harvest the grapes, make the wine and improve the cottage. The COVID-19 outbreak, however, made the trip this year impossible, but they managed to arrange for a local winemaker to produce their 2020 vintage for them.
The smallholding
The smallholding came with 12 rows of rather neglected Guyot-trellised Welschriesling (Laski Rizling) and Muscat Blanc à Petits Grains, locally known as Gelber Muskateller, spaced 1m apart over the 100m-long rows.
The De Waals were recently ordered to remove some of their vines, as they were infected with flavescence dorée (golden yellows), a viral disease spread by the American grapevine leafhopper (Scaphoideus titanus).
"We face a hefty fine if we don't remove the vines, but the government is willing to foot the replacement costs of the infected vines," says De Waal. They are still unsure how this support will work, however.
"I hope the government will allow us to replace the old cultivars with Šipon, also known as Furmint, as it makes for an excellent white wine. My neighbour has Šipon vines that are over 40 years old, so they definitely thrive in the area."
The scarcity and high cost of labour is one of the main obstacles the De Waals face.
"Many fixer-uppers are available, but labour costs are exorbitant, so you need to be able to do most of the work yourself," says De Waal.
They have been fortunate to have a good neighbour, who maintains and tends the vines part-time, for about the same it would cost to employ a full-time gardener in South Africa.
Their summer cottage consists of an underground wine cellar of about 30m2, on top of which is an open-plan living space, with a kitchenette, a sleeping couch and a toilet. The brothers have since built a loft for sleeping quarters as well as a shower. The next step will be to upgrade the septic tank and get the cellar set up for winemaking.
"The house is literally meant to be a place to sleep while harvesting or tending your vines. It doesn't have proper insulation or the heating features required to survive the sub-zero winter temperatures of the country. I actually don't know whether people are permitted to stay in these houses throughout the year. We're looking to buy an apartment in Maribor to let as student accommodation and to have available for visiting friends and family during the summer months when the students are on holiday," says De Waal.
Plans for the future
De Waal has been involved in the entire winemaking process during his working life, but now, at the age of 50, has decided to focus on the marketing, distribution and selling of South African wine.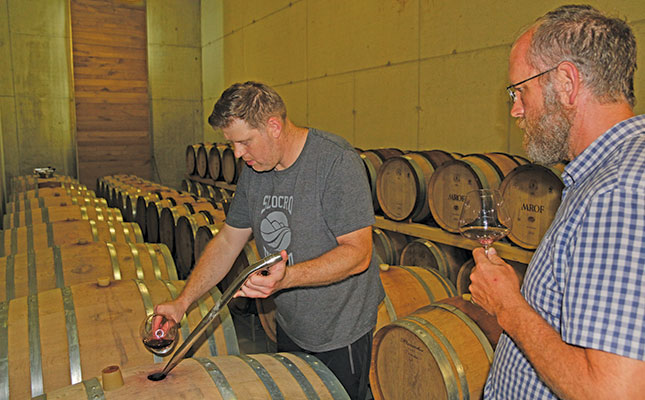 In addition to his Hermit on the Hill brand, which he established in 2000, he owns the Mount Abora label in partnership with longtime friend Krige Visser of Arcangeli Winery in Bot River.
Mount Abora wines, which have garnered a number of Platter five-star ratings as well as other accolades, are sold primarily in the US, Brazil, Belgium and Japan, with only a portion sold in South Africa.
While owning a vineyard in Slovenia started out as an impulse buy, the business prospect fits De Waal like a glove, as he sees it as an opportunity to move his Hermit on the Hill brand.
"The brand would be ideal for adding value to wine from the region, firstly because our vineyard is situated on a remote hill, and secondly because of the name's reference to the crusaders of the 13th century," he says.
"One story has it that crusaders on their way to the Holy Land stopped nearby our farm to rest and were welcomed by locals who served them delicious local wine. They decided to stay and subsequently named the place Jerusalem," De Waal says.
While there are some top-quality wines from Slovenia, the industry in general is rather low-key. Annual production volumes need to be declared to the government if you want to sell wine, but unlike here in South Africa, there are no customs and excise duties or other restrictions on wine sales on the local market and plenty of wines are sold in plastic bottles directly from the farms.
"A popular local custom is to make wine spritzers by combining white or red wine with sparkling mineral water from the area, which makes a wonderful summer quaffer that can be enjoyed at any time of the day. And make no mistake, Slovenians love their wine," De Waal says.
Email Pieter de Waal at [email protected].