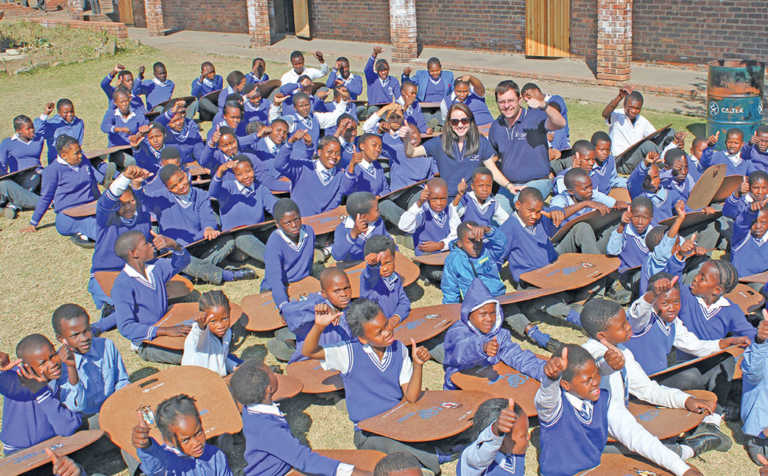 Backed by a highly impressive array of qualifications in law, higher education, financial planning, human rights and project management, Lion du Plessis led a successful corporate career in Gauteng.
But periodically returning to his family on the farm near Ermelo, Mpumalanga, where he grew up, he witnessed the plight of the rural communities and felt a need to do more to uplift these people.
"Studying human rights was a bit of a turning point and really gave me a different view of life. It helped give me insight into the less fortunate," he says.
In 2009, Du Plessis launched the Children at Play ([email protected]) charity, initially with the aim of getting workers' children living on the farm active and involved in sport.
"I believe sport can go a long way towards teaching discipline and therefore aiding in business, so it seemed like a good place to start," he says.
The venture was then extended to provide stationery for the schoolchildren.
"Many families can't provide stationery, and the schools usually have limited resources. We're so often shocked that some of the children don't even have one pen with which to write. Supplying them each with their own stationery pack not only gives them the ability to take part in schoolwork, it motivates them to work harder for success."
In 2012, Du Plessis moved back to Ermelo to farm, and alongside his farming activities continued expanding [email protected] Today, it comprises several focus areas to provide for a range of needs in rural and less fortunate communities.
As a registered non-profit organisation, it relies on the support of volunteers, sponsors and donors. Du Plessis believes that through [email protected], children from all backgrounds can acquire the tools to develop and grow up to be responsible, productive citizens.
He takes his role as a farmer and his responsibility towards the greater farming community very seriously.
"The charity has opened my eyes to realise that life is not just about me and working hard so that I can go on holiday or buy a new bakkie. There are many people that we as farmers have an influence over. We support over 100 people through the farm alone, so it can't just be about me. I must ensure my farm is successful because their success is dependent on my success."
Expansion
[email protected] has expanded over the years to include a number of divisions. [email protected] Education provides selected children with bursaries to attend better schools and obtain tertiary education.
Du Plessis believes this is particularly important as children who show a drive to succeed in life should not be ignored.
"They deserve a fair chance at reaching their goals," he says.
[email protected] Sport has been broadened to motivate children to lead healthy, active lifestyles.
"We believe an active child is a healthy child, and a healthy child is in a better position to perform to the best of his or her ability. Sport can also provide opportunities for children to further their education and careers through sports bursaries in schools and universities.
Active involvement in sport also keeps children off the street and prevents them from getting up to mischief."
The charity distributes sport equipment such as soccer and netball balls to children in disadvantaged areas and those living in extreme poverty. It also arranges coaching clinics.
[email protected] Ministries provides printed and audio Bibles to illiterate communities.
The audio books are charged by using a built-in solar panel and can be ordered in almost any African language. Du Plessis estimates that each Bible reaches about 50 people, as families in communities share them.
"We also distribute Bibles to the shearing teams that shear our Merinos twice a year, and they take them home to their families when they leave," says Du Plessis.
[email protected] Food supplies nutritional food to those in need, especially children who are still developing and growing.
"We also provide basic necessities such as blankets, beanies, scarves, clothes, toiletries and water purifiers. These are basic things we take for granted, yet the reality is that thousands of people are trying to survive without them," says Du Plessis.
[email protected] Health has joined hands with CANSA (the Cancer Association of South Africa) to help children with cancer and children affected by cancer. The organisation focuses on creating awareness of cancer, cancer prevention, and supporting cancer survivors.
It donates prosthetics to affected children whose families are not in a position to afford them.
Other activities include providing mosquito nets to needy families in malaria-affected areas and encouraging people in cholera-affected areas to be aware of the risks and dangers, and to drink and use clean water at all times.
[email protected] International is where all the projects come together to help make a difference worldwide.
"[email protected] is based in South Africa, but we know that the basic problems experienced here are also a reality in other countries, especially in Africa. Often, instead of going on holiday, we go to a neighbouring country and extend our charity work to those communities.
Swaziland, Namibia, Burundi and Botswana are some of the countries we've extended the programme to."
Du Plessis says the contacts he made during his corporate career in Johannesburg have come in handy. "Knowing the right people has made it easier to get buy-in and assistance for projects, especially where we have to transport the donations to places such as Burundi or the Congo."
Connecting the world
Du Plessis's wife, Adele, is actively involved in running the charity, and their two children, Lara, 3, and Mia, 1, are taken along to the outreach days.
"It's important that they're exposed to those who are less fortunate than themselves and have a different point of view in life. It just makes one a better person to get another perspective."
Du Plessis has taken the charity one step further and developed a project that connects children in South Africa with those in the US.
"Children all over the world lead stressful lives. Regardless of their circumstances, they have many things in common, including attending school, homework, pressure to perform, and personal problems.
"Through the Sky-Pals project, we want them to realise they're not alone and simultaneously shift their focus beyond their own circumstances."
Du Plessis notes that some of the children [email protected] works with in the rural areas in South Africa have never been to the nearest town. They are confined to their village as only the parents can afford to go to town to do their monthly shopping.
"These children face a lot of cultural pressure, including pressure to fall pregnant so
they can become a source of income through social grant money and being coerced to get married at a young age. As a result, they don't finish school and just fall into the same negative routine as their parents. The motivation they get through interacting with people in different countries helps them realise there's more to life.
International outreach
"In return, children living in developed countries have the opportunity to learn more about the African culture, develop emotional intelligence, and realise there's a whole world out there from which they can learn. The hope is also that the experience will further motivate children to continue with 'world changing' activities throughout their lives."
Sky-Pals uses Skype to connect children attending a school in South Africa with willing and interested schoolchildren abroad. The interaction is monitored on both sides and the children are guided to motivate, inspire, support, challenge and get to know on another.
Perhaps most importantly, it gives them the opportunity to make lifelong friends all over the world.
To find out more about Children at Play, email Lion du Plessis at [email protected] or visit childrenatplay.org.za.