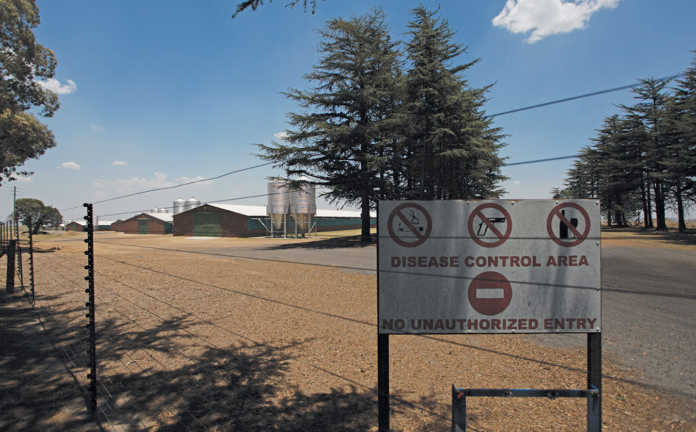 On his 3 800ha farm on the outskirts of Ermelo, Mpumalanga, Sam Nkosi produces broilers for Goldie in eight chicken houses.
He purchased the farm in 1998, left his job in marketing and started out with 300 Merinos, nine Brangus-type cows, one bull and some broilers "to assist with cash flow". He was soon supplying the local market with broilers, and at one time had 4 000 birds on his farm and was selling 1 000 live chickens every two weeks.
"It was tough," recalls Sam. "If you don't sell that chicken today then it eats your profit. Sometimes I'd sell what I needed to. At other times, the cycle would be extended to three weeks.
It was also difficult because I had to place a fixed order of 1 000 chicks every second week and I had to take delivery of the order even if I hadn't sold all my previous stock."
With sales determined by variable demand, Sam was unable to calculate important data such as feed intake or mortalities with any accuracy. After almost five years of operating in this manner, Sam realised that he had to find a more reliable market – and approached Astral Foods' Goldie (then Early Bird Farms).
Sam recalls with some amusement the day that the company's regional broiler and contract grower manager Jan Carstens came to inspect his farm.
"He wanted to inspect my production system. I had some chickens in a garage, and some in other buildings. I still moved them by hand as I had been doing since I started. It wasn't very sophisticated, but I was earning a good living."
The first question that  Jan asked was whether he had money. Sam was taken aback, as he had heard that if a farmer was accepted as a producer for Goldie, the company supplied all the essentials required for the operation – chicken houses, day-old chicks and feed.
He quickly learned from Jan that this was not the case: Goldie required its producers to build at least six chicken houses to its specifications. These cost R880 000 each at the time.
Sam said yes, he had money. Then, afraid that Goldie would ask for half the money upfront, he quickly followed this with "No".
Jan then told Sam that he would have to build the houses and source the required capital himself.
Seeking finance
Sam approached every institution he could think of, eventually ending up at the Mpumalanga Agricultural Development Corporation (MADC).
"I didn't have any collateral apart from the farm. And the price of one chicken house was more than the farm was worth. I thought I wouldn't even be able to begin."
The MADC informed Sam that it could assist  him if he had a contract stating that Goldie undertook to partner  with him as one of its suppliers. Jan gave Sam a letter of intent and the MADC lent him enough money to build one chicken house.
A solid business – and a good risk
The venture got off to a solid start, and on the strength of this, Sam was able to borrow a substantial sum from the MADC just six months later. He used this to build another five chicken houses."That first cycle was tops! Jan was here every day showing me what to do," recalls Sam.
Four years later, he built two more houses, bringing the total to eight. Sam says that the partnership with Goldie has been the key to his success and that of the company's 60 other producers.
Goldie supplies chicks and equipment, offers a vaccination programme and helps with the sale of manure as fertiliser.
"If it weren't for Goldie we wouldn't have been able to maintain consistent quality," he stresses.  "If we had to stand on our own I think three-quarters of us would fold, but we stand strong as a company."
Caring for the flock
Biosecurity is paramount on broiler farms – to the extent that Farmer's Weekly was not permitted to take photographs inside the chicken houses. The risk of spreading disease is simply too high. "Chickens are sensitive," explains Sam.
"You can't just come for a visit to the farm. You can step a lot of nonsense [disease] into this place.
"If people really have to see the chickens, they must shower at a special facility and be given protective clothing to wear."
Newcastle disease and infectious bursal disease (Gumboro), both highly contagious, are the major concerns for Sam, but his broilers have so far escaped these, thanks to good biosecurity and Goldie's vaccination programme.
Feed is mixed and supplied by Meadow Feeds and Sam follows the company's recommended feeding programme.
Since feed accounts for up to 70% of the total cost of rearing chickens, a poorly managed feeding programme can bankrupt a broiler farmer, he says.Fortunately, the Ross 308 broiler chickens that he farms are known for their good food conversion ratio (FCR).
Sam's operation currently maintains an average FCR of 1,6. Every cycle's FCR differs slightly, though, hence the need for hands-on farming.
Keeping the broilers warm is another priority. Heat is supplied by coal, which is still considerably cheaper than electricity. The temperatures in the chicken houses are kept at between 33°C and 38°C and depend on the age of the chicks.
"There's a standard programme, but at the end of the day you have to use your own eyes and experience and decide on temperatures with the standard programme as guideline," says Sam.
Putting off procrastination
"Things that have to be done must be done. That's the bottom line," says Sam. "If you ever begin saying you'll do something only when you want to, you're on a losing path."
For Sam, experience is the driver of productivity and good management. A farmer has to spend time with his chickens as that is the only way to learn to 'read' them, he insists.
"When you walk into the cage, you'll know if they are happy or not. If they make too much noise you know something's wrong. The heat is not right or they need food and water."
Production and management
Sam supplies 1,5 million broilers to Goldie annually, adding that production levels among the company's 60 suppliers differ because management practices differ. The operation adheres strictly to a series of cycles.
Chicks are delivered to  the farm every 46 days. During the next 34 days the chicks are reared to become broilers before being sent to Goldie for slaughter.
The following 10 to 12 days are spent cleaning cages, and then the cycle begins again.Sam has approximately 203 000 broilers on the farm at any one time.
Mixed farming
In addition to his broiler business, Sam grows 390ha maize and 390ha soya that he sells commercially. His livestock enterprise has also flourished.
He has built his original herd of nine cows into a 1 500-head Brangus breeding herd. In the process, he recently won the 2015 Breedplan Pick n Pay award for the stud farmer who showed the most progress.
Politics and farming
Sam is acutely aware of the many political issues surrounding agriculture. He believes that a large percentage of people who currently receive farms do not know what to do with the land. "Farming is an industry," he stresses.
"There are a lot of things that can hurt you." The lessons that farmers learn don't come cheaply, he adds.
"It's not cheap and  before you know it,  you're out of the industry. You have to manage your farming operation carefully in order to make a profit. And  you're in charge of everything – the cattle and sheep and workers. It's not easy and not everyone can do it.
"Most people say that  they want to farm with cattle. Why cattle? They don't even know how many hectares they need for one animal!"
He stresses that people who want to start farming have to know where  they want to begin and learn about the background of the particular farming industry they are interested in.
Then they should find a mentor – someone willing to "walk the path with them".
"Extension officers  used to do that, but  these days all you hear of them is that they're in meetings. And the land that is given out is in the hands of people who do not use it."
Phone Sam Nkosi on 082 579 0697.