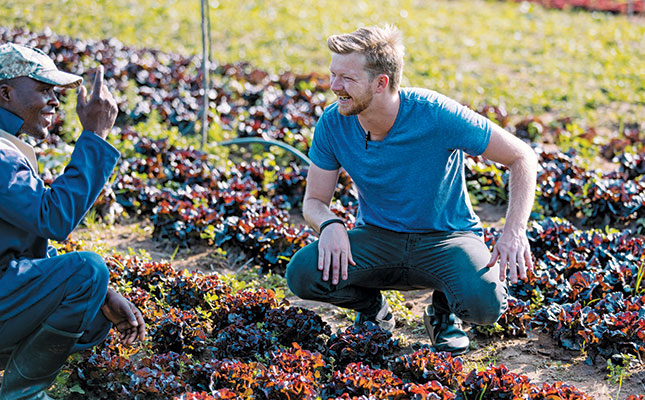 The vast majority of chefs create a menu and then find the ingredients. Jack Coetzee, the chef at Urbanologi Asian fusion restaurant in Johannesburg's CBD, has turned the process on its head.
To achieve this, he has had to journey into the rural areas of Gauteng, building relationships with farmers along the way to reach a point where all his menu's ingredients are sourced from within 150km of his restaurant.
This is no mean feat in a world where the ingredients for a single piece of sushi can travel up to 25 000km to reach a diner's plate.
Project 150 centres on Coetzee's belief that chefs have a responsibility in the cycle of food.
"A study done after the Second World War claimed that the ocean would never run out of fish. Then the sushi movement came along and we're now in a situation where fish stocks are being depleted. This illustrates the chef's role in determining how and where food is sourced and what becomes popular. This got my thought process going and ultimately resulted in Project 150," he says.
Exploring the backyard
Coetzee notes that there are certain ingredients that simply are not available within the 150km radius, but this has switched his thinking from designing a menu based on finding ingredients for what he wants to cook, to looking first at what ingredients are available and then deciding what he can do with them.
Interestingly, he is already well-used to this innovative approach; growing up on a farm in Zimbabwe, with a limited grocery selection, taught him to improvise.
"I went to boarding school and the food was terrible," he laughs.
"During holidays I'd come home, scratch around for old recipe books and start experimenting. Because we had a limited range of ingredients, I'd end up researching replacement ingredients and this eventually sparked a love for food and cooking."
After school, Coetzee studied to be a chef in Cape Town and was eventually drawn to Hazyview in Mpumalanga to head up Summerfields Kitchen.
"I was lured by the rural lifestyle as the restaurant is situated on a farm, which also produced most of the vegetables for the restaurant in a small organic vegetable patch.
"When I was offered the position at Urbanologi, I realised that I needed to do something different. There are plenty of chefs who can cook well, but I wanted to use my talent in a way that could benefit communities in a good way."
Although Coetzee would have preferred to replicate the Summerfields garden at Urbanologi, it wasn't possible. He therefore started sourcing his produce from a supplier, Angelo dos Santos, who believed in supporting smallholder farmers in the region. Coetzee was soon accompanying him to the farms and developing his own relationships with the farmers.
"A few months ago, I sat back and realised I could put an entire menu together based on what I was getting from these suppliers, all of whom were within a 150km radius from the restaurant. And so Project 150 was born."
He says this journey of discovery has been an incredible experience for him.
"Since we launched Project 150, our customers have started telling us about local farmers making all kinds of interesting produce. We've discovered award-winning olive oils close to the Magaliesberg, and superb cheese from Randfontein. We're sourcing asparagus from a farmer in Clydesdale that are so beautiful, all we need to do is grill them with a few Asian mushrooms, add some of the cheese and we have three simple things on a plate that are all fresh, local and delicious!"
Coetzee admits that the farmers are doing the real hard work.
"We get beautiful, fresh produce and as a result have to do little to it because the produce speaks for itself."
Another example is Urbanologi's trout farmer, who is based in Midrand.
"I'll message him the night before and order 3kg of trout. The farmer then gets up at 3am in the morning, catches the fish, cleans them, and by 11am we have them in our kitchen. You can't get that kind of service and freshness anywhere else," says Coetzee.
He stresses that sourcing locally benefits local farmers too. His trout supplier, for example, has had to expand his production to keep up with the demand from Urbanologi.
"He has gone from being a small farmer producing 10kg of fish a week to five times that. So everybody wins in this equation."
On his journey of discovery, Coetzee started buying produce from the Chinese community in Cyrildene.
"They farm Chinese cabbage in Bruma and have tunnels in which they grow shiitake mushrooms, pak choi and lemongrass. Initially the language barrier was a problem but now we sit with Google Translate and have formed a great relationship."
The relationships Coetzee has formed with the farmers are crucial as it keeps him up to date about seasonality and supply, while helping the farmers understand the restaurant's needs and how to capitalise on them.
"The farmers now warn us when something will be out of season, so we know we need to replace that item on the menu in the coming weeks. For this reason, we operate in microclimates, with produce coming and going throughout the year, often only appearing on the menu for a few weeks."
Food philosophy
This seasonality has required a concerted effort to change Urbanologi's customers' mindset from wanting to enjoy their favourite dishes year-round to trying different meals and eating what is in season.
"This takes a lot of interaction with the customers and reiteration of our philosophy to promote micro seasons and the reasons behind it. For 150 days, we feature an ingredient a day on our social media pages to get the message across about seasonal, locally sourced food. Through this process, we hope to at least plant the seed about sustainable eating," explains Coetzee.
Urbanologi's menu states where the ingredients are sourced and the distance to the farm, emphasising the role that proximity plays in the menu and creating a sense of community.
Coetzee says there are many ways in which sustainable food sourcing can be approached.
This includes how the farmers treat their workers, the effect their farming practices have on the environment, the transport of the food, and the waste.
"One of the main aims of the project is to make people aware of how much influence they have in deciding what and where to eat. This includes restaurants and supermarkets. We want people to ask more questions about the food they eat."
The Urbanologi team focuses on attaining a zero waste policy in the kitchen, trying to use as much as they can of every ingredient.
"We have dishes where we use the whole vegetable, from root to tip. You can't believe how good leek roots are, fried in a tempura batter, until you are forced to look at food waste differently and question why we eat only half of a vegetable."
Urbanologi is housed in the Mad Giant beer brewery and Coetzee has also been inspired by the brewery's waste products. He uses the spent grain to make rye bread and an ice cream that tastes like Horlicks, makes vinegar from beers that are soon to expire, and uses the yeast to make a type of Marmite.
He adds that when sourcing his produce, top-of-the-range, blemish-free vegetables are not what he is after.
"Many of my suppliers supply to big supermarkets where everything has to conform to certain specifications, which means much of what is produced ends up on the compost heap or is fed to pigs. I want that imperfect carrot because there's nothing wrong with it; it's in its most natural form."
He says that while the distance limit has boxed him in, it is a welcome restriction.
"It has forced me to think about what to do with what we have, and how to mimic flavours when we don't have something to get the flavour we need.
"We're looking at becoming less reactive. At the moment, I get told there are guavas available for the next two weeks and we have to quickly come up with a dish. The long-term view is to become proactive and get farmers to grow specific produce for us, so we can have a bit more produce to play with within the 150km.
"My ultimate goal is to have a restaurant that is world-class but still unique to my immediate surroundings."
Email Jack Coetzee at [email protected].