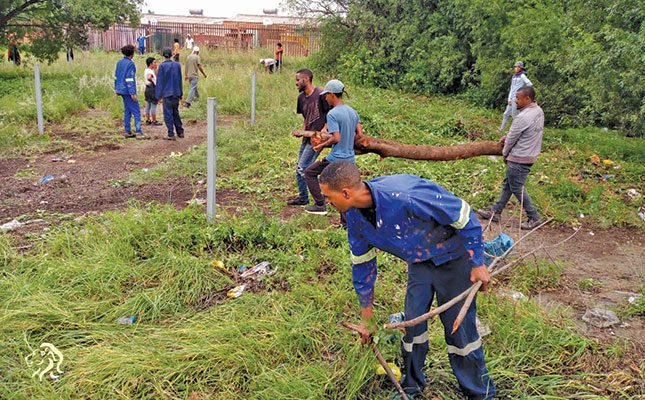 In South Africa, the effects of climate change are particularly severe due to the country's geographic location and high levels of poverty and inequality.
South Africa is already experiencing a range of rising temperatures, changes in rainfall patterns, and more frequent and extreme weather events. Over the past century, temperatures in South Africa have risen by around 1,5°C. This leads to increased water stress, more frequent wildfires, and reduced agricultural productivity.
The UN's Emissions Gap Report assesses the gap between anticipated emissions in 2030 and levels consistent with the 1,5°C and 2°C targets set by the Paris Agreement. Every year, the report features ways to bridge the gap.
According to the 2022 Emissions Gap Report, the climate change crisis calls for rapid transformation of societies, and only an urgent system-wide transformation can avoid climate disaster
Urban areas are not unaffected. For example, there is the problem of landfills on the border of communities such as Devland, Freedom Park, and Eldorado Park in Gauteng and elsewhere.
Although the landfills might help to keep communities clean, they are being filled with more and more waste. This leads to odours, smoke, fire, noise, pests and groundwater contamination. Worse, as the organic mass in landfills decomposes, methane gas is released, contributing to greenhouse gas emissions.
A practical understanding of the impact of climate change can help communities to better deal with climate adaptation. With this in mind, non-profit organisation His Choice Ministries, which specialised in poverty relief, with assistance from the Alliance of Religions and Conservation and the Kenya Organisation of Environmental Education, helped to set up a community project in Eldorado Park, south of Johannesburg, which is creating a fun, eco-learning, outcomes-based education system.
Under Project iPlant and the Greater Eldorado Park Youth Skills Development Centre, His Choice Ministries established 'food forests' and nurseries and set up eco-education projects at Silver Oaks High School and Cavendish Primary School, which are close to landfills.
The importance of recycling plastic waste is also being taught. The project operates under the guidance of Gender CC Southern Africa – Women for Climate Justice (see panel). Gender CC is supported by Corporate Accountability and Public Participation Africa (CAPPA).
Sharing information
Ndivile Mokoena, project co-ordinator at Gender CC, says the El Dorado project ties in with a range of steps South Africa's communities can take to address the effects of climate change.
These involve providing information to communities about how to adapt to changing weather patterns, as well as promoting sustainable practices, such as water conservation, recycling, and sustainable agriculture.
They also involve increasing public awareness of the causes and impacts of climate change,
and promoting public engagement and participation in climate change mitigation and adaptation efforts.
The Eldorado project will be re-introducing trees to produce oxygen to absorb the
carbon gases. Speaking to Farmer's Weekly a few months ago, Angelo Doyle, project manager of (the now-defunct) His Choice Ministries, said that while some may benefit from the landfills, there needs to be a balance between "the good and bad".
The lack of reforestation, tree life and biodiversity, as well as the shortage of properly managed ecosystems needs to be addressed to create a green economy. However, in order to achieve this, communities need to become aware of the green economy and what it entails.
In short, said Doyle, people need a better understanding of how to utilise resources. "We're experiencing a great deal of unemployment in our communities and it's going to be important that we rehabilitate our people by sharing information with our councillors and communities on how to live better lives in terms of health, sanitation and waste management," he added.
It's important for learners, parents and teachers to be mobilised so that they can have a better understanding of their role within their communities, and how they can go about becoming climate activists, said Doyle.
Community involvement
Cavendish Primary School rolled out an eco-school programme in August 2022 to introduce learners to ecology education for sustainable development. Earlier, the school teamed up with the non-profit company Environmentorz, and environmental scientist Dr Lee Ann Modley from the University of Johannesburg to clean up the river at 'the jungle' in Eldorado Park Extension 9.
According to Soweto Urban, the clean-up started in 2018 when tests were done on the water and the results showed there was no longer life in the water.
The purpose of the new programme is to support the African Continental Qualifications Framework (ACQF) as a tool for raising educational standards and advancing educational initiatives across Africa.
This eco-school initiative will first be implemented in a network of Soweto schools before expanding to other communities and provinces. With assistance from the Department of Education, City Parks, and Gauteng Department of
Agriculture and Rural Development, the project will seek to introduce sustainable development education as a subject in government schools. Children will be prepared to deal with the loss and harm currently occurring on the continent
thanks to 'action learning'.
The project has so far planted a vegetable garden, with a mix of rocket lettuce, sunflowers, onions, tomatoes, beans and maize. A pomegranate and lemon tree have also been planted to date.
For more information, visit: gendercc.org.za;  iPlantSA.org. As noted, His Choice Ministries has since shut its doors.