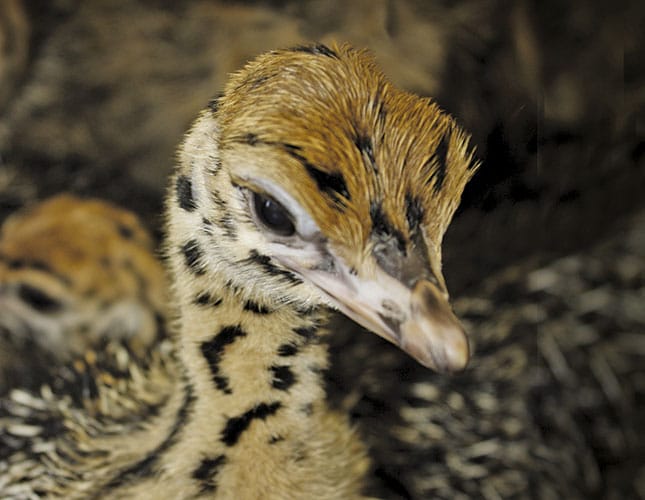 People will travel far and pay a great deal to gain inspiration. Yet few experiences could be more motivating than simply spending two hours driving around rural Eastern Cape with Martin Fick in his bakkie. Martin is an inspirational man, who has invested time and effort in improving ostrich farming in the Eastern Cape.
For years, Martin ran a large commercial farming enterprise in Zimbabwe, but just over 10 years ago he and his family were forcibly removed under Robert Mugabe's chaotic land reform programme, losing his inherited farm and his entire business in the process.
This came after several violent attacks on him, his family and several of their workers. Martin brought his family to South Africa and started again as a commercial farmer. Instead of dwelling on his misfortune, he decided to make a positive contribution to transformation in South Africa using the lessons his experiences in Zimbabwe had taught him.
Mentoring small-scale farmers
"After what my family and I had experienced, I felt very strongly that if we as commercial farmers in Zimbabwe had done more – on our own and without government pushing us – to build up small-scale farmers, things might have turned out very differently," he says.
"After all, the small-scale farmers were also reliant on a fully functioning agricultural value chain. If there had been an interdependence between established commercial farmers and small-scale farmers, then our downfall would have been their downfall."
Martin believes that commercial farmers should become involved in new farmer development for two good reasons: it will benefit the entire agricultural sector and, more altruistically, it is their responsibility to share and pass on their skills.
"Government officials do not have the skills to run agricultural empowerment projects. Most of them have never run a farming operation," he stresses.
"So how can we expect them to drive the empowerment programmes and business ventures that government is initiating?"
With this in mind, Martin determined that he would mentor a group of small-scale farmers, enabling them to enter the ostrich farming industry.

      Martin Fick          Adriaan Olivier
A sense of ownership
Backed by support from the Eastern Cape agriculture department, Martin launched his initiative in 2003.
Within a year, he had 12 farmers from Pikoli, near Grahamstown, under his wing, each farming about 100 ostriches on parcels of land around his or her home. Martin strongly believes that agricultural empowerment initiatives that are entrusted to community co-ops or groups are doomed to failure because there is no clear individual responsibility or sense of ownership.
READ: City girl takes on Simmentaler and sheep farming
"The farmers who are involved in our project know that they have only themselves to blame for their failure – or thank for their success," he explains.
"Without a strong sense of ownership, there's also a lack of responsibility. When everybody is in charge, nobody is in charge, and the work just doesn't get done."
To get started, each farmer borrowed his or her own money from the Eastern Cape Rural Finance Corporation (ECRFC) to pay for inputs.
When the birds were sold, the income was paid directly to the lender, not to the farmer, and any excess was then paid to the farmer as profit. After four years, the number of farmers involved had grown to about 88 and they were producing close to 10 000 ostriches.
"At this point," explains Martin, "we decided that the farmers were ready to become involved further up in the value chain. So with funding from the national government, a deboning plant in Grahamstown was built and shares purchased in the adjacent abattoir. All this was under the auspices of Asgisa (Accelerated and Shared Growth Initiative for South Africa).
"But before things could really get going, there was a leadership change at ECRFC. This, coupled with other challenges we faced at the time, brought the entire project to a standstill in 2008."
Ostrich farming industry support to the rescue
Fortunately, this stoppage turned out to be no more than an interruption, albeit one of three years. In 2011, the Eastern Cape Department of Rural Development and Agrarian Reform decided to provide a full support system for the farmers, and approached Klein Karoo International (KKI) for help in restarting the project. KKI is a farmer-owned public company based in Oudtshoorn that exports ostrich meat, leather and feathers.
READ: Quality Merinos from the mountains of Barkly East
Martin explains: "The original idea behind the project was to establish successful small-scale farmers who are linked into the value chain. I don't think new and small-scale farmers can be successful if they farm in isolation. They need support from the commercial industry and a secure market. In light of this, KKI's decision to offer assistance was heaven-sent."
Adriaan Olivier, the in-house veterinarian at KKI, led his co-op's involvement in the project. "Fortunately, despite many challenges, Martin had already been running with the venture for a while before we became involved," he recalls.
"Many new and small-scale projects struggle because they don't communicate with the industry in which they operate to seek support."
He emphasises that for most farmers, especially new and small-scale producers, two of the greatest challenges in ostrich farming are rising input costs and navigating the logistics of obtaining the inputs at the right time.
When KKI became involved, it provided a complete support system for the farmers, giving them full production loans to cover all their inputs as well as a guaranteed offtake agreement.
"We believe the Eastern Cape holds massive potential for ostrich farming development," says Adriaan.
"An important aspect of the initiative is that by grouping several farmers together at one facility we were able to create economy of scale – to an extent, anyway – which immediately helps lower the individual running costs for each farmer."
Echoing Martin's convictions, Adriaan adds that an important principle of the scheme is that all the farmers must take complete responsibility for their own farming business.
"For us, the bottom line is that the project has to make commercial sense. This means that no grants are given. We assist the farmers by providing a realistic financing model, but nothing is given for free. If a project has to rely on grants, it means the core business model is unsustainable, in which case the farmers involved will never be able to farm independently."
He emphasises that many small-scale farmers struggle to farm successfully because they do not have a strong support system.
"We train farmers to understand the total value chain and are involved throughout the production cycle. We supply them with chicks and arrange for feed to be delivered to them. Once the ostriches are market-ready, we collect them from the farm and transport them to the abattoir."
As mentioned, KKI buys the ostriches from the farmers and the total value of the production loan is subtracted before the profit is paid out to the farmers. Adriaan believes, however, that what sets the project apart from the many agricultural empowerment initiatives that have failed is the strong mentorship and management support provided by the stakeholders, including the Eastern Cape rural development department, KKI and Martin.
READ: Good news for WC ostrich industry

Buyelwa Mangi, ostrich farmer and manager of the Pikoli ostrich farming unit.
Overcoming disaster
In 2011, after the project had completed one cycle with KKI's involvement, the ostrich farming and other poultry industries suffered an outbreak of H5N2 avian influenza virus. This resulted in an export ban on ostrich meat, costing the industry R1 billion and almost causing its collapse.
The project was again brought to a standstill in 2012, because the industry started restructuring and re-registering all farms according to the latest veterinary procedural notice, VPN04, in response to the virus outbreak. For the first time, the VPN included bio-security modules (BSMs).
These had been developed the year before by the SA Ostrich Business Chamber's Bio-Security Committee and set out the bio-security measures required on ostrich farms.
According to these, the small-scale farmers who were part of the KKI project could no longer keep ostriches on the open land around their houses.
Martin suggested that the feedlots and quarantine facilities already in place in Pikoli be converted to include an ostrich-rearing facility large enough to give 20 farmers a small plot each on which they could rear up to 200 ostriches.
Work began on the changes and by the end of 2012 the facility was ready to be stocked after approval from the state veterinarian. As planned, 20 farmers are actively involved, each farming with 100 to 200 ostriches, and the first batch of ostriches will be slaughtered by KKI in November.
Growing into the future
A second ostrich farming unit at Ndlambe village close to Pikoli has already been completed and the 22 farmers selected to farm here will receive their first chicks by the end of August. These farmers too will rear between 100 and 200 ostriches each.
Thus, by 2014 there will be more than 40 farmers involved in the project. And if further government funding can be secured, construction of two more farming units – at Ntloko and Nobumba – will commence next year.
The provincial agriculture department has been involved to some extent throughout the process and, according to Martin and Adriaan, remains committed to making the project work.
But, as Adriaan explains, department officials realised that they did not have the internal capacity to run the project. They therefore approached industry players for help.
When the ostriches are market-ready, they are taken from the Eastern Cape to KKI's abattoirs in Graaff-Reinet and Oudtshoorn.
The ultimate aim, however, is for the birds to be slaughtered at the purpose-built abattoir in Grahamstown. But for this facility to be commercially viable, it needs to slaughter at least 20 000 ostriches per year.
But, Adriaan says with confidence, if everything progresses the way it should, KKI and Martin Fick's small-scale ostrich farming project will reach that number within the next five years.
Phone Klein Karoo International on 044 203 6200, email Adriaan Olivier at [email protected], or contact Martin Fick on 083 278 4201 or [email protected]m.
This article was originally published in the 23 August 2013 issue of Farmers Weekly.