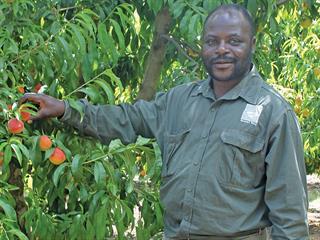 Born and bred in Zimbabwe, Alexious Shoko was fortunate to grow up with parents who had a love for agriculture and taught him the importance of the industry.
"Both my parents worked for the department of agriculture in Zimbabwe, where they also owned a few hectares of land. They fuelled my passion for agriculture," he recalls.
Alexious enrolled at the Kushinga Phikelela Agriculture Institute in Masvingo after completing school. After receiving a certificate in agriculture, he started his professional career as a science and agriculture teacher at local secondary schools. Two years later he enrolled at Harare Polytechnic, where he received a diploma in horticulture.
The next step, Alexious decided, was to study for a degree in agriculture. But in 2005, after a year of study, he became a victim of the dire economic situation in Zimbabwe and was forced to quit his studies. Like so many of his countrymen, he headed to South Africa to find a better life.
Here, Alexious struggled to find work, but refused to let this discourage him. The thought of his family, still in Zimbabwe at the time, motivated him to keep going. "They were depending on me and I had to support them," he recalls.
After working initially as a supervisor at a nursery in Johannesburg, followed by a few months in the construction industry, he moved to the Western Cape, where he ended up in Piketberg. Here he started off as a gardener on a farm in the Piket-bo-Berg region before finally landing a job in September 2008 as a supervisor on Mouton's Valley, a deciduous fruit farm.
He was soon joined on the farm by his wife Tabita and children and has not looked back.
Promotion and progress
During this period, Alexious was promoted twice – from supervisor to senior supervisor and then to assistant manager. Last year he crowned this progress by winning the coveted Western Cape Farm Worker of the Year award. As an assistant manager on Mouton's Valley, Alexious helps with the weekly production planning and scheduling of various tasks on the farm. The job involves working closely with the farm's supervisors.
"I allocate different duties to the supervisors and show younger supervisors the ropes," he explains.
Entering the competition
At first, Alexious was hesitant about entering the Western Cape Farm Worker of the Year competition. "My manager, Rickus Jooste, challenged me to enter," he says. "He, along with Eric and Michele Starke, owners of Mouton's Valley, saw my potential and believed in me."
Because of their continual support and encouragement, Alexious started to believe in himself.
"Here at Mouton's Valley, we encourage each and every worker to be the best they can be," says Michele, adding that the competition is also an excellent way to encourage people to dream bigger, improve themselves and be exposed to new opportunities.
Alexious, a first-time entrant of the competition, was also motivated by his mentor and a previous winner of the competition, Jan van Wyk.
"He gave me tips and advice throughout the duration of the competition," he recalls.
The importance of education
Education has always played an integral part in Alexious's life, and he has seized every training opportunity offered by his employer.
"I feel that I have a responsibility towards my family and myself to further my education in agriculture. Within the next five years I'd like to finish my degree in agriculture, and even start studying for my Master's degree," he says.
Alexious is also involved in the training of supervisors on the farm.
"Training is one of the aspects of my job I enjoy the most. It's wonderful to see how people evolve when they receive training and guidance."
He is also keen to promote adult education among farm workers and ensure that there are development programmes available for them across South Africa.
"People who work on farms believe they have failed educationally. But with training and skills development they'll be equipped with the necessary skills to better themselves and rise above their circumstances.
"But they should know that it's only possible if you work hard, stay true to yourself and, above all, believe in God," stresses Alexious.

A yearning for independence
As an eager and studious agriculturalist, Alexious's aspiration is to own a farm in South Africa where he will practise and develop what he has learned thus far. "It would be a dream come true to conduct my own experiments and research on my farm and while doing so, contribute to the development of agriculture in South Africa," he says.
Phone Alexious Shoko on 074 451 5125 or email him at [email protected].