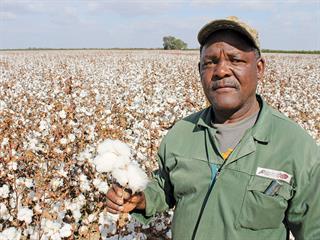 "I got nothing from the government. Everything I have, I achieved through sweat, blood and tears," says Frans Malela, a cotton farmer from Marble Hall in Limpopo. Now 61 years old, Frans is an award-winning farmer who has dedicated much of his energy to mentoring developing farmers – so well, that they in turn have gone on to win their own accolades. But Frans's story does not start with acceptance speeches and the gala dinners he has attended.
Humble beginnings
Frans turned his back on the dusty streets of his impoverished village of Matlerekeng 45 years ago in search of the bright lights in Johannesburg to "look for a job". He landed one as an electrician at Probe Electrical in Turffontein, the company where he would spend 29 years of his life saving enough money to launch what would soon become his big break.
"I've always had a passion for farming," he recalls. "During weekends, off-days and holidays, I'd go home to tend to my family's 4ha farm. Each household in the village had a 4ha plot, given to it by the tribal authority."
In 1984, Frans bought a second-hand Massey Ferguson 165 tractor and a three-furrow plough at a dealer in Kempton Park, using R11 000 from his savings account. "I took them down to Matlerekeng and started farming part-time on my family's farm. Back then, we mainly grew maize," he says.
His skill and confidence as a farmer grew, and by 1999, he knew that he had it in him to go farming full-time. He resigned from his job as an electrician to focus all his energies on the farm. Frans's passion for maize farming had not gone unnoticed. In the same year, he received the Farmer of the Year Maize Category award from the Mpumalanga Department of Agriculture.
Choosing cotton
Soon after receiving his award, Frans attended a workshop on growing cotton presented by Samuel Poto from the Mpumalanga department of agriculture and Percy Macaskill from Cotton SA. The workshop was aimed specifically at developing farmers and the possibilities offered by cotton intrigued Frans.
He decided to take the plunge and started growing cotton on 6ha leased from the community in 2000. He has never looked back.
"I sold the cotton to Clark Cotton in Marble Hall," says Frans. "I don't really remember how much I made from that harvest. Soon after that, I decided to focus more on cotton as it needed far fewer inputs than maize. It's well-suited to this area as it gets very hot here and cotton is drought-tolerant."
Frans has since expanded his operation to 105ha on land leased from the community. The farm has loamy-sandy soil. He plants cotton on 60ha, maize on 13ha, groundnuts on 20ha, and sunflower on 12ha.
Frans uses Monsanto's Genuity stacked gene cotton seed Delta 12 BRF. This contains both the Bollgard II and the Roundup Ready Flex genes, which are tolerant to Roundup Ready Plus herbicide and resistant to bollworm and budworm. He sprays Roundup PowerMax herbicide to control weeds, and Mospilan for insect pests.
Before planting, he runs a three-tine ripper to a depth of 40cm through the land. He uses two 50kg bags of Afgri's 26:9:0 (35) fertiliser per hectare, followed by a nitrogen top-dressing, using limestone ammonium nitrate (LAN) fertiliser, eight weeks after planting.
"We plant cotton from 15 October to 15 November and hand-pick it after 160 days," he says. "We employ 120 seasonal and six permanent workers for this." The Loskop Gin processes his seed cotton, and his cattle and goats graze on the crop residue.
The 60ha he planted to cotton yields 1,4t/ ha, which is in line with the industry average.
"The current market price for cotton is R6 200/t. I spend about R3 500/ ha on input costs. Ever since I started farming using biotechnology, my yield has improved."
An expanding business
Thirty years after starting out with a single, second-hand trator, Frans now owns five tractors: three 62kW Massey Fergusons, an 85kW New Holland and a 35X Massey Ferguson. He also owns an 8t Mercedes- Benz truck to transport the harvest from the farm to the Loskop Gin, and two Toyota bakkies. The bakkies are used for his tavern and tuck shop businesses run by his wife Ellen and son Steven. "I started these businesses with the profits from cotton farming," says Frans.
Mentoring
Frans says that because cotton is highly profitable, he decided in 2004 to start mentoring some of the emerging farmers in the community. They are Maria Swele, who farms cotton on 36ha, Hendrik Makota (on 8ha), Johannes Malela (8ha), his wife Ellen (8ha), and Moses Maiwa (24ha). Maria has become particularly successful and is now farming independently.
"Frans started mentoring me in 2004 when I planted 4ha to sunflower," she recalls. "He helped me with soil preparation and planting. In 2008, I planted 8ha to cotton and today I have 36ha – I've achieved a lot."
Maria was awarded the Aspirant Young Farmer of the Year award by the Department of Agriculture in Limpopo last year. She was also runner-up in the department's Female Farmer of the Year award in 2013.
"I was sitting home unemployed when Frans started mentoring me. I want to thank him for all his efforts. I'm humbled."
Frans explains that he chose to mentor people because he wanted "to help revitalise the spirit of farming in the community". He teaches them skills and provides equipment where needed.

'A heart for farming'
"A smallholder farmer shouldn't wait for a government handout. Just do it. If help comes, it should find you working," says Frans. "I regret nothing about quitting my job as an electrician. I also think that I started farming at the right time, when BT technology was introduced. It helps us a lot to make farming as simple as possible."
Frans's mentor, Percy Mackaskill, says that Frans has a heart for farming.
"There are a lot of guys out there who are into farming not because they like it, but because they want prestige and access to land. Frans isn't one of them."
Phone Frans Malela on 082 747 2317.