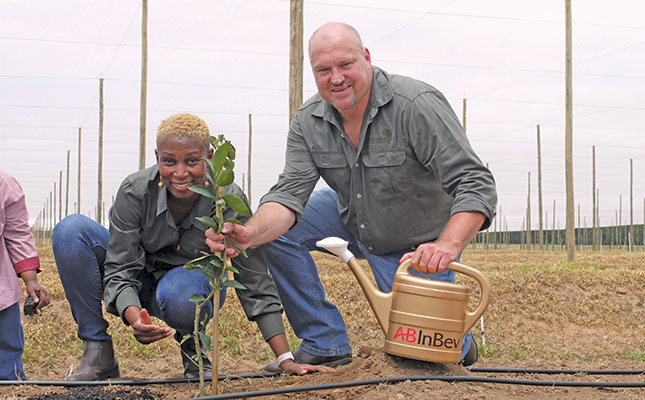 While South Africa is one of the largest citrus producers in the world, lime production lags
far behind, with a miniscul total of fewer than 100ha planted to this crop, compared with about 16 000ha planted to lemons. Moreover, South Africa has conducted little research on limes, and only a handful of cultivars are grown locally.
With limes growing in popularity in recent years, thanks to healthy eating trends, South Africa has to import most of its requirements. This comes at a great cost to the consumer, leading to many people substituting limes with lemons, to the detriment of flavour profiles.
This was the challenge that beer company Anheuser-Busch InBev (AB InBev) faced when Corona beer became part of its range after the company's merger with South African Breweries.
Josh Hamman, AB InBev's director of agricultural development and sustainability, says Corona beer, which is originally from Mexico, is normally served with a slice of lime as it greatly enhances the taste.
"We found that South Africans were using lemons instead, which taste completely different. The reason was that limes are very expensive, as there is [little commercial] production in South Africa."
AB InBev saw this as an ideal opportunity to invest in local lime production and simultaneously fulfil its mandate to develop sectors linked to its business.
Limes in Limpopo
"As part of our merger agreement, we had set aside R1 billion to invest in local industries," says Hamman. "Limpopo was one of the provinces in which we didn't have a project, mostly as it isn't an area where our beer inputs can be grown. So we looked at expanding the criteria beyond our direct inputs to include products connected to our supply chain.
"When the issue surrounding the limes cropped up, we realised this was the perfect opportunity to invest in Limpopo."
Having the right partners on board is an essential ingredient in the success of such an undertaking. While AB InBev conceived of the lime project more than two years ago, it took time and dedication to find the most suitable partners.
"This isn't the kind of decision one makes in the boardroom," says Hamman.
"You need to do your due diligence and go out into the field to see what's happening on the ground.
"We advertised for partners, and received a call from Piet Smit, CEO of the Komati Fruit Group. He explained that they were already working with the Moletele Community Property Association (CPA) to bring about transformation, skills transfer and upliftment in the local community, and suggested that we consider this partnership for the lime project."
The Moletele CPA owns Richmond farm near Hoedspruit, which is leased to the Komati Fruit Group. According to Hamman, the partnership ticked all the boxes for a successful venture.
"Komati has the technical expertise needed to make such a novel project a success, and a strong partnership with a local community is already in place, meaning it has a very high chance of succeeding."
The partnership was structured so that AB InBev would supply financing, the Komati Fruit Group would provide technical expertise, and the Moletele CPA would become the beneficiary of the rental income for the land.
The 60ha portion of Richmond farm set aside for limes would be leased to Moletele Limes, which consisted of shareholders from the Komati Fruit Group and the Moletele CPA.
The 60ha is being brought into production in three phases of 20ha each. The first was planted under netting in December 2020, and the second is currently nearing completion. The third phase is expected to be completed by 2022.
Cultivars and production
With only a handful of lime farms in South Africa, finding the right cultivars and production information was initially a challenge. Once the rootstock was sourced, the Komati Fruit Group's nursery was used to propagate more trees.
Smit notes that a limited number of limes will be harvested from the first phase next year, and the first real harvest will be that of 2023. The expected yield is about 60t/ha.
"Limes are not a finicky crop and can be treated very much like lemons. We're happy to see that the trees took very well to the environment in which they were planted and that the first 20ha is flourishing," he says.
Moletele Limes has signed a memorandum of understanding with AB InBev for the purchase of the limes once they are in production.
"Anything more that we produce, we'll be able to sell either locally or abroad," says Smit.
"The export market requires more investment in technology to make it feasible, however. Consumers want limes when they're green, but long transit times result in limes that eventually turn yellow.
"A lot of research is being conducted to find ways to keep the limes green, but we're not there yet. This means we'll need to focus on the local market for now, and this is quite small. The offtake agreement with AB InBev is therefore a vital step in the success of this project."
Meeting demand
A challenge that both farmers and AB InBev realised early on was that the greatest demand for limes (during the high beer-consumption summer months) coincided with the end of South Africa's citrus season. Smit explains that the lime season in this country usually stretches from March to May, but with manipulative techniques, Moletele Limes will try to achieve six production cycles in a year.
This entails stretching nets over the trees to create a controlled environment, and covering the soil on the ridges with canvas to control moisture levels.
"Growth and flowering can be stimulated through manipulating irrigation. We need to eliminate interference from nature and rely solely on irrigation to prompt flowering.
"The trick is to get the trees to keep their flowers, which means the orchards need to be in optimal condition to handle another crop. This makes pest control easier and more thorough.
"Normally, optimal pest control hinges on being able to achieve proper application of control methods at the right time. If the trees are all flowering at the same time, it's much easier to manage pest control and we can ensure better protection.
"But this is the opposite of what we'll need to do with the limes. We'll have six production blocks, all flowering at different times to ensure harvests across the year. It requires extra management and logistics, but fortunately the production blocks are quite small, so it's manageable."
A bonus is that the Moletele CPA members will enjoy a more comprehensive learning experience, gaining six opportunities to manage a harvest each year instead of just one.
The farm employs around 13 permanent workers, sourced from the CPA, who work with the Komati Group's consultants, entomologists and production managers. This creates an optimal learning environment.
Hamman notes that as lime production in South Africa is small and little research is available on optimal local production, the project is also serving to expand the knowledge base.
"We want to be able to refine production practices and best cultivation methods, and ultimately create a platform where lime production can grow in South Africa. We really hope this will spark a greater local market for limes and lead to more investments of this kind in the industry."
He adds that one of the main benefits of the project is its longevity.
"Unlike wheat and barley, which have short production cycles, an investment in a citrus orchard can pay off for decades to come. This is an exciting prospect, considering what investments into barley production have done for the industry.
Three years ago, South Africa produced only 60% of its barley requirement. Today, thanks to several successful projects where AB InBev has partnered with farmers, South Africa over-produces by 20%. We've been able to convert many emerging farmers to commercial farmers.
"Having the right partners, technical skills and varieties has been crucial. Success with these types of ventures comes slowly. It's a long-term effort in which you need to stay involved, and if you approach it right, it pays off for everyone."
Email Josh Hamman at [email protected], or Piet Smit at [email protected].