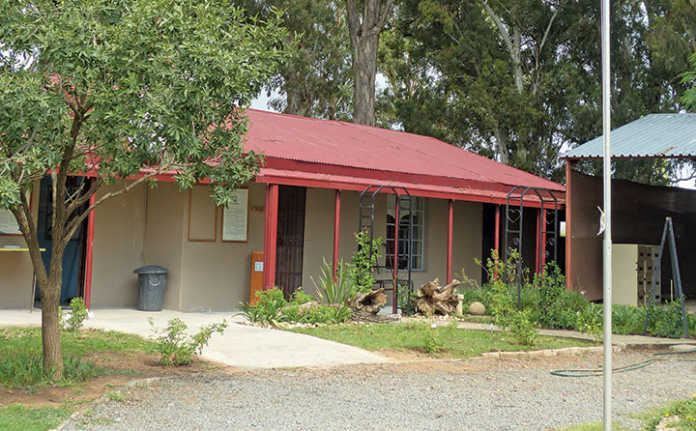 "You need to identify and deal with the small barriers that children have to learning," says Sunet Wessels, the principal of Gelukwaarts School near Van Stadensrus in the Free State.
"You just need to see what makes them tick."
It has been this personal attention afforded to Gelukwaarts pupils over the past 21 years that has seen the transformation of a once small farm school of 45 children into a multi-award-winning regional school of almost 300 children.
READ Young learners benefit from eco-education
During weekdays, the back roads of the deep rural areas of Van Stadensrus, Zastron, Dewetsdorp and Wepener carry a stream of buses ferrying these children back and forth from Gelukwaarts, where they are taught by a team of dedicated teachers, most of whom are farmers' wives.
"It simply takes patience. You need to give wings to those with potential," says Wessels, who with her husband, Piet, owns Longlead farm, near Van Stadensrus.
Wessels is particularly proud of two former Gelukwaarts boys, Nkosi Matuwane and Tshepo Thomas, who grew up on Longlead. They recently graduated as civil and building engineers respectively at the Central University of Technology in Bloemfontein.
Foundations
Gelukwaarts was the brainchild of farmer and teacher Daan Wilken, who, after a number of farm murders in the area during the 1990s (including that of his uncle, Neels), decided to provide better education for farmworkers' children.
According to Wessels, Wilken believed that if you educated workers' children and offered them opportunities, they would have a better chance at escaping poverty.
READ A learning environment for farmworkers' children
Wilken, a former teacher at Tweespruit Agricultural School, approached local farmers to donate land for the school. Piet responded with the donation of a 1,5ha portion of Longlead on which a one-roomed farm school already existed.
Wilken then set about sourcing funding for the construction of more classrooms, an epic process that in the end demanded well over 600 letters to organisations and companies before the National Union of Mineworkers eventually responded with funds for three prefabricated classrooms.
Three local farm schools, namely Gelukwaarts, Longlead and Sweetfontein, were amalgamated.
The new school, with Wilken as principal and a teaching staff of three, was officially opened by the then Free State minister of education, Papi Kganare, on 15 October 1999. Eskom provided a free electricity connection. The lavatories, however, were basic: four pit toilets.
The school started out as a hotel and agricultural school, but within a few years was transformed into a fully academic school.
Growth
According to Wessels, the ethos of Gelukwaarts has always been about achieving as much as possible with as little as possible. Her own journey at Gelukwaarts reflects this approach.
Since 2001, she has been involved in fundraising activities at the school. In 2007, she was asked to launch a Grade R class.
The only structure available at the time was a damaged vegetable production tunnel, which she promptly arranged to have repaired with shade netting. Instead of complaining about the conditions, Wessels focused on educating the children.
This determination paid off when Gelukwaarts won a competition for the best-performing school in the Free State in 2008. The R100 000 prize money was then used to build a new Grade R classroom.
With a shoestring departmental budget (less than R216 000 for the 2017/2018 financial year) that barely covers running costs, infrastructural demands have always been a challenge at Gelukwaarts.
Over 21 years the state has contributed nothing more than an ablution block, a borehole and two mobile classrooms, making it imperative for the staff to source funds and donations.
Over the years, funds have been sourced from local businesses, the National Lottery Board and even Rotary Clubs in the US and UK.
A Rotary Club in El Paso, Texas, contributed library books, and in conjunction with the Ladybrand Rotary Club in the Free State, was instrumental in the establishment of the Gelukwaarts computer lab in 2003.
Two UK-based friends of the Wessels family, Martina Platts and Ian Cooper, not only made a personal donation to the construction of a new dining hall/ art classroom a few years ago, but convinced the Reading Abbey Rotary Club to make a donation.
The National Lottery Board funded a netball court in 2012 and a large shed in 2013, which may be converted into a school and community hall in the near future. Local businesses and organisations have also made contributions.
In 2011, African Bricks donated bricks and CTM offcut tiles, both of which were used to construct a new kitchen. In 2012, Bloem Water gave the school a disused prefabricated building.
A few years later, a local Absa branch undergoing a revamp was persuaded to donate old furniture to the school.
Exceptional teachers
Wessels stresses that the key to successful education is giving pupils personal attention.
"Our teachers work with passion and with their hearts," she says.
"We want to produce kids who have skills and can make a positive contribution to society."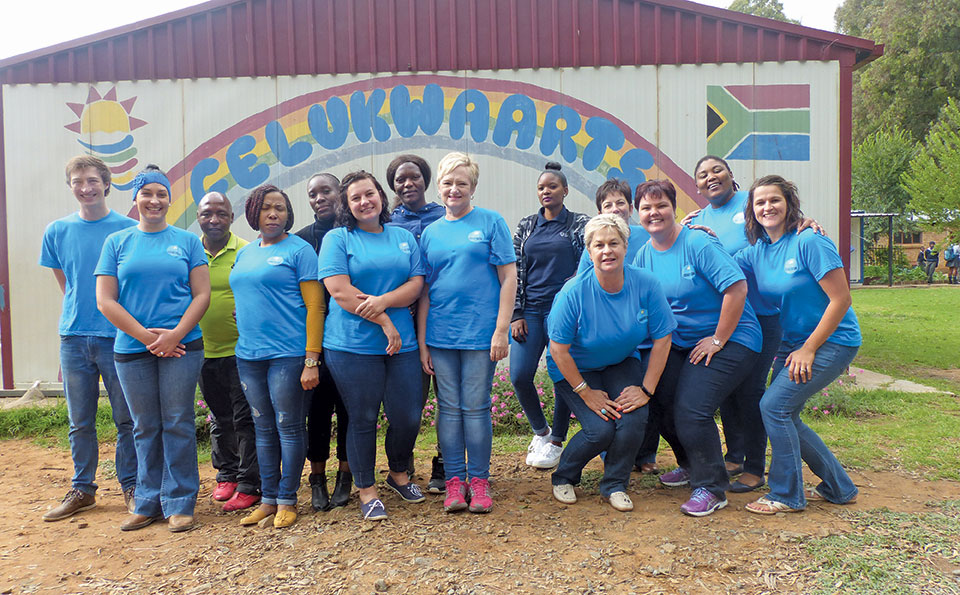 The Gelukwaarts staff's dedication is perhaps best symbolised by the way the school has embraced special needs children, including those with autism and hearing and cognitive disabilities.
Small wonder then that in 2015, former Gelukwaarts special needs teacher Chrisna Wessels was honoured with an excellence award by the Free State Department of Education.
Gelukwaarts teachers and pupils are supplied with cutting-edge learning aids.
The school has had a computer lab for years, and has introduced interactive E-learning programs such as Futurekids to classrooms. The impact has been telling: Gelukwaarts achieved the third-best results in Social Sciences in the Free State in 2017.
The school attempts to expose pupils to a broad spectrum of activities. For example, children are encouraged to enter spelling and art competitions such as the Santam Child Art Project, while the choir competes in Bloemfontein.
As much as possible is done to involve the children in sport. With a fully functional netball court, teams can compete against surrounding schools, while a soccer field is in the process of being developed.
Athletics is offered on the gravel road alongside the school, and because times are taken for specific distances, the children can compete in zonal athletics competitions.
The school also hosts a regional indigenous games tournament, which includes sports such as kgati and kho kho.
Challenges
The school's growth is putting strain on existing infrastructure, says Wessels, adding that she is contemplating using containers as classrooms.
While she welcomes the department's crucial contribution towards pupil transport, she is disillusioned with its lack of support for infrastructural development.
"If we didn't have a good school here and our farmers didn't care, many of these kids would have been dropouts with no future," she says.
Phone Sunet Wessels on 082 447 3315.