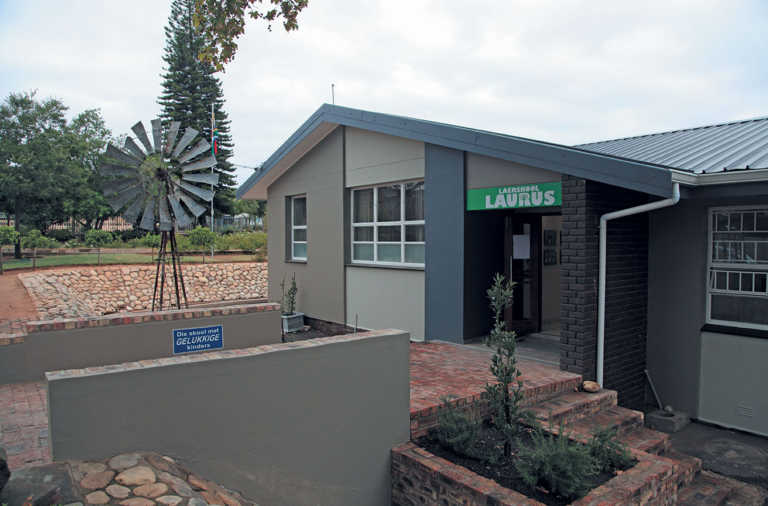 Laurus Primary in Oudtshoorn in the Klein Karoo, which is part of the Foundation for Environmental Education's Eco-Schools programme, celebrated its centenary in 2014.
This programme encourages learners to engage with the environment by allowing them the opportunity to actively protect it and become involved in the environmental management policies of their schools.
During its first 100 years, the school's motto was, 'We Build', and it had a very proud history. However, in recent years, the school experienced a downward trend, which included dwindling learner numbers and a negative perception among residents in the greater Oudtshoorn community.
Ronelle Huysamen, who was appointed principal in 2014, realised that something had to be done to reignite the school's spark. With her team, she took up the challenge and began focussing on growing and developing the school.
A holistic approach to the development of learners, as well as the community it serves, resulted in the successful rekindling of the Eco-Schools programme.
"Learning increases when the school community feels safe, valued, respected and engaged," she explains.
In a society that is increasingly focussed on academic achievement and individual accomplishments, Ronelle realised it was time for a different approach.
Her solution was to create an environment in which children were given an opportunity to develop those talents and skills that may be overlooked in other, more academically and sporting-minded schools.
The school's name was changed to Laurus (laurel or bay leaf in Latin) Primary School in 2016, in line with the re-branding in which the core values of holistic learning were embraced.
Ronelle explains that the name represents triumph, success and victory. "We decided on the name, because the school aspires to creating an environment where children can flourish.
We want to teach children that each of them has their own unique strengths and abilities, and that each of them can contribute to making the world a better place," Ronelle says.
Environmental programme
Oudtshoorn Noord Primary had been part of the Eco-Schools programme since 2003. In consultation with the governing body, it was decided to breathe new life into the programme, by starting a vegetable garden and pressing the olives in the school's small grove into olive oil, while also raising young animals on the premises, Ronelle says.
This new educational approach attracted many new learners from beyond the school's feeder area, and as a result, enrolment numbers more than doubled from 220 in 2014 to 450 this year.
"Many of the 'new' parents decided to send their children here, because they no longer wanted to subject their children to the extreme pressures of the more competitive [purely] academic schools. They are looking for a more balanced environment," she explains.
All-round achievement
However, this does not mean that academic subjects are neglected. Ronelle points out that the focus on eco-education has resulted in an improvement in most students' general performance at the school.
"This is because we are no longer just drilling theory into children, but giving them an opportunity to apply their new-found knowledge to the world around them," she explains.
Outdoor learning experiences are often remembered for a lifetime, and the integration of outdoor experiences into education, provide relevance and depth to the curriculum, she says.
"Learning at the school has, in effect, become enjoyable, creative and challenging. It helps children learn from [personal] experience and grow into confident and responsible citizens," Ronelle says.
To create more play areas for learners, additional grassed areas and trees have been established.
"We realised that many of the learners did not have large spaces to play in at home. Playing on the grass has, in effect, become something that many children look forward to; they can't wait for their turn to enjoy this privilege that is taken for granted by children coming from more affluent homes.
The great thing about this playing is that it is also good for learning at this age, as it helps develop fine and gross motor skills," she explains.
An enclosed area, now called Dovecote, which the children avoided because they used to be pestered by birds, has now been turned into an eco-classroom.
"We tried everything to get rid of the doves, but nothing worked. In the end, I incorporated them into our learning programme.
Now the quad is primarily used to teach the children about different types of plants, as well as undercover production such as hydroponics, and vermiculture," she says.
Outdoor learning activities also bridge social divisions between children, and can help build stronger communities, Ronelle explains.
A variety of vegetables, including tomatoes, pumpkins and carrots, as well as lucerne, is also grown, giving children first-hand experience of how these are cultivated.
Accompanied by a teacher, the children spend time planting, fertilising, watering and harvesting the vegetables, which parents can then purchase at a reduced rate.
Through the school's sports programme, children with athletic potential are also identified and their talents further developed.
Animal rearing
In addition, the school keeps a small number of young animals in small camps on the premises. In an average season, about two calves, piglets and lambs are kept, along with ducks, chickens and geese, which the children help feed and tend.
Once the animals reach a certain age, they are sold off to a local farmer.
"By observing the behaviour of animals, children learn to be more nurturing and caring. Animals provide a social and emotional support system for the child; they are comforting, increases the child's self-esteem and makes it easier for the child to express him or herself.
We use the handling of animals to reward good behaviour," Ronelle says.
De Rustica Olive Estate near De Rust in the Western Cape, undertakes the pressing of the school's olives at no charge, and it is packaged and specially labelled for the school.
Raising funds
Though the school has grown exponentially over the past few years, Laurus Primary still needs to actively raise funds and most of the animals, seed and fertiliser is donated. The library is also in a state of disrepair and in dire need of books.
In addition, not all parents in the community have access to private transport, and therefore acquiring a 20-seater bus has now become a priority.
To generate funding for these projects, the school hosts agricultural markets where local farmers and agribusinesses can sell their produce. An agricultural expo is also planned for later in the year, where farming equipment and technology will be exhibited, and leading agriculturists will present training sessions aimed at improving production efficiency.
Positive results
Ronelle is very proud of what the school has achieved over the past few years: "The impact of creating a more nurturing learning environment in which each child is treated as an individual, is already delivering positive results. Internal and external perceptions are also changing, and learner numbers are growing. A culture of respect, for themselves and others, is also visible, and learners feel valued," Ronelle concludes.
Email Laurus Primary School at [email protected], or phone (044) 272 3946.