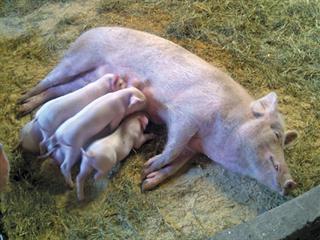 Farmers have to work hard – and smart too. They have to conduct research, plan carefully, keep track of finances, and be able to adapt when things go wrong. In this way, farming is just like any business.
Mahuhudi Masipa certainly believes this, and it shows in the efficient way she runs her piggery, which operates with 40 pigs on a 2,5ha plot leased since 2009. She also has a background in business, having worked in finance and marketing in the SA branch of a French engineering company before being retrenched. But although her business is doing fairly well, this 31-year-old has set her sights higher – she wants to become a successful commercial pig and koi fish farmer.
"I've made an offer to buy a farm in Magaliesburg from a retired farmer, who also farms with koi," she says. As soon as her application for funding from the Department of Rural Development and Land Reform is granted, she plans to start making her dream come true.
Inspired
The only girl of four children, Mahuhudi surprised her parents, Matome and Dineo, when she decided to become a farmer. "I didn't anticipate her lasting this long," admits Matome. "But she's proved me wrong."
"Farming comes from my mum," says Mahuhudi. Dineo had a general dealer's store but closed it after several robberies and concentrated on small-scale farming instead. She grew vegetables and had a few broilers and turkeys, and also launched the highly successful Zama-Zama agricultural study group.
"I helped her during school holidays," recalls Mahuhudi. But she soon discovered that her real interest didn't lie in vegetables or chickens, but in pigs! There was a pig farm next door where the owner, Mxolisi Mabutu, had a mini abattoir and sold pork to the public. Mahuhudi found herself spending more and more time there, learned a great deal, and bought her first pig in 2008.
On her own
Later that year, Mxolisi fell ill and was unable to run his business, so Mahuhudi arranged to take over the facilities until his health improved. As these had not been used for a while, she cleaned the pens, scrubbing the floors herself. She then brought in the boar she had been keeping at a friend's farm and bought six sows for breeding.
A few months later, Mahuhudi suffered her first setback when four pigs died. She arranged for an autopsy and found they had been infested with worms – which showed that the pens had not been disinfected properly. It was an important lesson: good hygiene is critical with animals as sensitive as pigs.
Learning more
After the disaster, Mahuhudi was left with two sows and the boar, and realised she had to learn much more about her animals. "I read everything I could get my hands on," she recalls. She also asked other pig farmers for advice and got to know the local feed and veterinary suppliers.
Mahuhudi bought three more sows and started breeding them at eight months. This time, the pigs did well. But feeding them was expensive and after a while she found herself short of money. So she decided to sell a few pigs. "I'd heard about animal auctions but had never been to one before. And that's how one can get into trouble – through a lack of knowledge," she says.
She took a few of her best pigs to the auction, thinking she was going to make good money. But she quickly discovered that the prices were much lower than she'd imagined, and believes that buyers work with each other to keep prices low. "Most people bring animals that are rejected at other markets to auctions as a last resort," she explains, noting that auctions are the best places to buy, but not to sell.
Feeding pigs
Mahuhudi gives her pigs about 2kg of feed a day, but doubles this to 4kg a day for pregnant sows. At first she bought commercial feed, but after a while found it too expensive. Now she buys crushed yellow maize, pig mix, peanut flakes and lucerne from various suppliers and mixes her own feed. She also gives her animals green feed, such as lettuce, which she buys from the Johannesburg Fresh Produce Market.
She avoids giving them cabbage and tomatoes, though, as pigs are highly sensitive to acidic food. Her weaners get the same diet as the other pigs but with soya meal added. She admits this is not ideal but cannot afford better, and these rations have produced acceptable results. Mahuhudi spends up to R2 000 a month to feed her 40 pigs.
She weans her piglets when they are between three and four weeks and sells them when they're about five months old at the Krugersdorp abattoir and also directly to the public. She has found that most customers prefer grown pigs to porkers. Mahuhudi says that many black people believe pigs are dirty animals, but that this simply isn't true. She disinfects her pens regularly and always gives her pigs clean food.
Future plans
In late 2011, Mahuhudi and Mxolisi formed a business partnership, and Mahuhudi now holds a 49% stake in the piggery. In the meantime, she is revamping the pens and replacing much of her herd. "I've been doing a lot of research and have decided to buy a new stock of Large White sows from the Agricultural Research Council (ARC) in Irene," she explains. "It is a very good breed and comes already impregnated."
Although she'll still keep a boar, she plans to make more use of artificial insemination to increase productivity. Part of the reason for improving production is the fact that the piggery has managed to secure a supply agreement with Pick n Pay, and Mahuhudi is determined to be able to deliver efficiently on this.
Contact Mahuhudi Masipa on 081 387 5232.