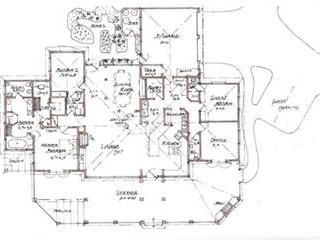 "These won't be required, so convert some of the wasted downstairs space to a couple of bedrooms and a study. Our children and grandchildren will need to be accommodated from time to time, otherwise it's just our retirement home," she said. Well, Carol and Barry, here's the layout as close as possible to what we discussed.
With the width of the house being more than average, the roof will require additional support over that span. It becomes a little bit problematic over the dining-room area. I would suggest that the external dining-room wall be brought back in line with the main en-suite toilet wall and the back of the garage wall.
The dining-room table can be positioned horizontally across the room, leaving plenty of space. Barry has already made all the blocks he requires with his hydro-form mould. I asked if there were any rocks lying around to build the plinth with. "No," he said, "there are only red sand dunes as far as you can see." I said I would show him how to pigment plaster and mould it in situ to resemble rockwork.
Finally, with the wide living area and the 5m-wide veranda, I've created a skylight in the apex of the roof, to allow more daylight to filter in.