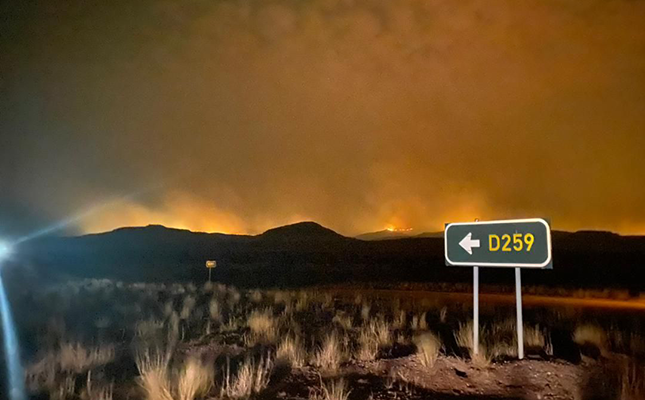 According to Henriette le Grange, coordinator of the Namibian Disaster Relief organisation, it was suspected that the fire had been ignited when a vehicle "kicked up some stones which hit a rock and caused a spark".
She told Farmer's Weekly that farmers and other volunteers from the region had been fighting the inferno day and night since it started on Tuesday (11 October), but to no avail.
To date, 14 farms had been destroyed, with farmers' plight being exacerbated by the devastating drought that had been experienced in southern regions of that country since 2010.
In addition, farmers in the region also had to contend with extremely extensive brown locust infestations during the past summer season.
"These farmers need all the help they can get. At the moment we are in urgent need of animal medicines.
"In one case, a flock of lactating goat ewes were saved from the flames just in time, but their teats were damaged so severely that the kids [will have to] be raised by hand.
"We've already provided some medicine to treat the goats, as well as milk for the kids, but it goes without saying that the farmers will have to take care of many more animals in the coming days."
A full assessment of the damage will be undertaken as soon as the fire was contained, but it could be safely assumed that, conservatively speaking, hundreds of head of livestock and game had already succumbed to the inferno, she said.
According to Le Grange, widespread destruction of infrastructure such as fences, watering troughs and water tanks had also been reported.
The farms in the southern part of Namibia were thousands of hectares in size due to the very extensive farming conditions and low carrying capacity.
This meant that fire fighters had to be deployed across a wide area which, together with the inaccessibility of the terrain, made it extremely difficult to contain the flames.
"We are also calling for assistance in terms of animal feed such as lucerne, hay and licks to keep the animals going after the fire. At the moment we also have a pressing need for fuel to keep the vehicles going that are being used to fight the fire," she added.