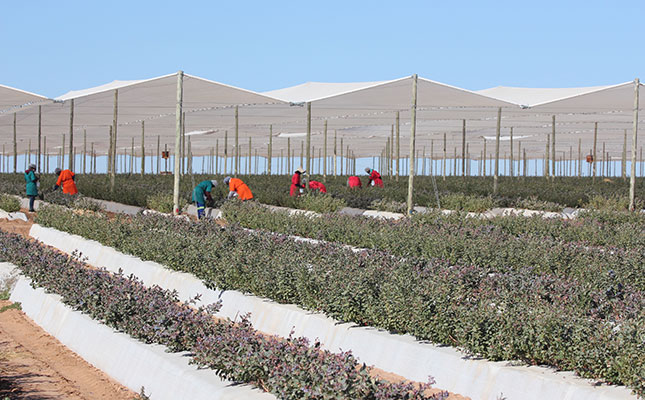 The first-ever commercial harvest of blueberries in Namibia recently commenced on the banks of the Okavango River between Mashare and Mupapama villages in Kavango East, northern Namibia.
The 20ha project was considered a forerunner for other high-value crops that could be produced under irrigation in the semi-arid country, according to Willem Mostert, manager of Cherry Irrigation: Namibia, the company in charge of the irrigation and fertigation management system for the project.
READ Four niche crops to boost your cash flow
"A few years ago, no one could have dreamed that it was possible to grow high-quality products such as blueberries in a country as dry as this. We already produce a variety of grains and vegetables, including wheat, maize, sorghum, potatoes, onions and cauliflower in the region, and avocado production is next on the list. We plan to start planting the first trees on 1,5ha in September," said Mostert.
Roelie Venter, CEO of the Namibia Agricultural Union, said if more high-value agricultural products were produced in the country, it would become less dependent on imports.
READ Plum production: an overview
Labour-intensive initiatives, such as blueberry production, would also increase job opportunities, as well as open valuable opportunities to earn foreign currency.
This season's blueberry crop was being marketed locally, and exports were set to commence in August to Europe, Asia and the Indian Ocean islands, including Mauritius, the Maldives and the Seychelles.
Albert Basson, Mashare project director, said the 2020 harvest was expected to continue into late October.
"We're projecting an ultimate yield of up to 150t this season, and we plan to double the area under production by the end of 2021," he added.