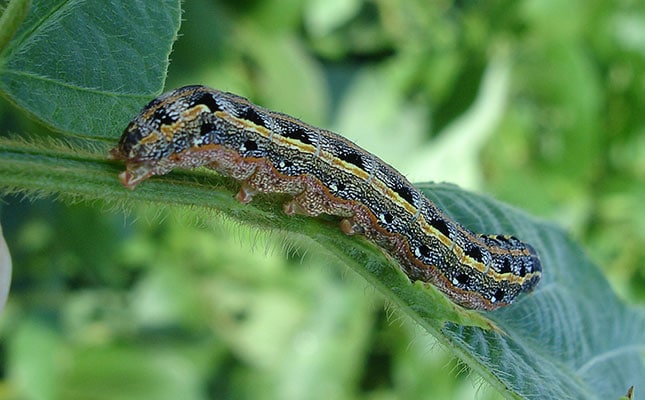 This notifiable pest has destroyed crops in Mashonaland Central, Matabeleland South, Matabeleland North, Midlands, Manicaland, Mashonaland West and Mashonaland East provinces.  Only one province, Masvingo, has not reported an outbreak.
Chief entomologist of the department of plant protection and research in the Ministry of Agriculture, Mechanisation and Irrigation Development, Godfrey Chikwenheere, said an estimation of the total loss as a result of the armyworm invasion is currently underway.
Farmers had hoped that the good rain across the country would result in a bumper harvest after three successive seasons of drought, he said.
"We are [in the process] of raising awareness about the pest and also assisting with pesticides to control the armyworm."
Just regularly scout their fields for the pest and immediately notify government officials if they are observed, to ensure a quick response to the infestation, Chikwenheere said.
This is the first time ever that Zimbabwe farmers are being affected by fall armyworm, although African armyworm infestation is a regular occurrence, he said.
The first sightings were reported in early January in Matabeleland North and Mashonaland West near Zambia, and the military was deployed to fight the pest in that country.
The caterpillars had by 10 January affected 124 000ha out of 1, 4 million planted hectares in Zambia, said agriculture minister Dora Siliya.
Chikwenheere said the Zimbabwean government was distributing Carbaryl 85 percent Wettable Powder. Farmers could also apply carbamates, organophosphates and pyrethroids.
Last year, the Zimbabwean government launched an agriculture scheme with the aim of producing two million tonnes of maize on 400 000ha to address large-scale hunger in that country. Selected farmers were provided with maize seed, fertiliser, fuel and other inputs as part of the project.
Zimbabwe Commercial Farmers' Union president, Wonder Chabikwa, warned farmers to be vigilant about this pest to ensure that they protected their investments.
"This is an armyworm that can totally wipe out a farmer's maize field.  We also urge the government to help farmers with pesticides where [needed]."