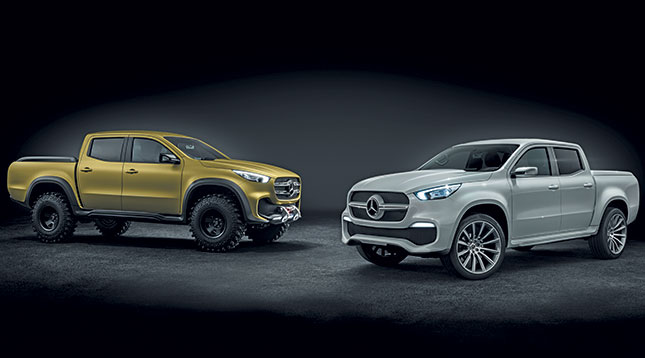 Concept vehicles are intended to showcase models under development and gauge customer reaction. Many never make it to the production stage, while those that do often bear little resemblance to the original.
The Merc seen here, however, is probably close to what we'll see on our roads. Mercedes-Benz has committed to launching the X-Class in Germany late in 2017, and the bakkies are likely to arrive in South Africa in early-to-mid 2018.
Two design variants were on show at Stockholm: a 'powerful adventurer' and a 'stylish explorer'.
READ Motoring review: JMC Carrying 1,6t light truck
"With its progressive design, the powerful adventurer expresses cool modernity and thirst for adventure, while the stylish explorer, on the other hand, uses pure emotion to provide a tangible experience of modern beauty," gushes the press release.
Hidden amongst the purple prose, though, is evidence that the new Mercedes could well equal the best in load-carrying and off-road capability.
It will have a tough ladder-type chassis, largely the same as that of the Nissan Navara, but the body panels will be pure Mercedes, as will the interior.
Three engines will be available, with the flagship models using a V6 turbo-diesel driving through 4MATIC permanent all-wheel-drive. Apart from the usual electronic driver aids, the rear and centre differentials will be lockable.
The factory claims that it will be able to carry a load of more than 1,1t and legally tow up to 3,5t.
Safety and comfort
The real difference between the X-Class and those it challenges, however, will be in the electronic driving, safety and comfort features. These will include driver-assistance systems with radar, cameras and ultrasound sensors.
There will apparently also be a communications module that will enable the driver to connect with the bakkie by smartphone, tablet or PC.
READ Designing a foolproof safety system- Part 1
Navigation destinations, for example, could be sent to the vehicle, its location queried, and even its fuel level checked.
There is no doubt that the new Mercedes X-Class will be a superb vehicle. We can also take it as a given that it will be expensive – perhaps as much as the 2018 equivalent of R800 000 without any extras. With the whole kit and caboodle, the cost could rise to about R1 million.
Perhaps Mercedes will surprise us, though, and come in a little lower.
From all over
The vehicles destined for Europe, South Africa and Australia will be built at a Nissan plant in Spain, while those for Latin America will hail from a Renault plant in Argentina.
This is possible because the X-Class will use the same platform as the Nissan Navara and NP300, as well as the new Renault Alaskan.
The Renault-Nissan Alliance was formed in 1999 to increase economies of scale by sharing production facilities and parts between French and Japanese manufacturers while retaining their own unique identities.
Mercedes entered into a strategic co-operation agreement with the Alliance in 2010, which is why some recent smaller Mercedes-Benz cars now have Renault engines lurking under their bonnets.
Keep up to date with the latest X-Class news and availability, by filling in your details in the "Keep me informed" section.
Watch the Mercedes-Benz Concept X-Class trailer