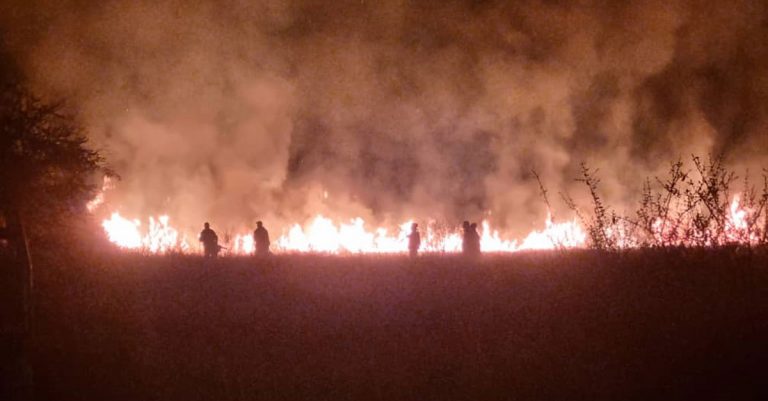 An estimated 2,5 million hectares have been destroyed by forest and veld fires in Namibia so far this year.
This included 604 farms, as well as immense tracts of communal land and protected areas, according to Pohamba Shifeta, that country's minister of environment, forestry and tourism.
He said in a recent statement, that this had resulted in the destruction of infrastructure and buildings, vast areas of grazing, as well as the loss of both people and animals, including hundreds of head of livestock.
The frequency, intensity and extent of wildfires had escalated across the country in 2021 due to, among other factors, the good rainfall received earlier in the year, which resulted in the accumulation of a high fuel-load in the veld, coupled with the effects of climate change.
"The extent and severity of the fires are illustrated in the fact that an estimated 46 944ha was, for example, destroyed in the Omusati, Otamanzi and Tsandi constituencies, affecting 11 villages.
"In the Oshana region 60 000ha were destroyed. In addition, 93% of the Daan Viljoen National Park was lost to fires in 2021," Shifeta added.
The Namibia Charcoal Association (NCA) meanwhile said the first step in mitigating the fire risk would be to revoke harvesting permits on all farms where statutory regulations were not being followed in the production of charcoal.
According to an NCA statement, no harvesting permit should be renewed for any farm that did not have firebreaks and fire-fighting equipment.
The next step would be to prevent farmers from exporting directly to international markets via shipping lines, excluding South Africa. This should in the long-term curb illegally produced charcoal, the NCA added.
Piet Gouws, president of the Namibia Agricultural Union, previously told Farmer's Weekly that a considerable number of the fires that raged in Namibia this year could be linked to cases of irresponsible and non-compliant charcoal production.
"The state has, to a large extent, failed to monitor the industry efficiently. It is vital that the government act on illegal charcoal producers who are not officially registered as required by law," he told Farmer's Weekly.
The NCA urged people to report cases of unlawful charcoal production, especially the absence of firebreaks, to their nearest forestry office.