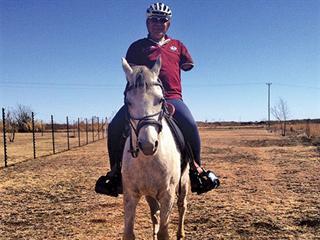 Many farmers are on social media pages such as Facebook, where they have joined interest groups sharing new ideas and opinions. But social media can be extremely valuable in other ways. Well-known endurance horse breeder Piet van der Merwe spent a great deal of time and energy training an Arabian gelding to be ridden without halter or bridle. The horse, Sundancer Obrigado, was donated to Daan de la Rey from Centurion, Gauteng, who has no arms and enjoys horse riding.
While out on a ride one afternoon, Daan and his horse were attacked by a pack of dogs. Sundancer threw Daan and bolted.
Sundancer had a following on Facebook and on 28 July Piet posted an urgent message alerting people of Daan's mishap.The news spread. A Good Samaritan caught Sundancer on the highway, hired a horsebox and delivered him to the nearest stables. Through Facebook's remarkable networking system, Sundancer was reunited with Daan.
Effecive anti-crime weapon
Social media also helps with the reporting and prevention of crime, as well as the apprehension of suspected criminals.
Willie Clack, chairperson of the Gauteng Stock Theft Forum administrates the forum's Facebook page. Recently, a photograph was placed on the page of a truck believed to have been used in stock thefts in the Gauteng area. The truck was white, with a blue tailgate, and built for mass grain transportation.
As reported by Farmer's Weekly, the vehicle – and its owner – were tracked down in due course. I don't know if this was thanks to a tip-off supplied by the stock theft forum, but there is little doubt that the Facebook page played a key role in alerting the public to the theft and the vehicle involved.