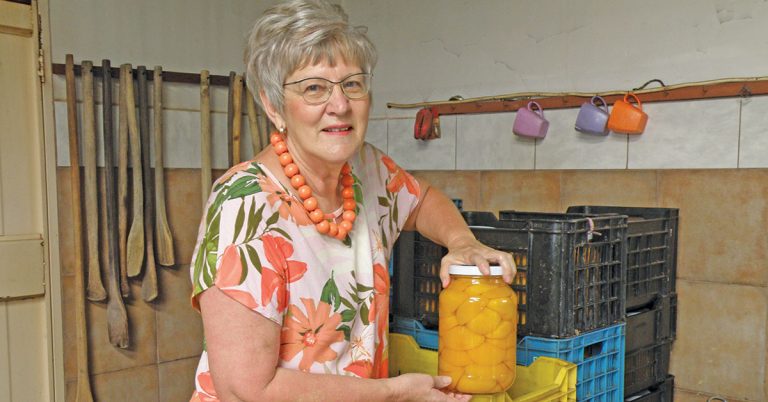 There is no fruit on this earth that is safe from Ina Lessing. The energetic 65-year-old has a passion for preserving and bottling, and will capture anything in glass, from marulas and makataan (wild watermelon) to quinces, chillies and mangoes.
Her interest in cooking has led her to own and manage a large business that makes and distributes her distinctive Ina Lessing range of jams, preserves, balsamic vinegar, syrups, mustards, chutneys, pickles, jellies, biscuits and rusks to dozens of outlets in Limpopo, Gauteng, the Cape provinces, KwaZulu-Natal and Mpumalanga.
Ina Lessing Jams and Preserves is a testament to the power of innovation and the bonds of family. The business is run from Lusthof, the family farm on the outskirts of Modimolle in Limpopo that belongs to Lessing and her husband, Danie. Her daughters Nicolet and Jana Lessing and Ané van der Walt, and her son Natan Lessing and daughter-in-law Neriché, are all involved in the operation.
The small premises at Lusthof are used to their full extent, with baking taking place in one section, fruit cooking in huge pots in another, sorting in the courtyard, and bottling in a spacious new warehouse that has just been completed.
On the day that Farmer's Weekly visited the farm, everyone was cooking and bottling fat cling peaches, and in the kitchen, three staff members were stirring the big pots. Lessing's granddaughter, Romien, on holiday from school, joined in to help Belinda Zuzumbe at the gas stove.
Lessing says that all her children are "intensely interested" in the business, and it is their dedication that is part of the secret to its success. "Danie is our main pillar of strength," she adds.
A budding business
It was 25 years ago that she first thought of the idea of making fruit jams and preserves for sale.
"We started under an afdak [lean-to] with two pots," she recalls.
"Then we moved to a small room, and then we built a small building and a storeroom when the orders became too big."
At that stage, they supplied jams and preserves to the nearby Tzaneen and Lowveld areas.
It was a time of drought, and Lessing was working as a domestic science teacher while Danie was farming ostriches.
"There were problems with the ostrich operation, and Danie started helping me source and transport the fruit for the preserving business," she says.
The produce that goes into the Ina Lessing range comes from the farmers around Modimolle, which is set in the beautiful Waterberg area. But the Lessings have also travelled to the far corners of South Africa to find the best fruit.
In their search for quinces, the couple decided to visit the Western Cape, and so started an
annual seven-week pilgrimage to a farm in the Robertson Valley, where they process large quantities of fruit from the area. With apples, apricots, gooseberries, plums, peaches and figs, they are spoilt for choice.
In what Lessing calls "'n verskriklike organisasie" (a terrible amount of organising), the entire operation is uprooted annually for their trek down south.
"We buy bus tickets for all the workers, and put them on the taxi to Pretoria so they can catch the bus to Worcester. There we fetch them and take them to the farm, which is near Robertson."
The Lessings stay in the farm guest house. "It's near the storeroom, where we work. While we are away in the Cape, the children carry on at Lusthof, because it's mango, marula and makataan time."
Despite the cost and upheaval, preparing and bottling the produce at source works out more profitably and results in a better product.
Speed bumps on the way to success
Inevitably, there have been mishaps over the years. For example, they once bought a load of what they thought were makataan, the wild watermelons that make a delicious, crispy preserve when bottled in syrup, but it turned out to be karkoer, a type of wild melon totally unsuited to bottling.
Lessing also experimented with dragon fruit. However, at R600 per crate, this wasn't a viable proposition.
"That's very expensive. I also wasn't that impressed with the end product for making jam," she says.
Sometimes, ventures that appear exciting at the outset are simply not worth pursuing, and part of being a successful businessperson is knowing in good time which those are.
Another venture that did not pan out involved a marula project for a client in the hospitality industry.
"Before the lockdown, in February last year, there was much interest in marulas for the international market," says Lessing.
"We started making some juice with the wild fruit, which grows in the area, as well as preserves and chutney made with the marula peels. But the project never saw the light of day due to the lockdown. COVID-19 had a major impact on tourism, which had a big influence on our operation, as we supply a lot of our products to farm stalls and tourism businesses."
But it is clearly not in her nature to stay knocked down for long. She is excited that they are implementing a new method for sourcing figs this year. From Lessing's point of view, figs are an especially problematic fruit as they are difficult to transport over long distances.
However, Danie has put his expertise to work and designed specialised shelves for the refrigerated truck. The shelves separate the figs from each other so they do not spoil en route.
Most people would be daunted, if not defeated, by the arrival of a huge truckload
of figs, but Lessing says this is what makes her "tick". She believes that enjoying work is key to staying the course. The same goes for her staff, who number approximately 20 at a time, depending on the season.
"Those who enjoy it, stay," she says.
As it is hot and stuffy in the kitchen, and even in the outdoor sorting area, not everyone is willing to work under such conditions. But Lessing says that her employees are motivated and love the work. She points out Sarina Setlhare, who has been working on and off for the company, selecting and sorting the best fruit, for 15 years.
Lessing says that another aspect of her success is that she is hands-on in the whole operation, from the kitchen to the sorting area, bottling and packing.
During the hard lockdown, they had to find ways to keep operating, and the business took a serious dip, as did many others in South Africa.
"The workers stayed here on the premises, so they could walk just a few paces to work. We provided three meals a day," says Lessing.
Handing over
She is confident that as she and Danie near retirement age, they can hand the operation over to the children. Natan's wife, Neriché, is in charge of the farm bakery; Nicolet, an auditor, is taking over production, along with Natan; Jana, an accountant, handles all the finances; and Ané manages the Centurion depot.
All the Lessing siblings have invaluable business skills to bring to the enterprise, but they can also be found doing the hands-on work, such as bottling.
"The children know the business and have 100% integrity, trust and loyalty," says Lessing.
"This is what makes it successful, and it helps Danie and me to know we can one day hand over with complete peace of mind."
Phone Ané van der Walt on 072 236 2328, or Ina Lessing on 072 804 6330. Visit inalessing.co.za.