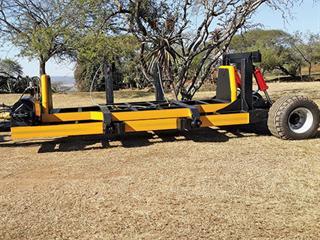 But there has always been a problem: if the stack of cane weighs more than 4t, there's a risk of tipping the trailer, breaking the cables or stripping the gears on the winch. Pietermaritzburg-based Landmech Engineering claims to have a solution. Its Mkulu 8 SLH side-loader trailer has a 4m load bed on a 6m deck with the axle located on trailing hydraulically- operated swing arms. These allow the deck to be lowered to ground level so that the cane bundle can simply be rolled on.
This system relieves the tension on the retrieval cable and significantly reduces the torque required to load the bundle. The result: much larger bundles and hence fewer trips to the transhipping zone.The first of these units is already in operation in the mid-Illovo area, where it has brought about considerable fuel savings.
The traditional method
The conventionally designed side-loader tends to tip sideways if loaded with a weight greater than 4t. Drop-down stabilisers have been employed to counter the problem, but these have strength limitations and many a tractor operator has ended up bending or ripping off the stabliser legs. Landmech claims that its Mkulu 8SLH will put an end to all of this.


The winch
The winch gearbox has a 40:1 ratio, giving substantial torque and fast retrieval speed. Because of the relatively low power requirement, it was possible to replace the PTO drive with a hydraulic motor. Removing the pin on the right of the winch axle disconnects the drive from the gearbox, allowing the cables to be unrolled easily for attachment to the bundle.
The load deck
Twin hydraulic cylinders raise and lower the load deck, which is locked safely and solidly in the raised position by latches operated hydraulically from the control centre. The hydraulic controls are at the front of the unit, allowing the operator an unobstructed view of the loading process.