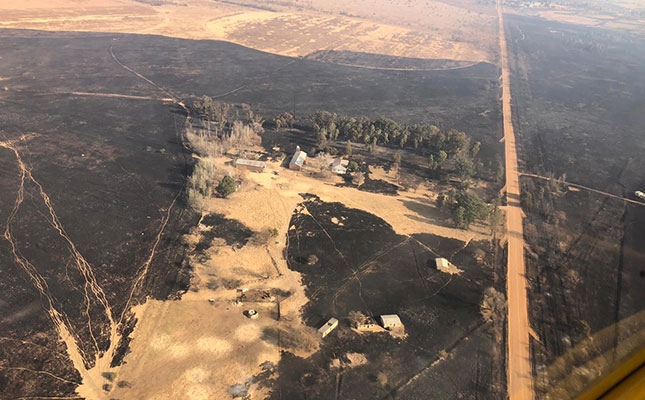 It has been estimated that as much as 1 000ha of farmland near the town of Alma in Limpopo have been destroyed after allegedly being set alight during a community protest this week.
According to head of community safety at Afriforum, Ian Cameron, residents of the township outside Alma, near Vaalharts in Limpopo, were protesting about the collapse of a cell phone tower serving the area.
"The tower fell over and that meant there was no cell phone communication available," he said.
It was further believed that demands that a local councillor be removed from his position also contributed to the protest action.
Cameron said the fires were allegedly started on smaller farms on the outskirts of the town on Tuesday.
"About six farms were burnt [down] and we estimate the affected area to be between 600ha and 1 000ha," he said.
Cameron said the area was known as a game farming region, but the fires had affected irrigation farmland, as well as grazing land for livestock.
While the fires were brought under control the same day, Cameron said they flared up again the following day. No further protest action had taken place, however, and he believed the situation was under control.
Chairperson of the Modimolle Fire Protection Association, Walter Doubell, confirmed that there had been wildfires in the region and that these had been brought under control. He could not provide any further information about the incident.
Cameron said there had been no reports of injuries as a result of the Alma fires.
There had also been serious protest action in Mokopane during the past two to three weeks, which had placed pressure on public order police resources in the province, he said.