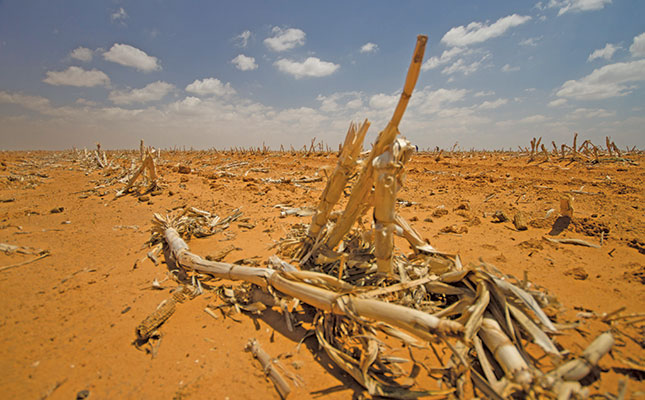 The Dutch Reformed Church in the Northern Cape, in conjunction with the Caritas Therapy Centre in Kimberley, has launched a 24-hour telephone support service aimed at helping victims of the relentless drought in the province.
READ Why more and more farmers struggle with depression
The objective of the service was to offer support to anybody traumatised by the drought, Reverend Kobus van Tonder of the church's Northern Cape Synod said.
"This helpline is of utmost importance to present people, who feel that the burden has become too heavy, with an opportunity to talk about their challenges, fears and the uncertainties about the future."
The church's aim was also to render humanitarian aid to those in need. Van Tonder said the church had, for example, initiated a fund to make it possible for school learners and students at tertiary institutions, who could not pay their fees, to continue with their education.
READ Feeding cattle during and after a drought
The impact of the drought had escalated to such an extent that some farmers found it increasingly difficult to provide basic needs such as food and clothes, he said.
To that end, a support programme would be launched early in 2020 whereby needy people would be issued coupons that they could exchange at participating businesses for whatever they needed.
"This programme [will be run] in co-operation with the Church Without Walls congregation in Centurion. In this way, we hope to lighten the financial load of the drought victims," he said.
Van Tonder added that the Dutch Reformed Church had recently also launched an initiative called 'Adopt a Farm' in conjunction with the radio station RSG.
READ Count your blessings; you'll be better off for it!
This initiative provided members of the public with an opportunity to support a specific farm and the people living on it. He said he had been inundated with offers of support from all over the country since the initiative was announced in early December 2019.
Nicol Jansen, president of Agri Northern Cape, expressed his heartfelt appreciation for all the support being offered.
He said the drought in the province was continuing unabated, despite reports that some rainfall had been received. This was because the rain had occurred in isolated showers, and by the middle of December, no showers in excess of 30mm had been reported.
Those in need of assistance can phone the Caritas Therapy 24-hour support service on 083 415 1484.