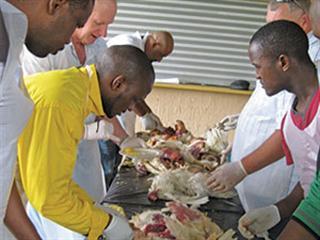 In 2012, Agri-SETA began assisting SAPA with the development of the new occupational qualifications for the industry, a R620 000 initiative that has produced three QCTO qualifications (poultry farmhand, poultry farm supervisor and poultry farm manager). "From October to December 2012, we put 10 learners through their paces to verify the curriculum," says SAPA training and development manager Chris Mason.
Hatchery managers were identified as the first priority group, followed by rearing managers. Agri-SETA has recently made R480 000 available to fund the training of 71 poultry meat examiner candidates and a further R480 000 to co-fund 12-month hatchery internships for the Chick Producers' Organisation. SAPA has also awarded two bursaries to students from the Tshwane University of Technology to research skills training needs and occupational health in the poultry abattoir industry.
DAFF, meanwhile, has allocated R1 million to SAPA for the training of 270 new entrant farmers over a two-year period. "This was initiated in March 2012 and to date 157 farmers have benefited," says Mason. Another initiative, funded by R500 000 from the SAPA levy, is the training of extension officers. "These are key as they interact with new entrant farmers," notes Mason. When it comes to training initiatives beyond SETA, SAPA has an agreement with the KwaZulu-Natal Poultry Institute to offer management courses annually in Gauteng, Western Cape and KZN.
In 2012, a subsidy model was introduced for the management courses, in terms of which SAPA reimburses 50% of course fees to companies on their employee's successful completion of the course. "Last year, SAPA reimbursed R281 000 from the levy to participating companies," says Mason. "This is to make training more accessible to companies by reducing the cost. "We're also introducing a series of technical and business courses aimed specifically at new entrant farmers."
In 2012, SAPA commissioned an audit of national skills across the sector to unearth the specific skills challenges faced by the commercial and emerging sectors. In commercial operations, the audit revealed:
The lack of a pipeline to feed careers in the poultry sector;
Low output of suitably qualified students from training institutions ready to enter the industry;
Students poorly informed about careers in poultry;
Insufficient credible service providers;
A lack of industry-specific skills programmes and qualifications.
The audit revealed a lack of critical technical knowledge or skills amongst developing farmers when it came to disease and health maintenance, nutrition, broiler and hatchery operations, feed, cold chain management in processing, food safety and standards, and contract growing.