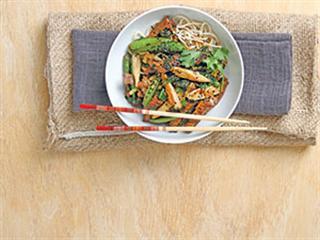 To make stir-fried rump steak with oyster sauce, mirin and bok choy for four, you will need:
1kg rump steak
1 punnet snap peas
1 punnet baby mealies
45mm fresh root ginger
4 cloves fresh garlic
1 bunch spring onions
2 baby bok choy40ml soya sauce
40ml oyster sauce
20ml mirin
1 teaspoon black peppercorns, coarsely ground
Canola oil on demand 
Let me start with the equipment. A serious stir-frier needs a wok, a low-pressure gas burner and a large slotted spoon. A low-pressure burner produces a bigger flame. Set this up outside, because smoke, steam and boiling oil all add up to a messy procedure. For your first wok, go for a big one in stainless steel. You may want to consider a Chinese cleaver as your basic knife. Its wide blade assists in the collection and transportation of freshly chopped vegetables from board to wok.
To begin, cut the rump steak into sections as thick as your finger. Break with the tradition of Chinese take-aways, which use matchstick-sized fragments of beef, and cut the steak thick. Select a large glass dish. Pour in the oyster sauce, soya sauce and mirin. Mirin is an essential condiment used in Japanese cooking and is a type of rice wine with a delightful flavour. If you can't find any mirin, substitute it with 40ml of Old Brown Sherry.
Stir the liquid to mix it, then add the fingers of rump steak. Stir to cover the meat with the marinade and sprinkle with black pepper. Cover the dish with clingwrap and leave for an hour. Cut the baby mealies and the snap peas in half, lengthways. Peel, then grate the ginger. Peel and coarsely chop the garlic. Top and tail the spring onions, keeping the whites separate from the greens. Chop the bok choy.
Ignite the flame and pour 100ml of canola into the wok. When this is smoking hot, flash-fry the ginger and garlic for 30 seconds. Add a third of the marinaded steak and stir-fry vigorously for 60 seconds. Remove the steak, return the oil to high heat, then stir-fry  the remaining two-thirds for 60 seconds each. Lower the flame and stir-fry the onion whites, snap peas, bok choy and mealies for 60 seconds. Remove from the wok with the slotted spoon.
Raise the flame to maximum heat and return the meat to the wok with the cooked vegetables for 30 seconds, stirring all the time. Kill the flame, stir the spring onion greens into the mixture, and serve with either Chinese noodles, ultra-thin pasta or basmati rice.