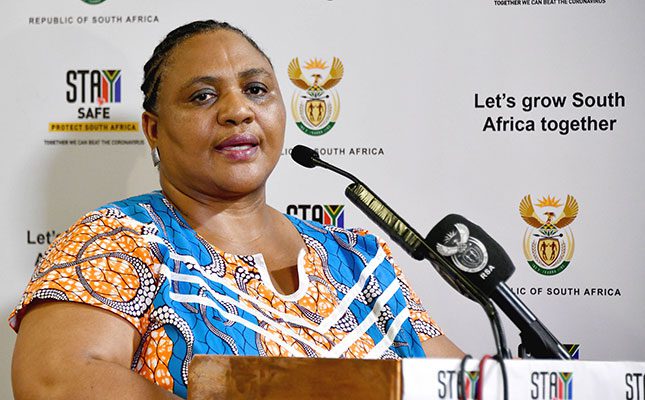 She referred to an analysis by the National Agricultural Marketing Council, which found that placing a mere 10% of this land back into production would unlock 500 000 job opportunities and increase GDP by R59 billion.
She said that only 9% of agricultural output was produced by previously disadvantaged farmers, implying that the sector was gradually improving on inclusivity, but "still a far cry from the vision of a united and prosperous agriculture sector."
She added that the blended finance model mentioned in the Agriculture and Agro-processing Master Plan would soon be extended to commercial banks to aid inclusivity in the sector.
To mitigate against load-shedding, Didiza said that an Agro-Energy Fund was being set up at the Land Bank. Large-scale farmers would qualify for 30% grant funding, capped at R1,5 million, to be matched with a 70% loan portion; medium-scale farmers would qualify for a 50% grant, capped at R1 million, to be matched with a 50% loan; and smallholder farmers would qualify for 70% grant, capped at R500 000, to be matched with a 30% loan.
Didiza also touched on efforts to improve the availability of vaccines and safeguard South African livestock against diseases.
Responding to Didiza's speech, Christo van der Rheede, executive director of Agri SA, said the speech had been relatively positive, and showed that Didiza was doing her best with the limited budget available to the department.
"The creation of the Agro-Energy Fund shows that the Minister realises that farmers cannot weather the impact of load-shedding on production, and ultimately the food security and job creation in the country, on their own. I just wonder what the size of this fund is," he said.
He welcomed her focus on growing and improving market access for South African-produced agricultural products, as well as the focus on Onderstepoort Biological Products and vaccine manufacturing in South Africa to improve biosecurity in the country, saying that it showed she was in tune with the challenges facing the industry.
In terms of load-shedding, however, Van der Rheede said he would have also liked to see the Minister lobby for the exclusion of certain commodities from load-shedding. He added that he would have liked to see pressure being put on local government to repair road networks, work with financial institutions to alleviate financial pressure on farming operations and the Department of Police to implement a comprehensive rural safety plan.
Van der Rheede said the trick would now be for government servants to implement the vision of the Minister as set out in the speech.
Meanwhile, Bennie van Zyl, general manager of TLU SA, said that the budget focussed too much on the development of subsistence farmers and made little mention of the difficulties and challenges faced by commercial farmers.
"TLU SA understands that investment is needed in the development of new farmers to meet the demand for food, but this should not be at the expense of the farmers who are already doing it under challenging conditions," he said.
He added that the investment made to support emerging farmers did not justify their achieved outputs.
"The Department spent R50 million last year to develop 124 citrus farmers. Even so, these farmers only produce six million of the 128 million cartons of citrus exported each year.
"A budget of R17 billion only goes that far. When the bulk is invested wrongly, it places food security in the balance," Van Zyl said.