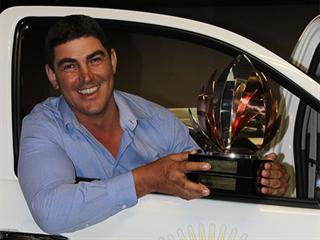 Speaking at the awards ceremony, Agri SA president Johannes Möller said this year's eight finalists had shown the tenacity to carry on through the challenges they'll face with the changing circumstances in agriculture.
"They look at long-term, sustainable growth to ensure all the possibilities have been considered and have illustrated that sound decision-making skills makes the difference when building a successful business."
"All the finalists are great contenders and very good farmers in their own right but Scholtz is a worthy winner of this coveted prize."
Toyota/AgriSA young farmer of the year based on their contribution to the farm, independence and long term planning ability @FarmersWeeklySA

— Lindi van Rooyen (@Lindi83) October 24, 2013
Scholtz (35) farms with lucerne, maize, wheat, barley, beef cattle on Vaallus in the Douglas area near Kimberley. He also owns and runs a transport business which services his and neighbouring farms.
The panel of judges commended him on his overall control and management of his farm, his excellent labour relations and his strong financial management of his farm and his transport business.
"Due to Scholtz's innovative actions and driving force, his farming operation has grown significantly during the past seven years irrespective of the huge impact natural disasters (two floods) had on his business," said the panel's convenor, Prof Carlu van der Westhuizen of the Central University of Technology, Free State.
The land under irrigation on Scholtz's farm has more than doubled, while a comprehensive infrastructure and range of farming implements and machinery has been established, added Van der Westhuizen.
Scholtz's high-quality lucerne fetches a premium price for the product, and he always researches several marketing options in order to ensure the highest prices for his crops and livestock.
Warren Bam (44), meanwhile, was recognised as the most promising young farmer from a previously disadvantaged background in the Toyota New Harvest of the Year competition.

Prof Carlu van der Westhuizen of the Central University of Technology, Free State, Warren Bam, Calvyn Hamman, Toyota South Africa senior vice president of sales and marketing and Johannes Möller, president of Agri SA
He farms on Lushof in the Western Cape and his table grapes and blueberries are exported to England and other countries around the world.
He was nominated by the South African Table Grape Industry and the Western Cape Department of Agriculture, who said that Bam "has proven himself one of the best organic table grape producers in the world" and shows that "farm workers and their children can one day own a farming business and succeed."
The other finalists in the Young Farmer of the Year competition were:
North West: Heinrich Bruwer, farms in the Vryburg area with a Brahman, Santa Getrudis and Simbra stud, as well as commercial beef cattle and small stock.

Gauteng:

Charl Höll, farms in Delmas, Bapsfontein, Thabazimbi and Roedtan with irrigation and rainfed maize, soybeans, wheat, dry beans, potatoes and seed maize.

Mpumalanga:

Joachim Prinsloo, farms in the Kiepersol area and in Mozambique with bananas, avocados, ginger, macadamia nuts and cattle.

Limpopo:

Kobus de Beer, farms in the Luxemburg area with sweetcorn, baby corn, brinjals, beans, chillies and cattle.

Free State: Danie Slabbert

, farms in the Reitz and Alldays areas with irrigation and rainfed maize, potatoes, hazel nuts, soybeans, pumpkins and beef cattle.

Eastern Cape:

Karel-Günther Jordaan, farms in the Cradock area with Merino sheep and Bovelder beef cattle.

Western Cape:

Hannes Toua, farms in the Ladismith area with peaches, plums and apricots.