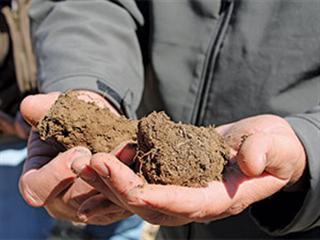 A new generation of farmers committed to the sustainability of the soil is emerging, and 33-year-old Danie Slabbert is one of them. "A farmer must realise and accept his responsibility towards the environment," he explains, adding that sustainability is also about reducing kilowatts per hectare and decreasing labour. Danie's vision is to manage the soil in such a way that it can keep giving back to future generations.
"I'm just managing the farm because it's God's soil," he says. "There's an old adage that the best pioneers are people who plant trees in the shade of which they'll never sit. I think farmers should all live by that." Danie farms on three farms. Van Rooyenswoning, near Reitz in the Free State, is a fourth-generation family farm he shares with his father on a 50% basis. They plant 700ha maize, 280ha soya beans, 20ha potatoes and 10ha hazelnuts, while 300ha is used for cattle grazing.
Kremetart and Diepsand Boerdery are situated near Alldays in Limpopo and are co-owned with Danie's brother, Pieter. Kremetart has potatoes under irrigation on 36ha and Diepsand Boerdery has 21ha pumpkins. Danie feels that investing in these two farms is the best business decision he has ever made."Planting potatoes in two areas ensures I have a constant cash flow and my risk is spread. Alldays is one of the few areas in South Africa that doesn't get frost, so we can harvest when the rest of the country is experiencing a low season and the price is higher."
All in the family
Wessel Hattingh, chairperson of the Young Farmer Committee of Free State Agriculture, says that one of the reasons Danie was chosen as the province's winner is because his operation is a good example of a family business that successfully involves everyone. Danie readily acknowledges the support and help of others. "Not everything you see here was started by me," he says. "My great-grandfather started the work and it was continued down the generations. I suppose good farming is in my blood."

Danie Slabbert with his wife Via and their 15-month-old daughter Sariet. Danie says he's privileged to have the support of his wife on the farm.
Danie started farming 13 years ago after completing an agricultural management diploma. He maintains that "despite dabbling in cattle and hazelnuts" he is a crop farmer at heart. "I want to use the soil to its full potential instead of just adding more land. So my main focus is always on the soil and not on the crop. I still have far to go, but implementing no-till is helping," he says.
Living soil
Danie has been practising no-till on the maize and soya bean lands for the past five years. "Currently 90% of the land area is under no-till cultivation and this will be 100% next year," he says. The moisture content and soil structure is very good, as is evident from the mass of earthworms beneath the surface. "Seeing earthworms in the soil sommer makes my heart beat faster," says Danie. "They're like ploughs without diesel. They loosen the soil and where they leave tunnels the roots of the crop can penetrate."
Cobus Claasen, Santam Agri's regional manager for the Free State, stresses that to farm successfully means farming with soil and moisture. "And this is what Danie does. You can see it in the lands." Danie admits that his passion for soil keeps growing the more he gets involved in it. The biggest opportunity on his farm is getting to the point where the soil starts giving back.
"I've started seeing this in the harvest. This year I'll bring in the biggest maize harvest since I started farming. I'm expecting to average 6t/ ha on the rainfed lands. Advances in technology have played a role, but so has soil management." Danie feels the current trend to increase the area cultivated has to be approached with trepidation. "A farmer must be careful not to get so big that he can no longer have his hand on everything," he explains. "I'd rather grow in potential than in size. A farmer on a small piece of land has just as much chances of succeeding if he manages the soil correctly."
Branching out
Being at the right place at the right time and on the lookout for opportunity is often a recipe for success. This occurred when managers of chocolate company Ferrero Rocher came hunting on the family's game farm in Limpopo a few years ago. "Around the camp fire, they mentioned to my brother, who runs the business, that they were looking for hazelnut growers in the southern hemisphere to complement the producers in the northern hemisphere.
This was to ensure a year-round supply. My brother said he knew just the right farmer." Danie was selected as one of five farmers in South Africa to grow hazelnuts for Ferrero Rocher. He planted 14 varieties in an experimental block four years ago to determine the most suitable cultivar. Ferrero Rocher provided the trees, the irrigation system and the fertiliser programme, and Danie manages the orchard. He's expecting his first harvest later this year.
"If hazelnuts work here, it'll be a huge cash injection for the whole area," he says. Danie also manages his father's cattle, and has started importing Wagyu semen from Australia. So far six embryos have been transferred to recipient cows. "Beef from this breed sells for a high price," he says. Danie will go through to the national Agri SA/Toyota SA Young Farmer of the Year competition along with the winners from the other provinces. The national winner will be announced in October.
Contact Danie Slabbert at [email protected]