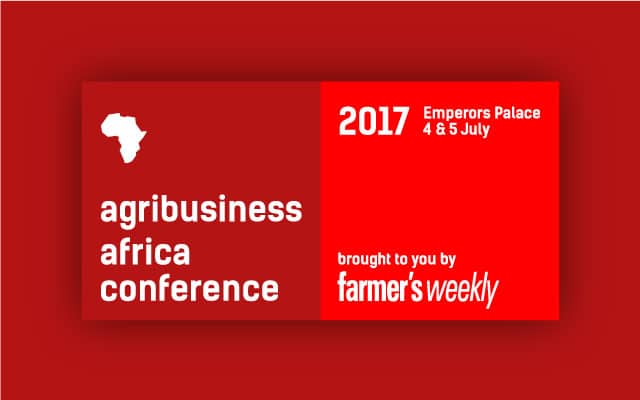 Day 1 – Wednesday 4 July 8:00 to 17:45
SESSION 1: Preparing for the next drought
In this session, speakers and panellists will look at how farmers and agribusinesses can adapt to, and mitigate the impact of, climate change on primary production.
Some topics to be discussed include: what the future looks like for crop insurance and production financing; and how financial institutions will prepare to offer financial services to farmers in a time of greater uncertainty and volatility.
Speakers and panellists for this session include:
Prof Johan van Rooyen, director of the Standard Bank Centre for Agribusiness, and professor of agricultural economics at Stellenbosch University (moderator)
Mike Bosch, farmer and managing director of Boschveld Chickens
Antonie Delport, CEO of Syngenta Southern Africa
Antois van der Westhuizen, managing director of sub-Saharan Africa: John Deere Financial
Dr Dawie Maree, head of information and marketing for agriculture at FNB Business
Dr Riaan du Preez, business unit manager of sub-Saharan Africa exports and product development at Afrivet
For more information about the conference, contact Marianna du Plessis at

[email protected]

.
Session 2: Building bridges, crossing borders
This session will focus on some of the bureaucratic realities and practical challenges of doing business in Africa. Speakers and panellists will engage in a comprehensive discussion about the challenges posed by the infrastructure deficit in many African countries.
Other topics to be discussed during this session include: unravelling Africa's trade agreement environment, and corruption pitfalls.
Speakers and panellists for this session include:
Moses Nyabila, senior advisor for agro-industry development for the government of Kenya's Ministry of Industry Trade and Cooperatives (moderator)
Nuradin Osman, vice-president and general manager: Africa
for AGCO
Maniki Rakgalakane, managing director of the Land Bank Insurance Company,
Ezra Steenkamp, deputy director of the Trade Research Directorate: International Trade at the Department of Agriculture
Dr Langa Simela, business development manager at ABSA
Wessel Jooste, head of export at GARENI Industries in France
DOWNLOAD Agribusiness registration forms:
Session 3: Invigorating the value chain
During the final session on day one, speakers and panellists will examine some of the weak links in the African agro-value chains, and explore solutions for fixing these by looking at successful examples.
Some of the topics discussed include: how to develop value-chains that are appropriate and beneficial for Africa's smallholder farmers; and how to get more value back to the farmer, in complex, international value chains.
Speakers and panellists for this session include:
Wandile Sihlobo, head of agribusiness research at the South African Agricultural Business Chamber (moderator)
Lucien Jansen, CEO of the Perishable Products Export Control Board
Lindie Stroebel, general manager of the Produce Marketing Association Southern Africa
Cecilia Khupe, programmes director at African Fertilizer and Agribusiness Partnership
Henri Minnaar, managing director at AgriMentor
Day 2: – Thursday 5 July 8:00 to 14:00
Keynote speaker: Pravin Gordhan
South Africa's former minister of finance and current Member of Parliament will set the scene for the second day of the conference with his keynote address on Africa`s readiness to trade and compete on the global stage.
Session 4: Feeding the world
In the final conference session, speakers and panellists will explore ideas about how agribusiness development on the continent will underpin growth that will see Africa transform from a net importer of food, to being the bread basket of the world.
Topics to be discussed include: correcting Africa's agricultural trade balance; mechanising the African farming sector; and the legislative reforms needed to strengthen agricultural development through foreign direct investment and public-private-partnership engagement in the agribusiness environment.
Panellists and speakers for this session include:
Denene Erasmus, editor of Farmer`s Weekly (moderator)
Nigel Gwynne-Evans, chief director for African integration and industrial development at the Department of Trade and Industry
Dr John Purchase, CEO of the South African Agricultural Business Chamber
Dr Klaus Eckstein, CEO of Bayer and head of Crop Science in Southern Africa
Dr Theo de Jager, farmer and chairperson of the Southern African Confederation of Agricultural Unions
Tanya Havemann, director of the Clarmondial GmbH and Clarmondial Foundation, and technical advisor to the
World Bank infoDev programme on financing green entrepreneurship and innovation in emerging markets
Aliyu Abbati Abdulhameed, CEO of the Nigeria Incentive-Based Risk Sharing System for Agricultural Lending (NIRSAL)
For more information about the conference, contact Marianna du Plessis at

[email protected]

.