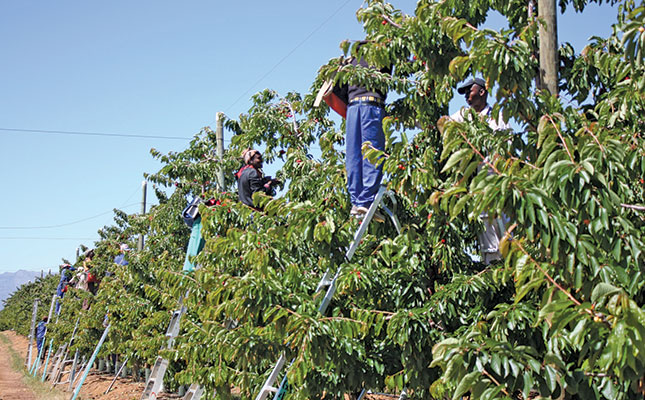 Despite a slight uptick in the number of agriculture jobs created in the fourth quarter of 2017, the sector recorded the second-highest number of jobs lost on a year-to-year basis.
Stats SA said in its fourth-quarter labour force survey on 13 February that South Africa's overall unemployment rate had dropped one percentage point – to 26,7% – from the same time in 2016.
This meant that about 16,1 million people between the ages of 15 and 64 had jobs at the end of last year.
READ Minimum wage in the spotlight again
The survey revealed that agriculture had added 39 000 jobs in the last three months of 2017. This represented an employment increase of nearly 5% (4,8%) and brought the total number of jobs in the sector to 849 000.
However, the sector had shed about 70 000 jobs since the same time in 2016, representing a year-on-year decline of nearly 8%. Between October and December 2016 there were 919 000 agriculture jobs.
The sector was second only to the construction sector in year-to-year job losses, which shed more than 90 000 jobs.
Agriculture was the biggest loser in terms of percentages, however, with construction job losses pegged at 6,2% year-to-year, compared with agriculture's 7,6% year-to-year decline.
READ Bank loans: advice for smaller producers
The largest number of year-on-year job losses – 57 000 – in the agricultural sector were recorded in Western Cape.
Agbiz economist Wandile Sihlobo said that although the quarterly employment increase was encouraging, the year-to-year decline was cause for concern, especially in light of forthcoming minimum wage changes, the persistent drought in the Western Cape and reduced plantings in the summer cropping area.
He said the introduction of the minimum wage at a period when farm income was "fairly down" could potentially lead to a further reduction in employment.
The impact would be worse in certain sub-sectors that were labour-intensive and had high skill requirements.
Horticulture was likely to be the most severely affected. "Unfortunately the sector is also highly concentrated in the Western, Eastern and Northern Cape where […] weather developments could further constrain farm income and hence impact on the whole sector's labour market," he said.
Sihlobo added that the fourth-quarter employment increase in the sector had been driven largely by the field crop, horticulture and livestock sub-sectors.
The drought in Western, Eastern and Northern Cape has meanwhile resulted in government declaring a national disaster.
Head of the national disaster management centre, Mmaphaka Tau, said in a notice published in the Government Gazette on 13 February that the decision had been taken following a reassessment of the "magnitude and severity of the ongoing drought in at least three provinces".