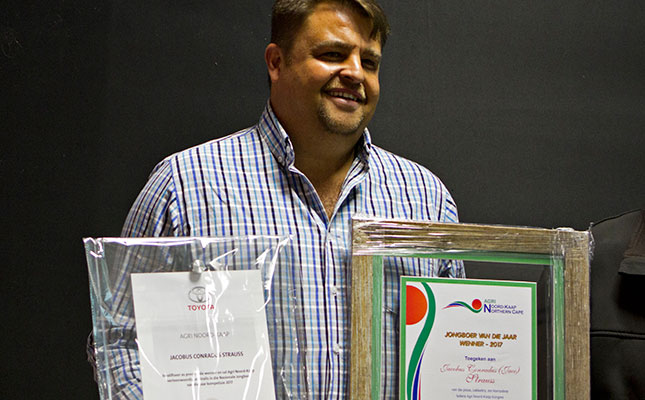 He was announced as the winner during the 38th annual Agri Northern Cape Congress in Kimberley on 23 August.Strauss, who has been working his farm, Lekkerkry, for 18 years, said that the award was recognition for all his years of hard work.
"It's really lekker, especially as this was the last year I was able to enter," he said.
Strauss, who farms on 900ha of irrigated land in the vicinity of Jan Kempdorp, said he produced wheat, maize, cotton, peanuts, lucerne, oats and pecans. "We really do a bit of everything," he added. He said he and his team evaluated supply-and-demand scenarios every year and made planting decisions accordingly.
Strauss was also commended by judges for his long-term grain marketing strategies. He purchases maize through contracts and by so doing creates a hedge for the poor years.
"There's always a positive in any situation, which is something I really want to share with my fellow farmers," he said.
He added that his grain marketing strategy should not be confused with speculation. Rather, it meant taking a long-term view of the market.
Strauss said that one of the major benefits of participating in a competition such as Young Farmer of the Year was the feedback and knowledge he received as a result.
"I believe that one day we'll have to account for not how big our farms were, but the difference we made in the lives of the people around us. We should always strive to add value to anything we do."
His message to other farmers was to focus on just two things.
"On my farm, there's no place for laziness or lying. If you can just put those two things in place, then the world opens up to you. If you're not lazy and just do your share every day and remain honest, you'll make it. Your integrity in the industry is of cardinal importance," he said.
Strauss said he was looking forward to representing his province in the national competition later this year. "Regardless of what happens, I'm very excited about it," he said.