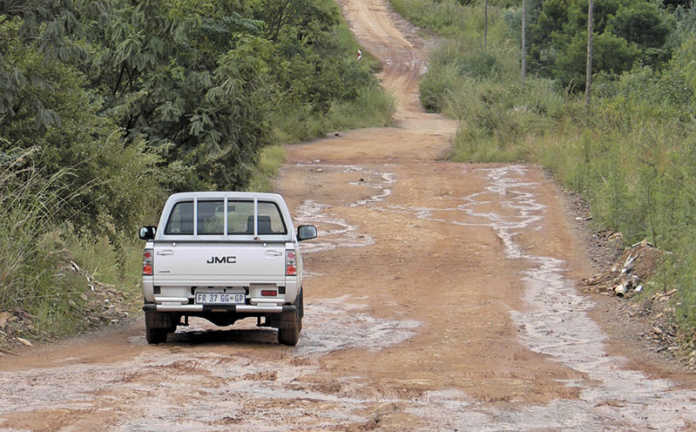 The JMC Boarding 2.8 TDi Euro IV is a no-nonsense bakkie built for work. Nonetheless, it offers all the convenience and comfort features that one really needs. It is similar to equivalent Japanese – read Isuzu – bakkies, without some of the latter's more sophisticated refinements.
But these are irrelevant to its ability to load and tote heavy loads, and the lack of them helps make the JMC considerably more affordable.
I lived with the Boarding for two weeks earlier this year to discover its strong points and weaknesses.
To evaluate handling in heavy traffic, I drove it from Pretoria to the Farmer's Weekly office in Johannesburg on 17 February with a 1 100kg load on the back.
I zeroed the trip recorder at the Engen Garage in Atterbury Road at 9am and checked it on arriving at my destination at 10h25. It read 69,3km. The GPS recorded 53,1km, so the trip recorder was out by 23,4%.
Handling and performance, despite the traffic, was impeccable.
On 22 February, I visited a farm at Hartbeespoort, 124km there and back. As it had been raining heavily, a 2km diversion had been created.
Although short, this turned out to be a partly flooded nightmare of a road, with slippery mud, hidden ruts, and potholes under the water surface. It carried all the diverted traffic, which included everything from minibus taxis to heavy trucks, and many irate motorists, apparently late for wherever they were going. Even under these conditions, I could not fault the JMC's comfort and handling.
Built for work
The cargo bin, 2 290mm long, 1 450mm wide and 450mm high, has a 1 340mm wide tailgate opening. As on all bakkies, the two internal wheel arches (900mm long, 250mm wide and 250mm high) take up some potential loading space.
A bolted-on cab guard, with vertical bars and longitudinal corner reinforcements, protects the rear window from loose objects in the cargo bin if the brakes are applied suddenly. Lacking, however, are overhead lateral brackets to prevent long objects such as pipes or planks from sliding off sideways.
Twelve tie-down hooks along the outer rim of the cargo bin and tailgate enable a load to be properly secured, and hold a tonneau cover (not provided). These hooks have long disappeared from many expensive bakkies that urban drivers buy for image rather than function, no doubt on the grounds that they spoil the sleek lines!
A two-piece hinged steel stay on either side supports the opened tailgate. Two large internal latches released and locked by lateral swing-out handles on the rear of the tailgate secure it shut. Everything bolts in place, enabling easy repair and replacement of wearing parts.
The cargo bin has double walls. Unfortunately, the inner panels are not removable, complicating dent repairs to the outer panel.
A black polyurethane lining covered the cargo bin of the test bakkie. Whether or not it is a standard feature I don't know, but it is highly recommended on any hardworking vehicle. It is durable, flexible, waterproof, and scuff- and corrosion-resistant.
The rear bumper, constructed of 76mm diameter steel tubing, has a central step insert covered with black polymer to facilitate cargo bin access. But it lacks a tow hitch and even mounting points, so that anyone wanting to tow will have to replace the bumper.
This should lead to a strong demand for an aftermarket replacement incorporating a tow hitch, and an equally good supply of perfectly serviceable used original units!
When loaded to capacity, the rather long rear overhang, exacerbated by the rear bumper, restricts the departure angle. The Boarding is not meant to be an off-roader.
A tough, one-piece, washable, grey vinyl liner covers the cab floor. Cleaning caked mud and cowpats off this surface will be relatively easy, in contrast to the carpeted floor of many other bakkies. As it is smooth and tends to be slippery, JMC provides separate, non-slip, carpet-like mats.
Convenience & comfort
Interior refinements include a radio/CD player, air conditioning and heating, electric windows and central pushbutton locking/unlocking operated by a switch on the driver's armrest. Lacking are electrically adjustable exterior mirrors and remote locking.
The quality of the sound coming from the speakers is also nothing to write home about.
The 2,8-litre turbodiesel diesel engine's Euro IV emission rating is in line with legislation governing diesel emission in most First World countries, and the need to address China's horrendous urban air pollution.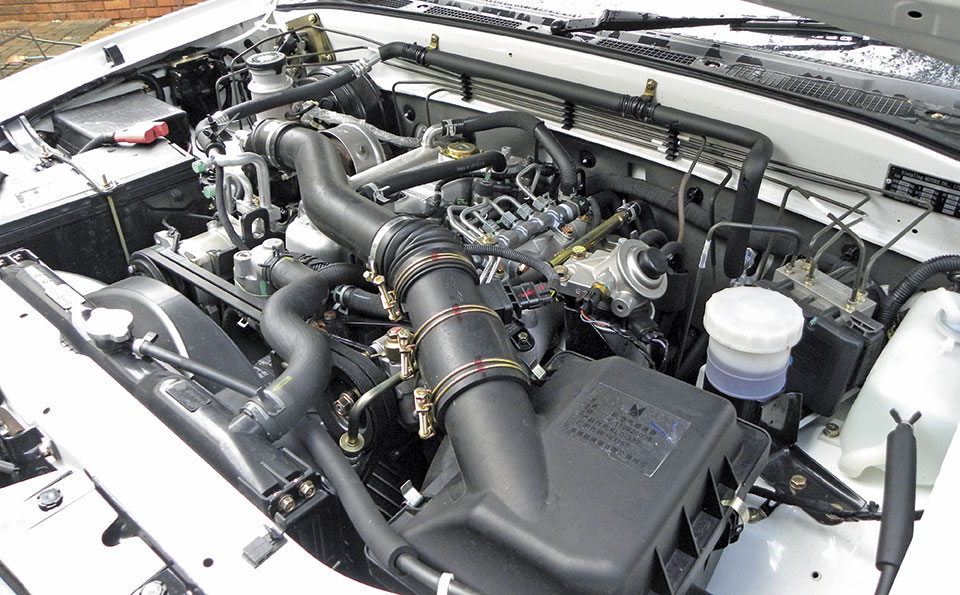 In Africa, this feature unfortunately restricts the JMC to countries and areas where low-sulphur diesel is available.
The engine compartment has a neat, logical layout, and all routine service points, as well as many non-routine ones, are easily accessible. The tools, for wheel changing and emergency roadside use, are located behind the seat backrest.
Their attachment could be more secure; few things are more irritating on a bumpy road than rattles and thumps behind your back.
The bucket-type seats have adjustable backrests and are quite comfortable. A third person sitting in-between on top of the elevated, hinged-lid central storage box is likely to disagree. Moreover, no central seat belt is provided; this is unashamedly a two-person vehicle.
A small nuisance is that the rear window does not slide open, limiting communication between the cab and the loading bay.
Practical, affordable and comfortable
This highly serviceable working vehicle, designed and built for years of problem-free service, has all the comfort and convenience a farmer really needs. The diesel engine, five-speed synchromesh gearbox, leaf-sprung rear axle and independent front suspension are standard on most bakkies in this class, while the money saved on omitting unnecessary frills is a welcome bonus.
The JMC Boarding 2.8 TDi Euro IV is priced from about R175 000 including VAT.