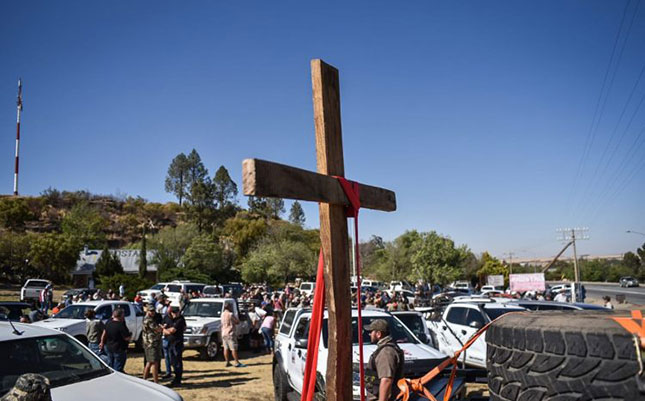 The bail application hearing of the two men arrested in connection with the murder of Free State farm manager, Brendin Horner, has been postponed to Tuesday, 20 October for finalisation.
Tensions ran high in Senekal on Friday, 16 October, when Sekwetje Mahlamba and Sekola Matlaletsa appeared in the Magistrate's Court there.
Members of political parties and other organisations from across the political spectrum gathered in the Free State town.
Speaking to Farmer's Weekly, DA MP Annette Steyn, who is on Senekal on Friday (16 October), said that according to reports she had received, the protests had been mostly peaceful.
Steyn commended farmers in the area for their patience during this time. "We believe your plight is now receiving attention and will be [addressed]. It is unfortunate that a young farm manager had to lose his life for this to get attention."
She added that the DA would monitor the progress of the investigation, and would hold the Minister of Police, Bheki Cele's to his undertaking of launching an investigation into stock theft syndicates operating in the area, and alleged police involvement in the crimes.
"We ask farmers to inform us of other areas with [serious] stock theft problems," she said.
Speaking from Senekal, Dr Theo de Jager, president of the World Farmers' Organisation and executive chairperson of the Southern African Agri Initiative (SAAI), confirmed that he had been part of the peaceful protest action organised by Afriforum.
De Jager said that since Friday, the security measures in the town had been increased, and he commended local authorities for designating specific areas to the different groups of protesters.
Farmer's Weekly previously reported that André Pienaar, a farmer from the Senekal district, who was arrested following a violent protest during the two accused's first court appearance, had appeared in court on Friday, 6 October.
He was charged with, among other charges, terrorism, attempted murder, incitement to violence, and public violence.
He remained in custody as his application for bail had been unsuccessful, and had since approached the Free State High Court to appeal the Magistrate's Court decision.