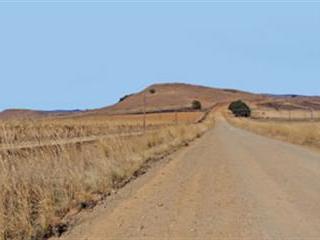 The poor condition of the unpaved road network in North West has seen some farmers forced to grade the roads themselves simply to keep the lifeline to their businesses open. "In some areas, contractors and lorries aren't prepared to travel on those roads. There are many examples of farmers maintaining their own roads purely because the department isn't doing it," said Agri North West CEO Boeta du Toit.
"Vehicles get ripped apart. In many areas, especially where farmers have to transport maize to silos, we see major tractor accidents, axles breaking and wagons overturning." The North West has 14 854km of unpaved roads. Of this, only 2,8% are in good condition claimed Du Toit. To bring this up to 10% will require five years and R4 billion, he said. In addition, about R1,2 billion a year is needed just to maintain current conditions.
The North West Department of Public Works, Roads and Transport's current budget of R1,16 billion is "completely inadequate," said Du Toit. "The situation requires a new approach to budgeting for preventative maintenance and rehabilitation and the need for ring fencing of those funds." Bad roads also hamper the long-term viability of deep rural areas – and service delivery.
"Government's objective of achieving rural development will never be realised under these conditions," said Du Toit. Agricultural Business Chamber economic intelligence manager Lindie Stroebel said if the cost of transport makes it impossible for farmers to continue producing profitably, food security could become an issue.
It gets worse

Unfortunately, the problem isn't unique to North West. The 2011 Infrastructure Report Card for South Africa, released by the South African Institution of Civil Engineering in April 2011, gave all provincial, metropolitan and municipal gravel roads an 'E' rating. The Council for Scientific and Industrial Research's 2011 8th State of Logistics (SOL) survey, released in April 2012, found that gravel roads are in a "poor to very poor" condition.
"Secondary road infrastructure capacity is fast becoming insufficient, a problem exacerbated by poor road maintenance. These issues require immediate attention and methodical action plans," said the SOL survey. The survey quantified the effect of deteriorating roads on the fruit and wheat sectors. It found that vibrations from bumpy gravel roads had a detrimental effect on fruit cargoes, with fruit higher up on the load-bed more susceptible to 'damaging frequencies'.
While large farming concerns can afford insurance or have service level agreements in place, smaller businesses are more vulnerable to the loss of revenue due to damaged fruit. Wheat, which has a fine granularity, is also susceptible to losses during transportation on roads with rough surfaces.
"Shipping data analysed over a nine-month period showed that the vibrations on bad roads resulted, on average, in an additional wheat loss of 0,62kg/t per trip. This amounts to an incremental revenue loss of R1,34/t/trip, or R2,5 million annually for South Africa," said the survey.
For SA to become more competitive amid global changes and uncertainties, land freight transport needs to be improved as a strategic priority. Transport consultant Max Braun said local government – and to some extent provincial government – has "failed dismally" to maintain roads.
"Government has acknowledged the condition of roads is not acceptable and has articulated its intention to spend large amounts on roads. Much of this responsibility has been placed under the umbrella of South African National Roads Agency Limited (Sanral)," he said. Sanral has been roped in to improve delivery on the R22 billion S'hamba Sonke (Moving Together) provincial and municipal roads maintenance programme, which is due to run until 2014.
Act together
Braun suggested that agricultural producers, processors and marketers act together to lobby the national department of transport and provincial MECs to be more inclusive. "There should be consultation and communication with agricultural logistics and related segments to broaden understanding and the urgency to agree, finalise and implement the key elements that will fast-track the country to more efficient transport and simplify doing business with agriculture in SA."